Exploring Myrtle Beach: The 9 Must-Do Activities
A charming coastal gem, Myrtle Beach features a wide variety of attractions and events that are suitable for vacationers of all ages and interests. Whether you're a seafood enthusiast, a shopaholic, or an adventure seeker, this vibrant city has something special in store for you. Listed below are the top nine attractions in Myrtle Beach.
1. Feast on Fresh Seafood
The abundance of locally caught seafood is a major draw for tourists to Myrtle Beach. Try some of the best seafood in town at one of the many area restaurants serving fresh seafood. With options like succulent shrimp and flavorful crab legs, your taste buds will be pleased.
The Myrtle Beach Boardwalk is a shopper's paradise. Stroll along the scenic boardwalk and explore a wide variety of shops, boutiques, and markets offering unique souvenirs, clothing, and coastal-themed decor.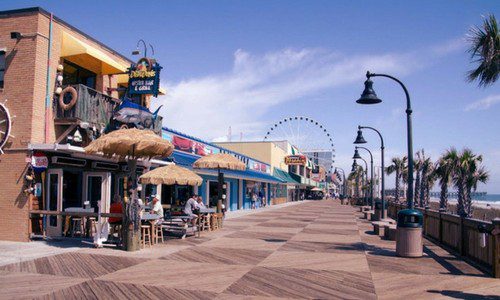 The Ripley's Aquarium is a must-see for marine life enthusiasts and families. Get up close and personal with fascinating marine life, including sharks, rays, and sea turtles. It is a once-in-a-lifetime opportunity for people of all ages.
Myrtle Beach is a fantastic destination for those who enjoy touring and tasting distilleries. Sip on local whiskey, rum, and vodka, and learn about the art of distillation.
5. Cozy and Fun Dining Along the MarshWalk
The Murrells Inlet MarshWalk is known for its lively waterfront dining scene. Treat yourself to a romantic evening at one of the area's many restaurants featuring panoramic views of the marsh and live music.
For a serene and picturesque escape, visit the Brookgreen Gardens. This botanical and sculpture garden features beautiful landscapes, wildlife, and a remarkable collection of outdoor sculptures.
7. Rooftop Views with Cocktails
Several rooftop bars in Myrtle Beach provide breathtaking views of the Atlantic Ocean and the city below. Relax with a cocktail in hand and take in the breathtaking sunset from one of these breathtaking vantage points.
8. Airbrush T-Shirt Souvenirs
Capture your Myrtle Beach memories by having a custom airbrushed T-shirt created. Many boardwalk shops offer this unique keepsake that you can cherish for years to come.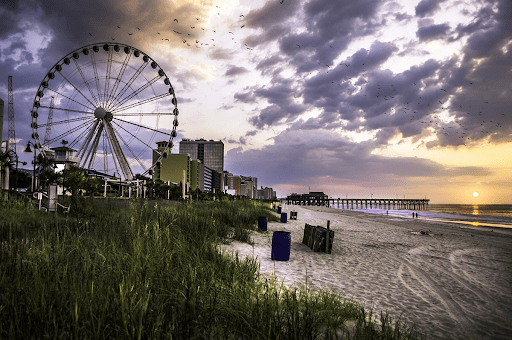 Get your heart racing on the Myrtle Beach SkyWheel while taking in breathtaking coastal views. This famous landmark provides breathtaking views of the coast and city.
With these nine activities, your Myrtle Beach vacation promises to be filled with adventure, delicious food, and cherished memories.