Soar to New Heights at Myrtle Beach's Skywheel
Myrtle Beach!  Its pristine shores and vibrant atmosphere, is already a beloved destination for those seeking the perfect beach vacation. However, there's one attraction that takes your coastal adventure to a whole new level – the SkyWheel. Situated on the Oceanfront Boardwalk and Promenade. The SkyWheel is not your ordinary observation wheel; it's an experience like no other.
Elevating you nearly 200 feet above the stunning Myrtle Beach coastline. The SkyWheel offers an unparalleled perspective of this coastal paradise. When you enter a climate-controlled gondola, you'll embark on a journey of luxury and breathtaking vistas above Myrtle Beach.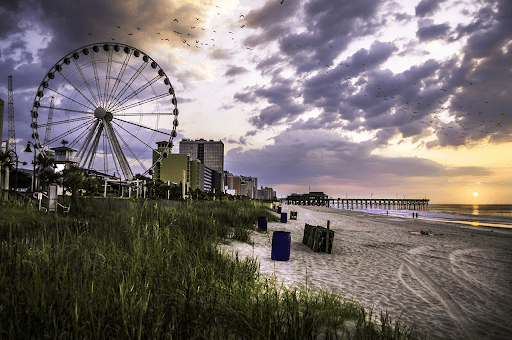 The SkyWheel's magical sunset views transform ordinary moments into extraordinary experiences, making it a truly captivating attraction. Picture yourself comfortably seated in your private gondola, sipping your favorite drink. Watch the sun dip below the horizon, casting vibrant colors across the sky and sea. It's a moment of pure serenity and beauty that you'll treasure.
The SkyWheel isn't just about sunsets; it's equally captivating during the day and into the night. You will get to experience the best of what Myrtle Beach has to offer, from its beautiful beaches and lively boardwalk to its vibrant nightlife and bright city lights.
Plan Your Skywheel Adventure
Among the many things to do in Myrtle Beach, riding the SkyWheel should be at the top of your list. It is more than a simple ferris wheel; it is a gateway to a wondrous new world where you can experience Myrtle Beach from a whole new vantage point. Make your vacation unforgettable with this iconic attraction that promises a unique view of the beauty Myrtle Beach offers, both day and night.