A Memorable Family Weekend at Kingston Resorts in Myrtle Beach
A Myrtle Beach vacation at Kingston Resorts is the ultimate family getaway, offering delicious food, tasty beverages, and fun in the sun. It's a must-visit destination for families looking to spend quality time together by the ocean. Here's why you should plan a family weekend at Kingston Resorts: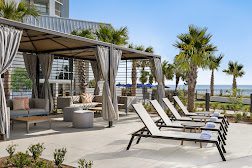 Family Fun at Currents Seaside Entertainment
Upon arriving at Kingston Resorts, you'll check in at Embassy Suites Myrtle Beach, located just steps from the ocean. The spacious two-room suites offer extra comfort for your family. Right next door is Currents Seaside Entertainment, featuring two waterparks, including one for younger kids and another for older ones. This family-friendly attraction provides outdoor poolside seating with daybeds, cabanas, and chaise lounge chairs. The waterparks are exclusively available to Kingston Resorts guests.
Delightful Dining at Black Drum Brewing
After a day of poolside fun, the tantalizing aroma of Carolina barbeque at Black Drum Brewing is sure to make your family's mouths water. This restaurant offers fresh seafood, house-smoked meats, and a local twist on classic dishes. Choose from a variety of beverages, including local brews, and enjoy live entertainment on Friday nights.
Beach Bliss and Oceanfront Dining
Mornings start with a complimentary breakfast at Embassy Suites, ensuring your family is energized for a day at the beach. With nearly a mile of beachfront, your oceanfront resort promises hours of relaxation and fun in the sun. Take advantage of the pristine beach and the convenience of Wet Whistle, a beachfront restaurant and bar offering ocean views and a variety of appetizers, handhelds, and bar classics.
More Waterpark Adventures
The fun continues in the afternoon with a return to Currents Seaside Entertainment, where the waterpark and pool await. Enjoy a host of activities like giant pong, cornhole, giant Jenga, and arts and crafts. Additionally, there's plenty of game equipment available upon request.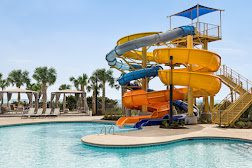 Oceanfront Dining at Coastal Grill & Bar
Conclude your family vacation with a delightful oceanfront dinner at Coastal Grill & Bar. With stunning views of the ocean, this restaurant offers a kid-friendly menu, homestyle favorites, light bites, and fresh seafood.
This is just a glimpse of the amazing experiences that await your family at Kingston Resorts. Make lasting memories and plan your next family getaway to Myrtle Beach today!