The ER Home $5000 Room Makeover Prize-Winning Story
by Melissa LaScaleia
Interior designer: in·te·ri·or de·sign·er (noun): Someone who solves a problem you didn't know you had in a way you don't understand. (See also, wizard, magician.) 
This is how Eric Richards, the mastermind behind ER Home most aptly defines what he does. And he's well equipped to do so. 
Eric has been a designer for thirty years and has created a company that is a one-stop-shop for any and all home refurbishment needs. His impressive skillset includes: painting, wallpapering, flooring, tile work, custom furniture design and building, refurbishment, carpentry, kitchen remodeling, electrical, plumbing, decorating, and feng shui. 
For more than half of his career, Eric has been traveling the country executing design projects small and large. He completed the redesign for two medical facilities in Philadelphia; and for several years he was the designer for Lowes Motor Speedway, a multi-billion dollar racetrack venue in Charlotte in which he designed their five-star restaurant, glassed-in penthouse suites, ballrooms, meeting rooms, and boardrooms. 
Luxury Living magazine featured him in their Christmas-design edition, for which Eric decorated his sprawling seventeen-room house from top to bottom in August.
Eric's success isn't just due to his inherent talent and skills, it's also thanks to the thoughtful way he works with his clients. He takes a lot of time to understand their needs, to make the design make sense for their lifestyle. 
In May, ER Home, in partnership with the Coastal Insider and Real Living Home Realty Group, ran a contest in which one lucky winner would receive a $5000 room makeover for any one room in their house, completely free. All contestants in Horry County were eligible, and no room was off limits. 
"I have been so blessed with so many wonderful clients over the years that to be able to give back to someone that would not request it and feel their joy and gratitude is just phenomenal," Eric says. 
Eric and a small panel of judges from the Coastal Insider and Real Living Home Realty Group reviewed the submissions and decided on the winner collectively. There was no specific criteria to be met for the contest; all factors were taken into consideration— greatest need, greatest desire, most moving entry.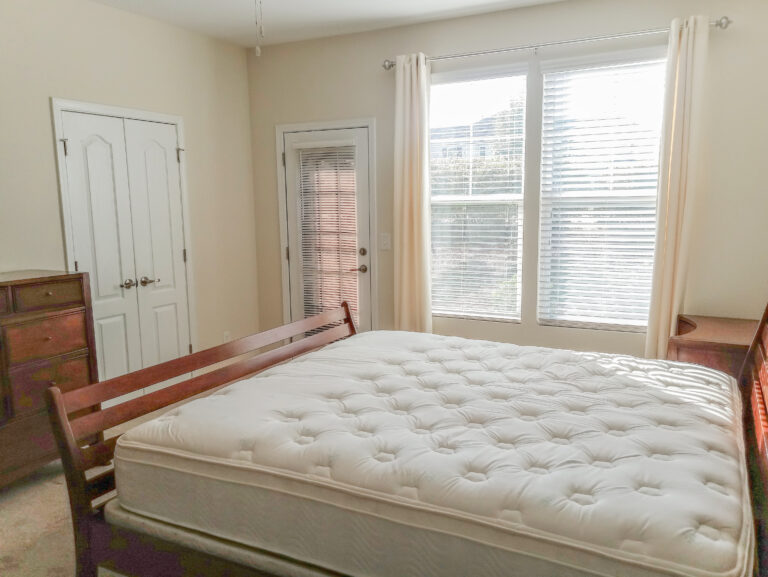 The winners, John and Michelle Copley, live in Emmen's Preserve in the Market Common; they were notified on July 27, and Eric reached out to them soon afterwards to learn about their vision and how he could make some magic for them. 
The couple had recently purchased the house, and their daughter Chelsea entered their submission. In it, she spoke about how in growing up, her parents had always put her and her sister's needs before their own, allocating all available resources to support their passion for playing sports. 
At their house in Ohio, where John and Michelle raised their family, their master bedroom remained unfinished— as the couple always found it more important to spend on their family, any money that would otherwise have gone to the room's redesign. 
The couple's dream was to retire in Myrtle Beach, but Michelle was able to secure a transfer for her job in the area, and the two moved earlier than they had hoped. With the current escalation in home prices, once again, any hope of a redesign for the master bedroom had to be put on hold. Chelsea was hopeful of having her parents receive a master bedroom redo as a present for well-meaning parents who had sacrificed for their family all of their lives. 
"They are a wonderful family," Eric says in speaking about the winners. "These are parents who were so selfless all their lives— they never did a lot for themselves. It was all about their church, daughters and community, and it feels nice to do something for them." 
The day the contest winner was announced, Michelle and her youngest daughter, Hunter, were at Crepe Creations Cafe. 
"Chelsea was working that day, and she told us to make sure we watched Facebook for the announcement," Michelle says. "So we did, and that's how we found out we had won. We were shocked. Chelsea didn't find out until later in the day."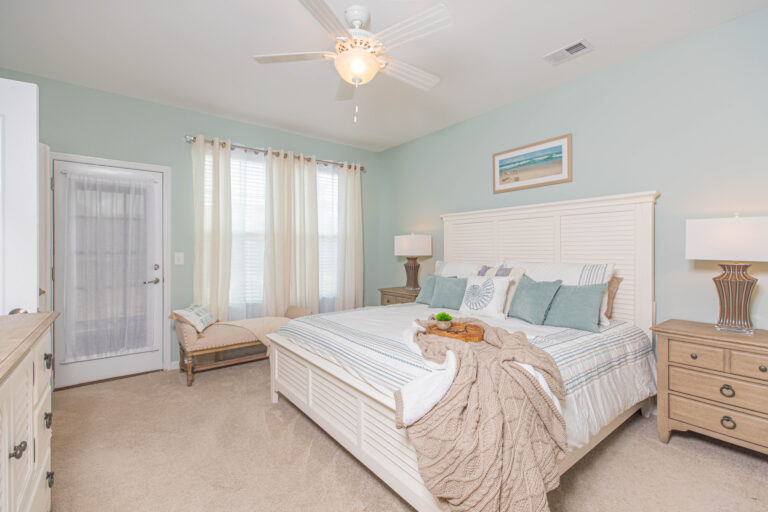 Michelle and John had just moved into their forever home in the Market Common the day before they won the contest. So they had a chance to settle into their new home with the pleasure and anticipation of having a master bedroom customized just for them.
"I didn't have a vision," Michelle says. "I just knew I wanted it to be beautiful so that when you walk in, you say, 'Wow.' Eric was absolutely wonderful to work with. He met with us as a family and got an idea of what we're like and what our tastes are. And then he just did his thing. From the time he started until he finished I didn't see anything. It was a complete surprise."
"I did have a little anxiety," she admits with a laugh. "But it wasn't because I was worried I wasn't going to like what it looked like; it was more of a natural anxiety of the unknown, of not really being in control."
Eric completed his renovations and the big reveal came on Friday, September 10. John was out of town and surprised Michelle by showing up just in time to share the first glimpse with her.
"My initial impression was, 'Oh my goodness! I can't believe I'm living in something so beautiful!' It looks like something out of a magazine. I never could have done what Eric did. And to be honest, my husband and I probably would have made do with what we had."
Eric painted the room sea salt— a light blueish green color. He changed the furniture to white, and incorporated art work, lamps, and accent pieces to give it a homey, welcoming feel.
"There's not one thing I regret about our home purchase," Michelle says. "I feel it will be the perfect place for my husband and I to be retired. We do a lot of walking; we just enjoy being outside and you can do that most of the year here. Compared to where we're from, you have everything at your fingertips here. I love the neighborhood, I love Market Common, and I love Myrtle Beach. I always have."
And how are the couple settling into their new space?
"My husband makes the bed everyday now," Michelle says. "He looks at the room constantly. He's discussed with me every part of every thing that Eric did. He can't get over it. He's as amazed and delighted with it as I am."
For Eric, it's infinitely satisfying to add beauty to his clients' lives and put smiles on their faces.
"This is part of why I do what I do," he says. "This— the final result and the final impact it has on their lives. This is why I love doing what I do."