Alan Marlow (above) began United Outreach Ministries Thrift Store to fund the purchase and distribution of essential hygiene products for Myrtle Beach's homeless population, thereby empowering them with a tool to gain employment and begin a new life.
Changing Lives One Person at a Time
by Melissa LaScaleia
United Outreach Ministries Thrift Store 501(c)(3) is a hidden gem of a secondhand store with a big-hearted mission: to make a lasting difference in the lives of those in our community who are less fortunate than others. All of the proceeds from the sale of goods from the store are used to purchase much needed hygiene products for the homeless, and everyone who participates with the organization, from the founder to those who fold the clothes, are volunteers.
The store was started several years ago by Alan Marlow. Alan grew up in Powell, Tennessee, where the community was divided between those who had and those who didn't. He remembers an abandoned building on the other side of the railroad tracks in town which he knew, at the age of eight, housed a family or two.
"There were so many kids in school that had nothing," he says. "And I saw how people truly struggled, and how some just couldn't do it. There were kids who came to school literally in rags. And it was incredibly sad."
The disparity made a big impression on Alan. But the biggest impression was to come later, when one of his relatives became too friendly with an unhealthy crowd and ended up homeless.
"She was in nursing school and made an awful choice and just couldn't get out," he says of the situation.
In 2017, when Alan and his wife retired to Myrtle Beach, the long idle days began to make him restless, and his past experiences inspired a desire in him to empower the homeless in our community— and help support them in getting out of their hopeless situation.
"Homeless people don't get the hygiene products they need, like toothpaste or deodorant, either because they don't have the money, or because SNAP, the government food funding program, doesn't cover these products," he says. "We want homeless people to get out of the situation they're in, to gain employment. But how possible is that without proper hygiene?
"It's something most people don't think of as a priority when thinking about homeless people, but it's a necessity. Especially psychologically, it boosts their morale and confidence, so they are more active and productive. If you are unable to even meet your basic hygiene needs, how likely are you to be able to be inspired to gain employment?"
For Alan, hearing people's stories has been an oftentimes eye-opening experience.
"Everybody that we help has a story and most of the time, it's not what people think," he says. "Some people have been laid off from a job. That's why we're really trying to help them get back on track and back into the community."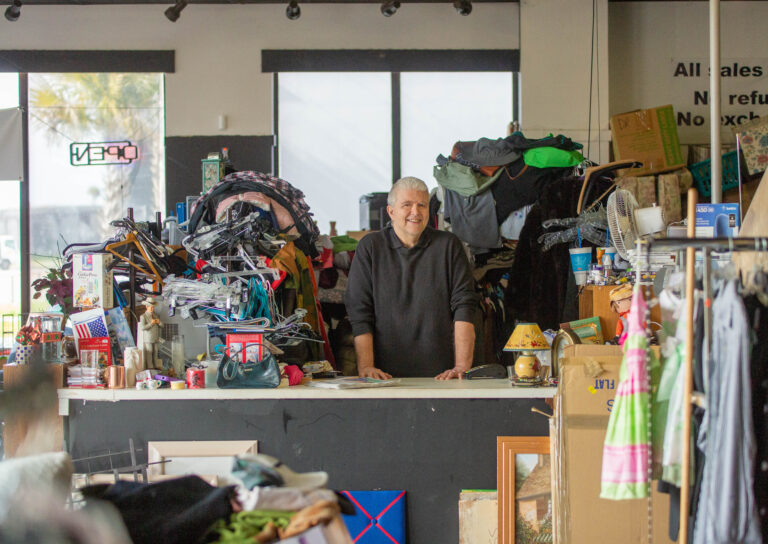 One of Alan's goals is to work with the school system to provide a monthly hygiene pack for children in need.
"There are a lot of children who are impoverished as well and need support, but so many too, who are in need not only of food, but also just a shower and basic hygiene products," he says. "These basics can help to boost their self-esteem and help them to feel better about themselves at an age where being accepted by your peers and having friends is healthy and important.
"Some people just don't have the bare basics to survive. If you are so disadvantaged and someone is not willing to help, you're always going to be stuck where you are. There's no climbing out. If you don't have money, then you're shunned and nobody wants to be around you. For most people, there's not a whole lot you can do to help everybody. You can't save the world, but if you can help a few, that's something. And that's what we aim to do."
In Tennessee, Alan had friends from church who managed thrift stores, so he was familiar with the concept. He established United Ministries Thrift Store as a nonprofit, so that he could maximize the amount of financial assistance that would be available to purchase supplies for the homeless. The more he sells, the more hygiene products for the homeless he is able to provide. 
"I've been to a couple of thrift stores in this area and they don't have the same level of quality that we have," Alan says. "I feel we are blessed with the quality of goods that we receive, but I want the community to know that we always need more donations, and if you're cleaning out the closets in your home, we hope you'll choose to donate to us." 
United Outreach Ministries carries a wide variety of products for sale: clothing, furniture, books, toys, housewares, appliances, pictures and electronics— some that are gently used, and some that are brand new with the tags still attached. 
They receive new furniture donations from a local company's showroom floor every 5-6 weeks, as well as new display mattresses. Alan prices the furniture at less than half of what it would sell for in the store. 
"Often people come and are expecting yard sale prices, but they're missing the point of what we do," he says. "It's to help those in our community who really need help, including children. It's important to keep that in mind when shopping here."
Alan is selective in the clothing he puts out to ensure that he has high quality garments that people will want to buy and wear, and thus maximize the amount of donations he receives.
"Our customers come from all walks of life, whether they're on a budget or more affluent," he says. "There's a lady in town who is an attorney and drives a new car, and she's been here several times to buy clothes. We have dress clothes, women's shoes that have never been out of the box… We're exceptionally fortunate with what we have to offer."
Alan is always looking for volunteers to help in any capacity.
"Anybody can come in and do whatever they feel comfortable with— hanging clothes, tagging items, sorting, working at the register, organizing the hygiene products and distributing them at shelters," he says. 
He is especially looking for individuals to help him with fundraising, organizing sponsorship events, and educational literature. 
"You don't need to have experience, just a willingness to help, and a positive attitude," he says. "But if you're very connected in the community that's a big plus. The more we have the more we can do."
This year, Alan plans to open two additional locations to expand his customer base; one will be in Murrells Inlet.
"It's very rewarding for me to do this," he adds. "I've gotten to help distribute the toiletries. And I see the look on people's faces when somebody is actually caring about them, listening to them. What it means to them that they're not just pushed to the side. If everybody worked together, then the world would be a better place." 
United Outreach Ministries Thrift Store 501(c)(3)
Donate your new or gently used items in store, online, or call to arrange for a pickup. Accepting donations for hygiene products too. Volunteers and fundraisers needed.