Supporting Myrtle Beach's Vibrant and Thriving Art Community
by Melissa LaScaleia
The Seacoast Artists Gallery, a subset of the Seacoast Artists Guild, opened its doors to the public on May 1, 2013. Both the Gallery and the Guild are 501(c)(3) non-profit organizations.
"We were looking for a place for a number of our guild members to display and sell their art," says Woody Bower, the gallery director. "We had met with the folks at the Market Common the year prior— they were looking for a gallery, and we were looking for a space— and it was a good fit for us both." 
The Seacoast Artists Guild began as a small art group in Pawley's Island. It has been in existence since 2003, and over the years has grown to include 250 members throughout the Grand Strand. It is the largest artist guild in the area. 
"Back in the Middle Ages, all tradespeople were in guilds," he says. "They fostered a sense of community. Just like ages ago, our guild is comprised of artists who come together to share talents, skills, and knowledge and meet with like-minded people. We have monthly meetings with demonstrations in new techniques for an art form, or photography software, lectures, things pertaining to art. We also teach art classes at the gallery for the general public." 
The gallery is a place for artists in the area to be able to meet and spend time with other artists. As an individual artist, finding spaces like the gallery provides isn't easy; typically you have to have your own studio. It's also an opportunity for the gallery's members to display their art. 

Ten months out of the year, the gallery will display between seventy to seventy-five of their members' works of art. Then, twice a year, in April and October, the walls are cleared for the All Members Show and Sale, when the entire guild has the chance to display their new art works. 
"For the first half of October, we showcase the works of the Seacoast Artists Guild," says Woody. "In the second half, we host works by the Waccamaw Arts and Crafts Guild. In April, we showcase some of the works by youth in the area." 
As part of their outreach to the young artists in the community, the Seacoast Artists Guild provides an annual $1000 college scholarship to Horry and Georgetown County students who plan to pursue an education in art. 
"The vision for the gallery is to try to get the word out to both locals and visitors that we have a vibrant art community, and it's thriving," Woody say. "We have people who put us on their vacation destination list— people who come back to visit on their yearly trips." 
Woody himself is a photographer, and discovered his craft later in life. 

"I was doing a lot of international traveling in the '90s," he says, "and started recording some of the things I was seeing by taking photographs. I've been to Brazil, Australia, Ireland, Scotland, Germany, and China. 
"My wife and I have lived in Myrtle Beach since 2000. I could work from home and travel wherever I needed to travel. When I retired in 2010, my daughter convinced me to start framing some of the photographs I was taking and sell them at arts and crafts shows as a retirement hobby. 
"I started attending many arts and crafts shows. I got to know a lot of the local artists, and got involved with a lot of the local arts and crafts guilds and fairs. The Seacoast Artists Guild is the one that I became the most heavily involved with. I was president of the guild for the past seven years and retired last year."
Sharon Sorrels is one of the gallery's original artists. Her work has been on display since the gallery first opened. She is an oil painter, and also creates charcoal and colored pencil drawings. 
"Most artists would like a place to display their work," she says. "I'm very happy that I can display mine, and as the occasion arises, sell it. It's also a place to communicate your artistic feelings about things. There's art of all types in the gallery, and every artist has a different view point; it's a place to show your perspective on life. 
"The gallery is a meeting point for the guild; a place where we have workshops, where we can touch bases, share ideas on methodologies, and get pointers on how to do things. It's a very friendly place— it's a place for networking and sharing. I moved here from Washington, DC and I'm retired now. When I moved here twelve years ago, it was a great place to meet people with similar ideas and goals."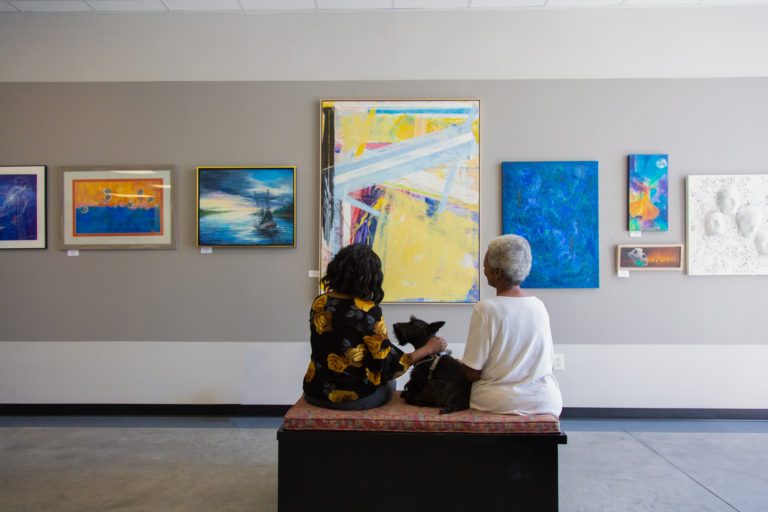 It's also a great meeting place for the public. The gallery hosts art classes as well as art history classes. They have open gatherings with music and refreshments. 
"We like to be a part of the community as well as being a place where guild members gather," Sharon says. 
"Art has always been a part of my life although I never made a living from it as my primary job," says Donna Clement, another guild member and gallery artist. "But I've painted for 50 years. 
"When I retired and came down here, it gave me something meaningful to do. It has been an important means of structure for me. I joined the Seacoast Artists Guild to get to know the other local artists and to be a part of the local art community, but since joining the gallery, it's become a good way for me to display and sell my art. I've had quite a bit of success. I also volunteer there, so it fills my desire for community."   
Donna has had her work on display for the past six years. She specializes in abstract acrylic painting. 
"Being a part of both the guild and the gallery has been a positive experience for me," Donna says.  And it's become a really positive part of my life."
Seacoast Artists Gallery
3032 Nevers Street
Myrtle Beach, SC 29577
843-232-7009