by Melissa LaScaleia
Seaside Furniture Gallery & Accents originated in Calabash in 2001. Julie Almeida and Pete Morgan are siblings and founders— both were raised in the area. 
In 2006, with the opening of their North Myrtle Beach store, Seaside Furniture Gallery consolidated from two stores to one. In 2010 they became Seaside Furniture Gallery & Accents, and a few years later added an additional 8,000 square feet of showroom, bringing their showroom total to just over 18,000 square feet.
"Seaside has a lot to offer everyone, from the beachy, coastal style to elegant, traditional and even retro looks," says Kent Shaeffer, general manager for the store. "But we prefer the coastal look because it creates such a happy feeling when people come into our store. We carry bright coastal colors and a huge variety of bedroom, dining room, and living room furniture, recliners, and a large assortment of coastal accessories." 
"I'm proud to say that we have the best prices for the highest quality products," says Julie. "Everything here can be delivered on the same or next day. Additionally, customers can custom order anything to their specifications."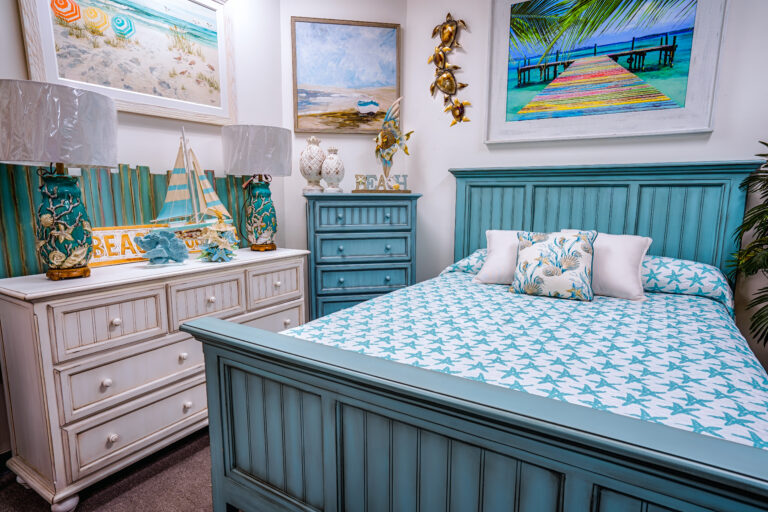 "Our customers love the personal service and attention to detail that they receive," she adds. "They'll always hear a hello when they come in, and a thank-you for their business."
"We welcome our clients to come with whatever their color inspiration is, whether it's cabinet, or floors, or walls, so when we're helping you select fabric or furniture, we have all those pieces of the puzzle," Kent says.
People enjoy coming in and seeing what's current, as Seaside has new merchandise arriving almost daily, and sells furniture and accessories right off of their showroom floor.
"Relationships are important to us," Julie says. "We love it when our repeat customers bring in family and friends, some with gifts of homemade sweets, or fruits and vegetables from their garden." 
There are thousands of fabrics and leathers to choose from when selecting your sofa, sleeper sofa, or reclining sofa groups. And for those who have a nook for a small dining room or even a large dining room, Seaside has many options for furnishing your space. Several of their manufacturers offer hundreds of colors.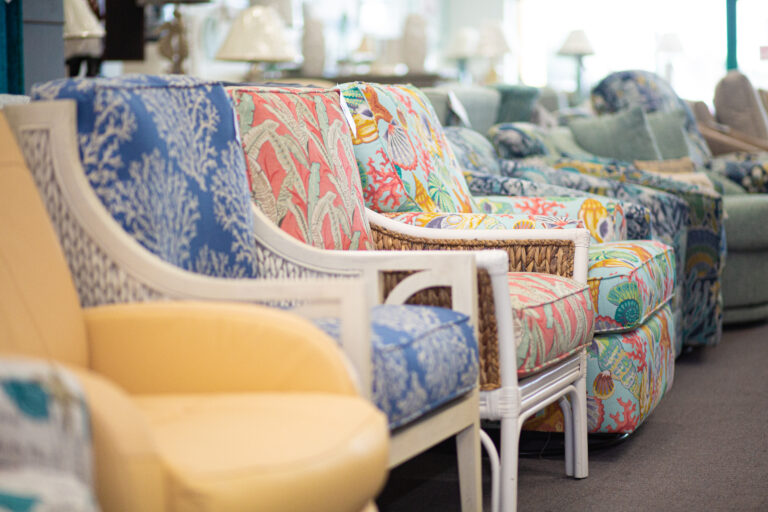 Seaside can help you decorate your office areas, guest bedrooms, and master bedrooms— and they'll provide you with mattresses too. They have a wide selection of brands to choose from with companies like Capris, Palliser, Flexsteel, Best Chair, Riverside, Canadel, John Thomas, Madison Avenue, Tempur-Pedic, Sealy, and Jamison mattresses.
Seaside offers every price point to meet the needs of their customers— from just-starting-out budgets to higher end designers.
"There's no better place to work at than here at Seaside," says Kent who has been with the company for the past seven years.
Kent handles all of the marketing and customer service. He is the face of Seaside in their television commercials as well as on the radio.
Pete Morgan is their sales manager. He helps with floor management, sales staff and overall client experiences.
"We allow people to walk around and get a feel for our products; we want our customers to know that we're there to offer suggestions on matching or design without pressure or obligation," he says. "We prefer our customers to be able to relax and enjoy the experience of picking out furniture and decor for their home."   
Seaside's staff comes from all over the East coast.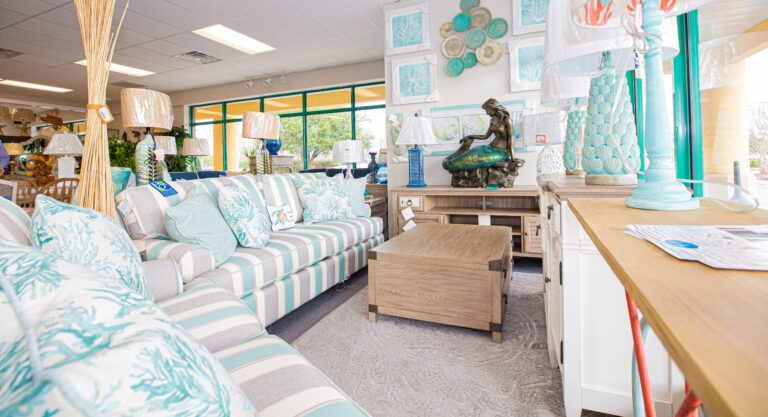 "I'm proud to say that our Seaside family has the best group of employees I ever could have imagined," says Julie. "They are considerate of each other, as well as our clients, and they go above and beyond to make sure that our customers' experience with Seaside is the best, from the sales floor to the delivery."
Seaside Furniture Gallery & Accents is also proud to be sponsors of so many events happening in the North Myrtle Beach area, as well as along the Grand Strand. They participate in the North Myrtle Beach Christmas and St. Patrick's Day parades. They share in the enjoyment of creating innovative floats for the parades, and have won first and second place in both the parades. Their team also enjoys passing out candy and being a part of the crowd.
Seaside donates to several local area charity organizations. Several years ago, they teamed up with WPDE and Capris Furniture to donate multiple living room sets to area flood victims after storms. 
Seaside Furniture Gallery & Accents has been awarded the 'Best of the Grand Strand' award for four years. In 2019 they won for 'Best Furniture Store,' 'Best Interior Design Store,' and 'Best Mattress Store.' They have also won the North Strand Readers Award for the last two years.
"Seaside has been an incredible experience for me as well as my staff," Julie says. "They work so hard and are very diligent. We could not have done this without our loyal customers, and we are grateful for you."
Seaside Furniture Gallery and Accents