A Different Way to Celebrate the Holidays
by Melissa LaScaleia
Operation Christmas Child is a subset of Samaritan's Purse, a worldwide, faith-based, disaster-relief organization that operates out of Boone, NC. 
Billy Graham started Samaritan's Purse in 1970, with the intention of offering support in crisis areas to those in need. After Hurricane Florence struck South Carolina in 2018, the organization was active in Socastee for two years, rebuilding numerous homes.
Operation Christmas Child began in 1993 as an effort to support children in war-torn Bosnia by distributing shoeboxes to them filled with simple gifts, during what was an otherwise bleak holiday season. With less than a month to mobilize, several communities that first year collectively sent 28,000 boxes.
Every year since, Samaritan's Purse has collected shoeboxes filled with toys, school supplies, and hygiene items, from the public for children around the world. Since 1993, more than 198 million children in more than 170 countries and territories have received an Operation Christmas Child shoebox.
In Horry and Georgetown counties, more than 175 churches participate in the program every year, helping to spread the word among the community, as well as acting as drop-off locations for the finished boxes. Last year, both counties together netted a total of thirty thousand shoeboxes.
You don't have to be religiously affiliated or a member of a church to volunteer or donate a box— the program is open to all. And for those who aren't mobile or can't get out and about with ease, you can build a box online at the Samaritan's website for $25, and fully customize the contents, including with a note, to say hello to the child who will receive it.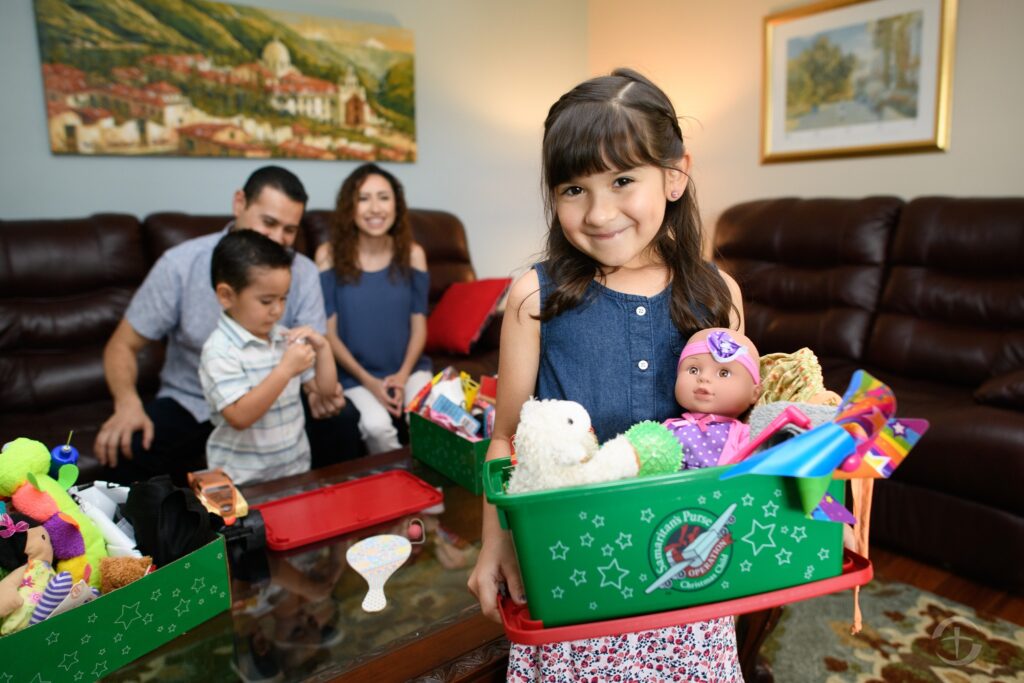 Most people fill a box with items themselves, and the website has guides to help people pick age-appropriate toys as well as the most-needed supplies. When you drop off your box, you'll receive a tracking number so you can follow your box to the country in which it lands. People can also donate one or two items, and those can be added to boxes that need more items by volunteers at central distribution centers.
Dale Reeves, a retired teacher and coach from Camden, SC, is the Horry County area coordinator for Operation Christmas Child. He has a background in disaster relief and has been a volunteer with the program for the past seven years.
"I felt like I was just called to do this," he says. "We get to help children— most of whom have never even received a gift, in communities that otherwise would not have a lot."
Locally, the program has thirty year-round volunteers who make things happen, as well as a bevy of short-term volunteers who help during national collection week in November— the week when the boxes are dropped off, processed and shipped to a central location before heading overseas. And they're always looking for more volunteers.
Wife and husband team, Trish and Don Sheehan are working their first year as drop-off coordinators for Garden City Baptist Church.
"Each year I took our girls shopping so they could each build a box," Trish says. "One year, my husband did it with us and he had so much fun he made a point to do it with us every year after that. Even after they were grown, he still wanted to do it."
But arguably it's the recipients who have the most fun receiving their presents.
Testimonials from adults reminiscing about the boxes they received abound on Samaritan's website. And there's also one from a Grand Strand local.
Tania grew up in Communist Romania, and received a box of colorful crayons in her Christmas box when she was ten years old— she had never seen anything so beautiful. The school supplies inspired her, and today, she's a special education teacher living in Horry County.
Creating a Christmas box is now a family tradition that she and her husband and children complete each year, knowing the impact it can make.