Close By Storage with a Family Feel, That's Almost as Good as Home
by Melissa LaScaleia
Mr. Store It Self-Storage, located on Socastee Blvd. just outside the Market Common, is a locally owned company that has been in business for over thirty years. They are managed by a dedicated team that is loyal to serving the needs of the community. 
Penny Tharington is the bookkeeper, but wears many additional hats. She's worked for the company owners for as long as Mr. Store It has been in business. 
Clarice Linkous has been the office manager for over fifteen years and oversees the day-to-day operations. She handles questions, inquiries, and customers' needs. 
Her son, Dale, who graduated from Myrtle Beach High School, is the property manager and lives on-site. Previous to Mr. Store It, he was part of the military police, and has been working in some capacity with security and law enforcement since the tenth grade. 
"We all work fluidly together and with great deal of care for what we do," Penny says. "We take a lot of ownership and pride in our respective jobs. We work well with the owners, and receive a lot of support, but as a team, we're very self-directing."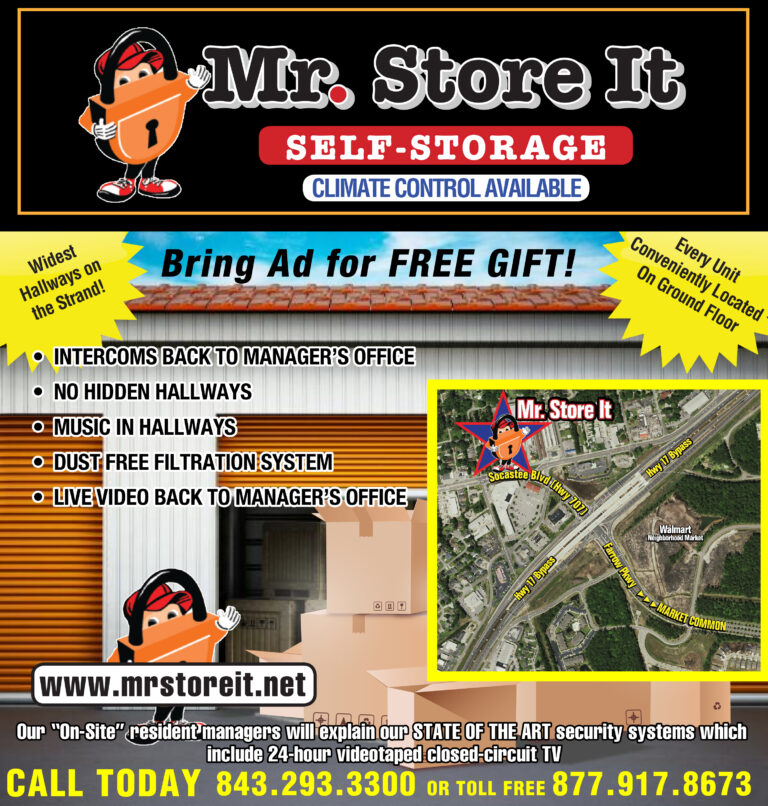 "I've worked with the owners for such a long time, this is like my second home to some degree," she adds. "There has always been the opportunity to grow and learn, and it's kept things fresh and interesting. The working relationship that we all have as a team is very positive— we value each other's opinions, listen, and learn from our mistakes, to ensure that customers receive the best service. It's just a great firm to work for." 
"We treat people like we like to be treated," Clarice shares. "And consequently we receive a lot of referrals. People come to us all the way from North Myrtle Beach and Pawleys Island because of how we treat our customers." 
With over thirty different storage sizing options to choose from, and options between climate and non-climate controlled units, Mr. Store It has a space to fit everyone's needs. All units are on the ground floor with drive-up access.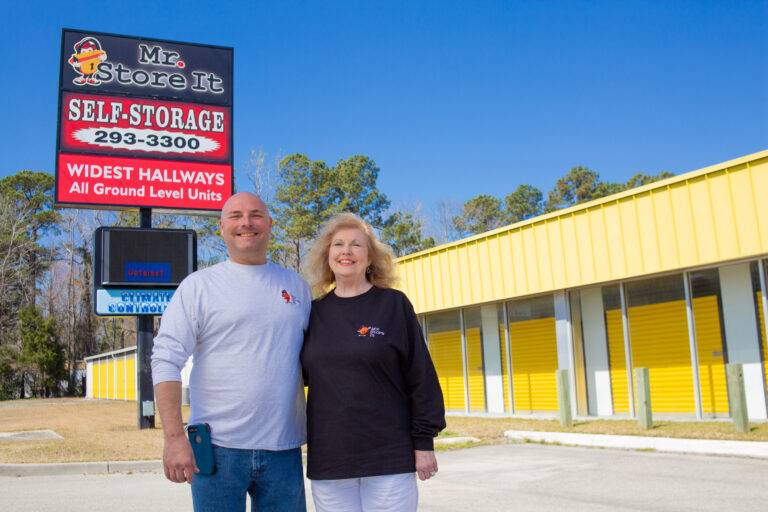 Storage facilities aren't just for people relocating or in between housing options. Many rent a small unit, a 5×5 space in which to store their holiday decorations, keepsakes, or yard equipment. Attorneys and business owners without a home office often require a space to keep their files safe. And those who spend part of the year in Myrtle Beach store excess belongings here.   
"Some people have been with us for 20 years," Clarice says. "But when a customer comes in, we don't just rent them a storage unit, we dig deep to make sure they get what they need. We take them out to show them the climate controlled storage versus the non-climate controlled. We make sure that they are getting what they need and not paying for more."  
"Mr. Store It has been a real convenience for the Market Common area," Penny notes, "because many people move here from the North where they have basements; but we don't have basements here. They find they don't have enough garage and storage space, and they like that they can get here so easily to get their things. We give them all the information to help make a smooth relocation, and they appreciate that."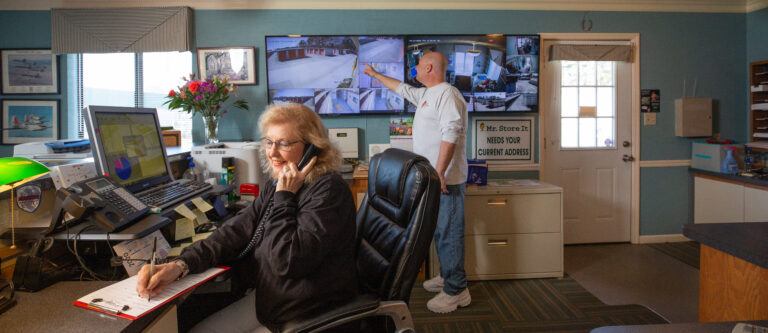 Mr. Store It hires all local contractors to help maintain their property and keep it in excellent condition. 
"Some of the people we hired because we met them when they rented storage from us and we forged relationships," Clarice says. "We want to help support our community. We're proud of it."  
Mr. Store It works with a pest control company that visits regularly to ensure critters stay out of peoples' things. They also have professionals routinely tend to the air conditioning vents in their climate controlled units to make sure that their large duct filtration system, which traps mold and dust, is working properly.  
"It's just like having your things in your home. We're very proud of the property," Clarice says.  "We treat people's stuff like we want ours to be treated. And as a result, I think people are very comfortable here. I feel like we have one of the finest properties on the beach."  
In addition to its 24 hour on-site management, Mr. Store It implements other security measures that are partly architectural, and partly technological.  
"We have 24 hour surveillance cameras all over the property that are linked right back to the office," Clarice says. "We have the widest hallways on the Grand Strand, both for ease of maneuverability as well as safety. It lends a more spacious air too. There are no hidden hallways, and there are exits at the end of both main buildings." 
Clarice truly loves her job and appreciates her employers and work environment. 
"Really we are a family— with our employers and with Penny," she says. "And I think they look at us the same way. It's a real joy for me to be here. And Dale feels the same way, and his wife and son love it too. So we're just a happy little family. 
"People ask me when I'm going to retire, and I say, 'I hope not for another 10 or 15 more years.' Most people are shocked. But I love my work and being out on the lot and making sure it's clean and running the way I want it. I love what I do. And I've got all that I can do."  
"The managers on-site know the business," Penny adds. "They take pride in doing a great job and they're excited to be there. It's just a nice environment, and it's been a win-win situation for all of us."
Mr. Store It Self-Storage