by Melissa LaScaleia
If Mozzarella's is a restaurant known for being different, certainly the story of how this local, family owned eatery came into being falls under that moniker as well.
About a year ago, Debi Perry and her partner Paul Striso visited Myrtle Beach on vacation from New Jersey. They fell in love with the locale, and two months later moved down to live a semi-retired life.
"We just wanted a different life, an easier, more relaxed, more spiritual life," Debi says.
Paul's plan was to work part time and play golf.    
"But," he says, "as usual, man plans and God laughs." 
Paul and Debi knew they wanted to run their own business— something that would draw upon Paul's background in sales and marketing, and Debi's management and organizational skills. 
One day, driving up Highway 17, they stumbled upon a turn-key pizzeria for sale in the Market Common. Instead of calling, they went in and talked to the owner, and three hours later, decided to buy it.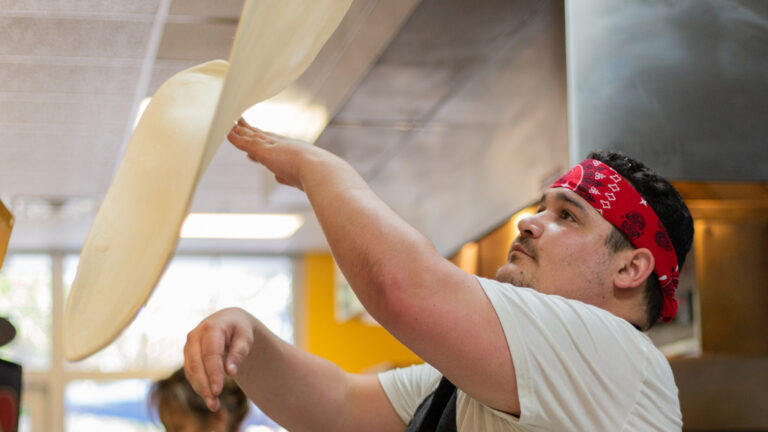 "Life is all about new adventures," Paul says. "So we jumped all-in." 
"Neither one of us ever owned a pizzeria before, but my son Vinny has been in the restaurant and pizzeria business for fifteen years," Debi says. "He always wanted to run his own kitchen and I knew he was a great cook. He had no idea what we were up to, but after one phone call, he was sold. Vinny relocated from Florida to come help us open and run our new business, Mozzarella's."
Mozzarella's just opened its doors in the Market Common last month. The restaurant seats about forty people inside, and has a small outdoor patio space.
The upbeat eatery serves traditional Italian and specialty pizzas, including Sicilian, pan and thin-crust pizzas, calzones, strombolis, wings, and hot and cold subs. Vinny makes Mozzarella's marinara sauce, meatballs, and dough from a combination of family recipes and his own experience.
"We buy quality, top-of-the-line ingredients and cheeses to make our menu items," Debi says. "All of our recipes are our own. We're part Italian, so we drew upon our heritage in forming our menu. It's a very simple and basic family style menu. But what makes us different is that everything on our menu can be converted into a low-carb item."
Two years ago, Debi began to follow a ketogenic diet for health reasons. Ketogenics eliminates sugar, processed foods, wheat, grains, and flour from your diet, and provides guidelines for managing your proteins, fats and carbohydrates.
"There are no nitrates or GMOs. It's a clean, whole foods-based diet," Debi says. "I traveled a lot for work and could never find clean food to eat other than salads and basic meats. I learned how to keto-ize everything, even Italian food. Paul and I eat this way all the time.  
"With Mozzarella's, we wanted to incorporate this way of cooking our food into the traditional pizzeria menu — and introduce this way of eating to others. People think it's hard, but it's really not."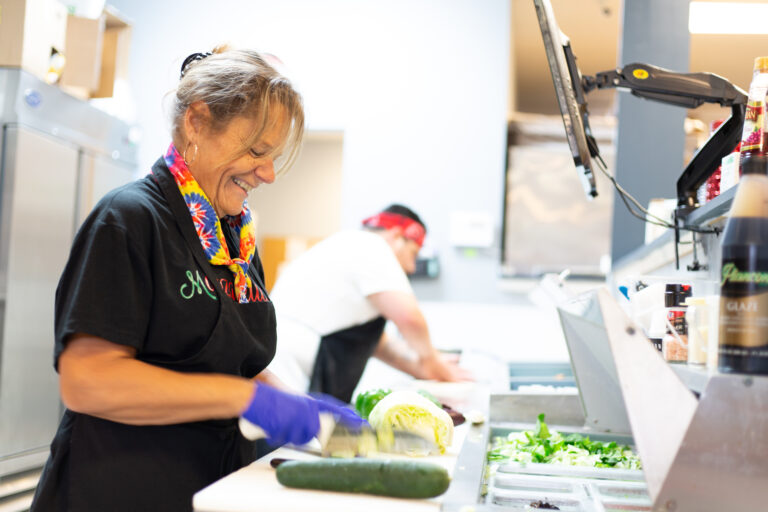 Their low-carb pizzas are crafted from Rella dough— a dough made entirely of almond flour and a blend of their high-quality cheeses. 
They also make low-carb sandwiches, called Rellawiches. In place of traditional bread, they use dough made from blended cheese and eggs. They plan on offering other low-carb options in the future, like cauliflower crust and zucchini noodles.
Debi's daughter, Briana, is an Executive Pastry Chef who will be joining in on the family business. She and her husband, David Charles, will be relocating to the area later this month from New Jersey; the two are expecting their first child. 
Mozzarella's plan is to incorporate some of her pastry making talents; she'll be making homemade cannoli cream, cheesecakes, Italian pastries, and some ketogenic desserts.
Paul and Debi want to see additional Mozzarella's all along the Grand Strand. 
"That's our company vision," she says. 
The two wanted to bring their family together and create a fun, eclectic vibe to host their guests. 
"Paul came up with the idea that we offer our space up to local artists to create murals, paint the tables, and showcase art," Debi says. 
"Everything in the restaurant is for sale," she adds, "including Vinny."
1600 Farrow Parkway, Market Common, Myrtle Beach, SC 29577
Open M-Sa 11am-9pm
843-839-3999
5% off your bill if you mention their daily specials on Facebook, or this article.
Same menu all day long. Take-out, delivery, dine-in, & catering.
Stay tuned for their happy hour specials and local live musicians playing at select times.