A Casual Italian Restaurant in the Heart of Market Common
by Melissa LaScaleia
Travinia is owned by Marc Craig and Kevin Cox, who first opened the Italian restaurant in Greenville, SC, ten years ago. Since then, they've opened eight other locations in areas between Virginia and South Carolina. Both love good quality wine and good quality food.
And as a wine bar, Travinia doesn't disappoint. They feature a diverse wine list that encompasses both old and new world vintages, artistically displayed across an entire wall of the restaurant. They have offerings from France, California, Oregon, and all the regions in Italy (something difficult to find in Myrtle Beach), as well as all varietals of grapes.
Gardiner Lawrence is the general manager at Travinia, and is responsible for choosing all the wines. He's been working in the restaurant industry for over 30 years.
"I dove into the liquid side of restaurants early on," he tells me. "Andrew Groth of Groth Vineyards in Napa Valley has been a friend since college. I've been around wine quite a bit."
"We don't have a sommelier, but all of our waitstaff and bartenders are well informed about the wines we carry and can help you find what you're looking to experience," Jennifer O'Leary says.
Jennifer started working at Travinia in June of 2015. Her parents retired here from Long Island, and she followed them down three years ago.
Jennifer has been in the restaurant industry for over ten years. She started at Travinia as a hostess, then was promoted to head hostess, then catering and sales manager last year. She manages all the banquets, private dinners, and off-site catering events.
"My parents always raved about Travinia," she tells me. "I was excited to discover they had a job opening here, after I relocated."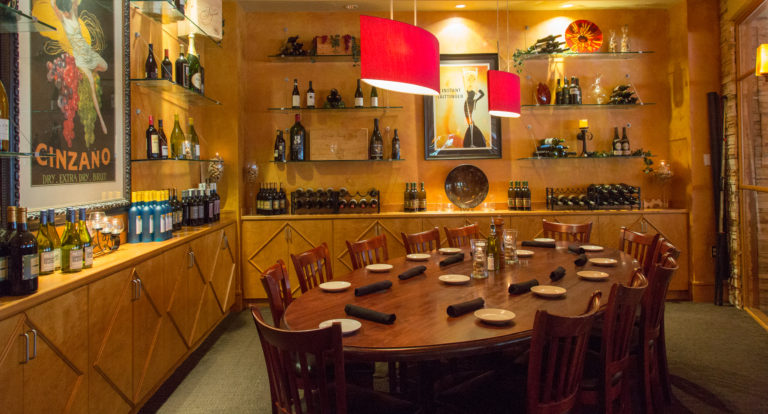 Every year Travinia gives back to the community by participating in the March of Dimes Signature Chef Auction, an annual fundraising event. All of the proceeds support the March of Dimes in assisting premature babies, to give them a chance at life. This year's event was held on October 12, at the Marriott Grand Dunes.
Twenty other chefs from local Myrtle Beach restaurants gathered in one large banquet hall for a cooking competition. Unknown judges made the rounds, sampling the food and critiquing it on five criteria. This year, Travinia won the prestigious Scott Honeycutt award for their dishes of shrimp scampi and short rib cavatappi.
They also donated a five-course dinner with wine pairings in their private dining room for ten guests, a donation packaged valued at $1500, for the auction part of the fundraiser. The winner gets to taste the culinary genius of Travinia's executive chef, Ira Hemingway, who's been with the company for the past eight years. He has been working at several other Travinia locations, and returned to Myrtle Beach last year.
"He's a huge asset not only to us here in Myrtle Beach," Jennifer tells me, "but to the company. He has a real passion for food, and cooking to please others."
The atmosphere at Travinia is warm, open, intimate, inviting, contemporary, and hip— all at the same time. The kitchen is located behind a glass wall, so patrons can watch the chefs as they work. And they have weekly live-music performances that add an air of liveliness and festivity to the casual, relaxed restaurant. Stevie Mac plays contemporary music set to acoustic guitar on Wednesdays, and the Jazz band, UNI plays old-time classics on Fridays.
"It's a great atmosphere for customers to come in and dine," Gardiner says. "We get a mix of tourists and locals. Nine months out of the year it's predominantly locals.
"My favorite thing about my job is the people I'm around— both my employees and the customers," he continues. "I lean on my great staff and awesome kitchen to make Travinia successful. Everyone knows I have an open door policy; that's the way I think a restaurant should be run. It should be that employees and guests can come and talk to you like a family."
"I'm a big people person, so I love that in my job I get to talk to everybody," Jennifer tells me. "Whether it's a wedding or engagement party, I get to help make that day perfect for them. I love learning about what brought them to Myrtle Beach, or to choose our location. I absolutely love working here, and I wouldn't change any- thing."
Travinia Italian Kithen & Wine Bar
The renowned Market Common Italian restaurant is located in Market Common
Open M-Th 11am-10pm, Fr-Sa 11am-11pm, Su 11am-9pm. Serving lunch until 3pm, dinner from 3pm-close; happy hour M-F 4-7pm.
Outdoor patio dining available; private dining room for 14.
To learn more about some of our local businesses, click here!