The Life in Your Home This Holiday Season
by Melissa LaScaleia
Manifest Design is a woman and veteran-owned business that offers home interior design and has an accompanying retail boutique that carries furniture, unique gifts and home decor. 
The concept is the brainchild of Connie Lincoln. Connie has been an interior designer for over twenty years. Ten years ago, she opened a store in Wilmington, North Carolina, that offered home decor and custom-made furniture. Soon, she decided to expand the boutique's offerings. 
"I noticed that very unique gifts were just not out there and available to purchase," Connie says. "Especially for men. So I decided to add on to my store and carry gift items that would delight men as well as women." 
Connie recruited her husband, Dusty, to help her in unearthing quality, one-of-a-kind treasures that men would find appealing. The two found sextants, compasses, model airplanes, wallets, flasks, tools, barware, games, and hardware-inspired mugs. 
"Dusty is a retired U.S. Marine Corps pilot," Connie says. "So we have a big selection of aviation-influenced mixed with science-based and nautical themed items.
"We have very clever things that guys really dig, like multi-function pens that also act as levels, and an extendible flashlight that bends at the end. But the biggest draw is the full-size 1965 Cobra race car in our store. It's a showstopper; and leads to wonderful conversations about cars, racing and automobile engineering."
The store was a hit in Wilmington, as people loved the variety and uniqueness of what Manifest Design offered. They also enjoyed speaking to Dusty about his past military experiences. 
Several years ago, Connie and Dusty decided to build a home in the Grande Dunes and move their business to the Market Common. The store will be celebrating three years in Myrtle Beach this New Year's Eve.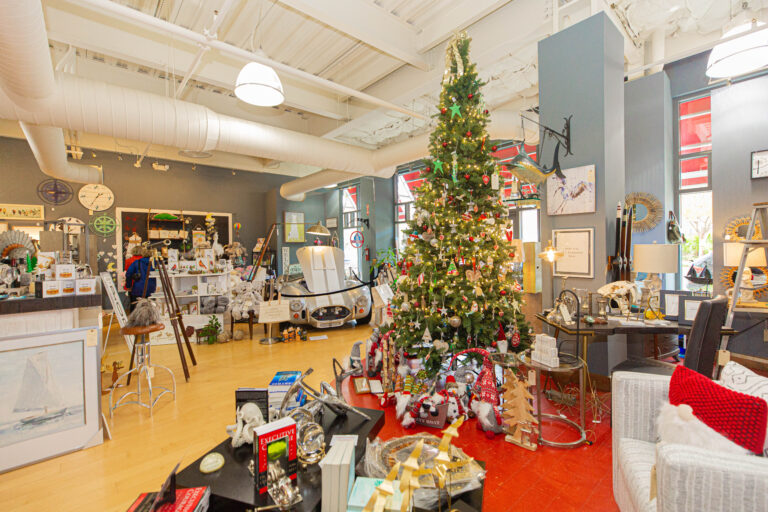 "We thought this was a beautiful area for shopping, and nicely designed," Connie says. "We love the walkways, the trees, and the lights at night. We thought it was a better fit for us and it is; our business has doubled since we've arrived here."  
Today Manifest Design is proud to carry a wide variety of mostly locally sourced, upscale items for men, women, and the home. 
"We carry a lot of local art and jewelry," Connie says. "And we carry a good number of books by local authors, which people really enjoy. And of course, there's plenty of home decor items. We are outfitted with furniture— like sofas, accent tables, desks, console tables, and unique lamps. Most of the furniture is from a beautiful company that is all made in North Carolina. They have a line of performance fabrics which are also made in North Carolina and can stand up to stains. And they have a limited lifetime warranty on certain aspects of the furniture. Once you order it, it will be ready to ship in two weeks. And with most furniture items so hard to obtain because of Covid, people have been very excited about the turnaround time." 
Connie's stock is always changing. There's a lot of variety and they receive new shipments multiple times per week. 
"We receive feedback all the time from the men who shop here," Connie says. "They tell us, 'There are no stores for men in the Market Common, so we love this store.'"   
For women, there are wraps, totes, jewelry, passport holders, and purses— including a line made from recycled military tents. They have items that appeal to everyone: greeting cards, a very cute baby section, and a huge array of wine and cheese accessories.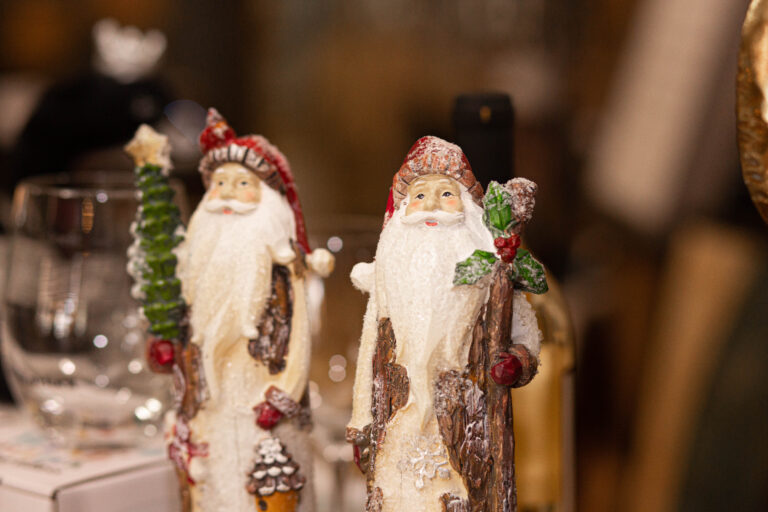 "Because I'm an interior designer, I have access to many industry contacts and vendors," Connie says in answer to the mystery of how and from where she is able to source the delightful items she finds for her store. 
And she continues to offer residential design services from Manifest Design, including whole-house designs. 
"I have a low-key approach to designing," she says. "I create according to my clients' needs— how they want to live in their space. My whole mission is to make interior design accessible to everyone. Everybody's situation is unique, so I want to make this an option for all."  
Connie and her husband really enjoy what they do. This holiday season, and periodically thoughout the year, they'll serve wine and hot cider in their store to enhance their customers' shopping experience. And they'll also have special holiday sales. 
"People really love our store," Connie says. "A lady came in and was amazed— she thought we should be voted Best of the Beach in Myrtle Beach and wanted to know how to nominate us. And the guys love us, too; they will actually bring their wives or significant others here, as we have so many interesting items in our store that you won't see anywhere else. 
"We really make for a fun and fascinating retail therapy session. We have elevated the hum-drum or average shopping experience."