Hi-Fi Coffee Bar: Where Local Love Brews the Best
Hey there, Myrtle Beach locals and adventurous tourists! If you're on the hunt for the ultimate coffee experience, look no further than Hi-Fi Coffee Bar, where the motto is simple but powerful: local is better. We're not just a coffee shop; we're a vibrant, caffeinated community that's all about supporting our local heroes.
Coffee, Roasted with Love
At Hi-Fi, we've got a secret ingredient: our coffee beans are sourced exclusively from independent roasters right here on the Grand Strand and Carolina coast. Why? Because we want every cup to be a burst of local freshness. When we say fresh, we mean it – the beans are roasted nearby, so your coffee is practically singing with local pride.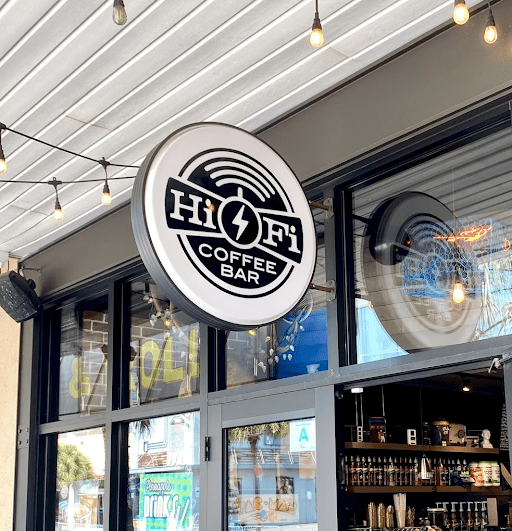 Crafted with a Dash of Crazy Love
At Hi-Fi Coffee Bar, it's more than a café – it's a journey into a retro world where the love for coffee and the nostalgia of vinyl records harmoniously coexist. Every detail, from our brewing techniques to the cozy vinyl-infused atmosphere, is carefully curated to ignite your love for the perfect brew. And it's the shared passion for both coffee and the vintage music that makes your Hi-Fi experience truly unforgettable.
Bakery Treats to Rock Your World
Coffee is great, but it's even better when you've got a sidekick. Our bakery treats are the real MVPs here. Forget about those mass-produced, frozen muffins you find elsewhere. Ours are the real deal, baked fresh by local hometown heroes. Each bite is like a mini-vacation for your taste buds.
Bakery Treats to Rock Your World Legendary, Locally Sourced Ice Cream
What's the perfect partner for your coffee? Ice cream, obviously! But we're not talking just any ice cream; we're talking about the creamiest, locally sourced scoops you can find. These babies are so good; they're practically legendary. Calorie counters, consider yourselves warned – you won't be able to resist.
In the heart of Myrtle Beach, Hi-Fi Coffee Bar is where locals and tourists unite for the love of all things local. Coffee, treats, and ice cream – it's all here, and it's all fantastic. So, next time you're in Myrtle Beach, swing by Hi-Fi Coffee Bar, and join the epic adventure that is local flavor love!