Larry's Auto Clinic in Myrtle Beach keeps the tradition of past owner, Larry Dodd alive with their values of delivering quality work, honest service, and pride in auto repair. From left to right: Barb White, Brandon Hodge, Justin Richardson, and Larry White. (Photo by  Meganpixels Parker and Latoya Grayson)
Quality, Honesty and Pride in Auto and RV Repair
by Melissa LaScaleia
Larry and Barb White had their own neighborhood auto repair shop in Howard County, Maryland for twenty-five years before they relocated to Myrle Beach in March 2020. 
As a third-generation auto mechanic shop owner, Larry has always been mechanically inclined, and has twenty years of experience and training working in the industry. He and his wife decided to move just before the start of the pandemic. 
"Our kids had finished high school and college and we no longer needed to be in the area," he says. "We wanted to live more simply, and in a better climate. We were drawn to Myrtle Beach because there's so much to do here. I've been here many times on golf trips with my buddies. We knew we wanted to be on the coast, but also within a day's drive of Maryland to stay close to friends and family." 
Barb researched auto repair shops for sale in the area as she and Larry were driving South, exploring the place they would come to call their new home. Their realtor introduced them to the owner of one shop— Larry Dodd. 
"We hit it off with Larry right away," Barb says. "We really liked that his business already handled RVs and auto repairs. And we all shared a very similar business philosophy— delivering quality work, honest service, and taking pride in auto and RV repair." 
"Larry ran his business according to those principles for thirty-five years— helping anybody around who needed help," Larry says. "He was very popular. Everybody loved him. Customers traveled hundreds of miles just so that his team could work on their RV. How he ran things mirrored what I did in Maryland— creating a rapport, going the extra mile for your customers, and offering the best customer service you can." 
The two soon discovered that they shared many things in common besides the same first name, the automotive industry, and their values.  
"We were both born and raised in Maryland," Larry says. "We both owned Exxon stations at certain points in our lives; his second wife's maiden name was White; he was in the Air Force, my father was in the Air Force. There were so many coincidences. And we saw a lot of potential with the business— we felt a rapport with him and his business ethics, and it felt right for us to carry his legacy forward." 
Larry and Barb officially took over Larry's Auto Clinic in September 2020. They kept Larry's lead mechanic, and today, the local business still offers the same service, philosophy, and name. 
"The biggest thing is that we stay on point and do what we say we're going to do, and that really surprises and delights people," Larry says. "We provide a service that is pleasing to the customer and at a fair price. I try to underpromise and over deliver rather than the opposite. You can get service from a bigger organization, but with us, you're dealing with a family and people who care if you make it to your next destination."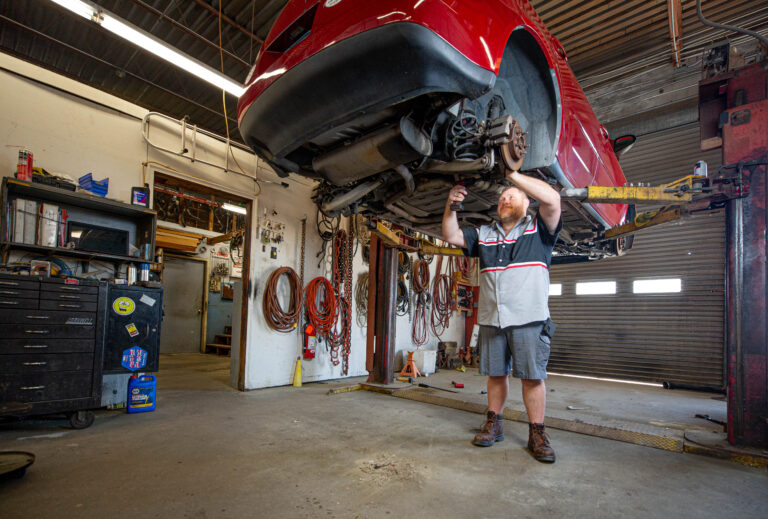 For the past 15 years, Larry has been focussed on running and managing his automotive businesses, rather than working on vehicles. 
"I take what the customer says and translate it for the mechanic, and can relay what the mechanic says to the customer in lay-man's terms," he says. "I like to talk with people, not over them. I take the time to explain and educate people what's going on with their vehicle so that they can understand the situation and the repercussions of their choices, and then make an informed decision about how they want to proceed." 
Since purchasing the business, Larry and Barb have been expanding their knowledge of the RV industry and settling into their new surroundings. They feel honored to carry Larry's legacy forward, and everyday are touched more and more by the impact he had on the community. 
"He had customers for thirty years, and people just loved him," Larry says. "You could tell he really cared about what he did. Since he passed, people have been coming in and telling stories about him. People really appreciate that the business and tradition— something he built and cared for— is still going strong." 
Larry and Barb are excited to serve the booming neighborhoods of Myrtle Beach as it continues to expand. 
"There's a lot of potential here for our business to serve new markets that haven't been explored," he says. "People are using their RVs more these days, trying to stay away from hotels and larger resorts. And the RV population here is already second to none. We expect people to be arriving in droves this summer, and we want the community to know that we're here and prepared to help them." 
The neighborhood Larry and Barb elected to make their home is the Market Common. 
"We're very blessed and happy to be here," Barb says. "It's been such a great experience for us. Everyone has been so lovely and pleasant— people helping local people. We have two large dogs, Amber and Simba, and we love bringing them to the dog park in the Market Common. It's such a nice area. We love Murrells Inlet, and recently bought two jet skis and are exploring the Intracoastal Waterway in our free time. Larry adopted an RV that he is going to restore that he's having fun with." 
Recently, the couple's daughter graduated from West Virginia University, and will be attending graduate school at Webster, in Myrtle Beach. They are excited to have her living at home with them once again. 
"Everything has been really positive for us since moving down here," Larry says. "2020 wasn't our worst year by any means. For us, we made a lot of positive changes. We've been really fortunate through everything, and we're proud and grateful we could keep Larry's legacy alive."