Quality, Honesty and Pride in Auto and RV Repair
by Melissa LaScaleia
Larry and Barb White had their own neighborhood auto repair shop in Maryland for thirty-four years before they relocated to Myrtle Beach in 2020. 
As a third-generation auto mechanic shop owner, Larry has always been mechanically inclined, and has forty-five years of training and experience in the industry. But his real passion is customer service and being with people.
"I like to talk with people, not over them," Larry says. "I take the time to explain and educate people what's going on with their vehicle so that they can understand the situation and the repercussions of their choices, and then make an informed decision about how they want to proceed."
In looking for an auto repair shop to buy in this area, Larry and Barb happened upon Larry's Auto Clinic, the eponymous auto repair shop of Larry Dodd.
"We hit it off with Mr. Dodd right away," Barb says. "We really liked that his business already handled RVs and auto repairs. And we all shared a very similar business philosophy— delivering quality work, honest service, and taking pride in auto and RV repair."
"Mr. Dodd ran his business according to those principles for thirty-five years," Larry says. "He was very popular. Everybody loved him. Customers traveled hundreds of miles just so that his team could work on their RV. How he ran things mirrored what I did in Maryland— creating a rapport, going the extra mile for your customers, and offering the best customer service you can."
The two soon discovered that they shared many things in common besides the same first name, the automotive industry, and their values.
"We were both born and raised in Maryland," Larry says. "We both owned Exxon stations at certain points in our lives; his second wife's maiden name was White; he was in the Air Force, and my father was in the Air Force. There were so many coincidences. We felt a kinship with him and his business ethics, and saw a lot of potential with the business."
Larry and Barb officially took over Larry's Auto Clinic in September 2020, retaining its name as well as one of Larry's mechanics, Justin, who's been working there for 16 years. They hired Andy, who has fifty years of experience, as their new lead mechanic. His hobby is working on race cars and classic cars. Chris is the third technician— with fifteen years of automotive technical training.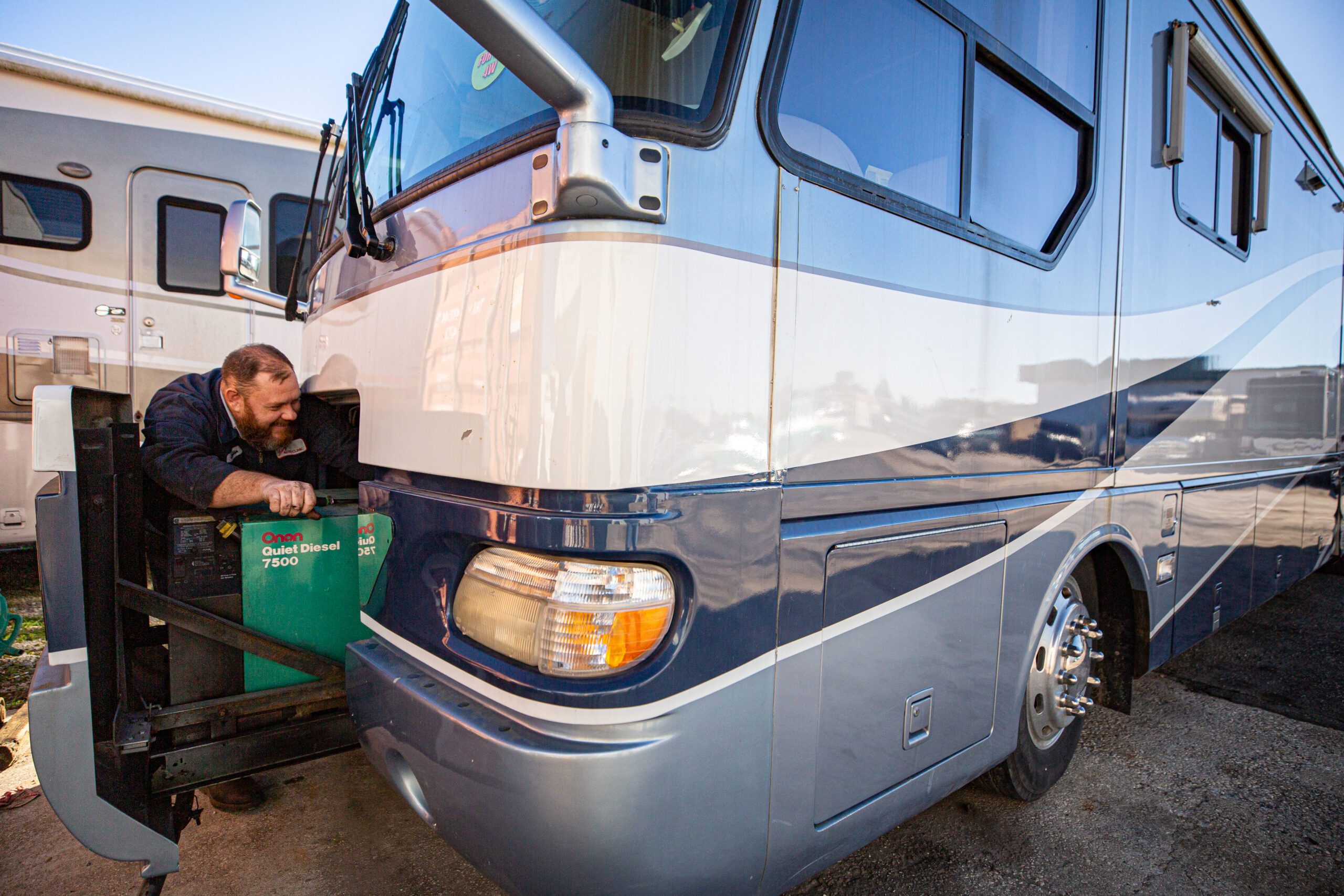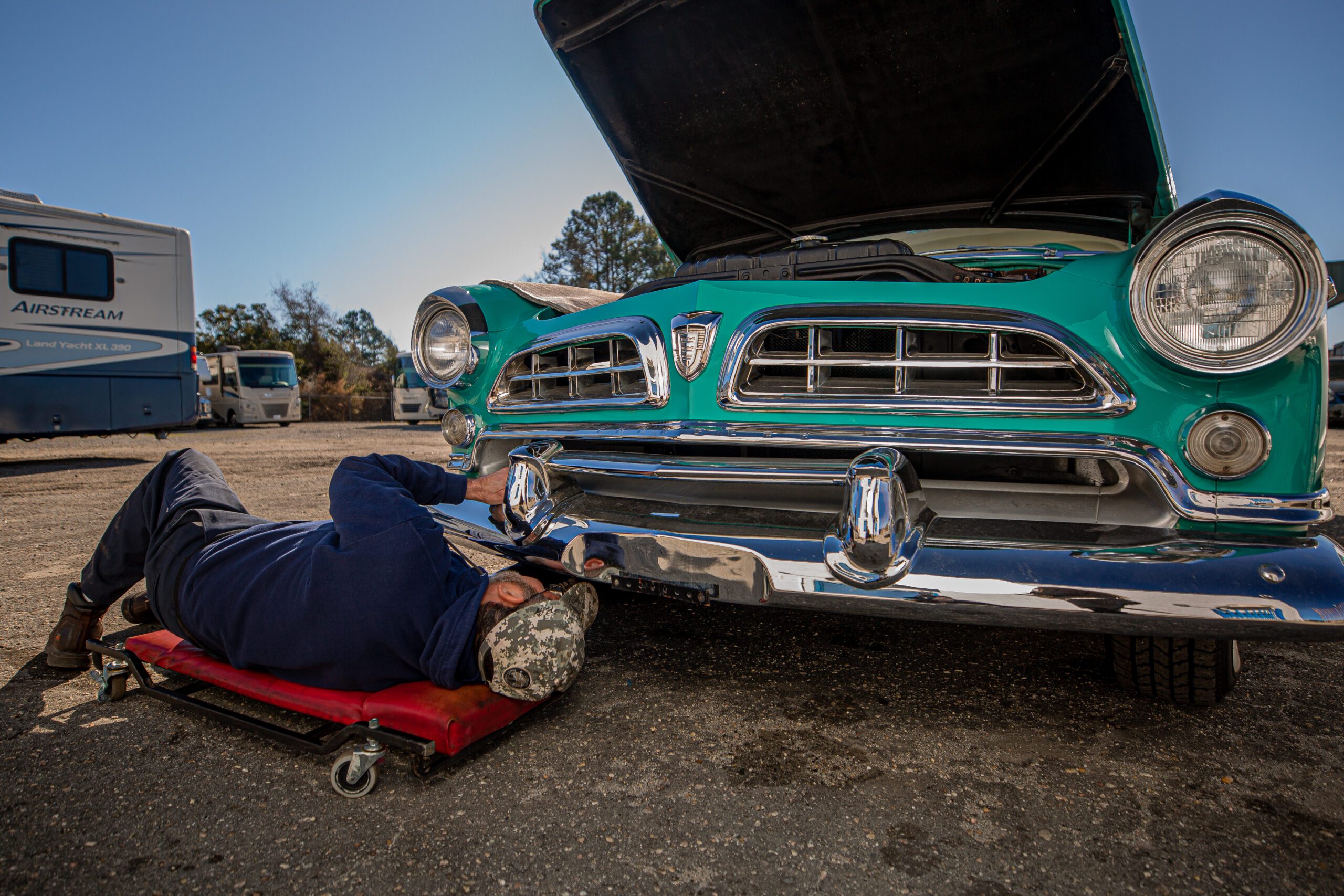 "The biggest thing is that we stay on point and do what we say we're going to do, and that really surprises and delights people," Larry says. "We provide a service that is pleasing to the customer and at a fair price. I try to underpromise and overdeliver rather than the opposite. You can get service from a bigger organization, but with us, you're dealing with a family and people who care if you make it to your next destination."
"I've always liked working with the customer, making their problems mine so I can correct them or whatever the situation is," he adds. "It's nice to be in an area where customers are appreciative of you and happy you're here. It doesn't seem like people are used to the level of service we provide. It's always rewarding to see their reactions when we've taken care of them and their needs. And we've met a lot of good people whom we call friends.
"The Intracoastal Waterway is a treasure of new experiences every time we go out there. We're still finding our favorite restaurants and bars; the music is awesome. It's a neat place to live, and every weekend is a vacation."
Larry and Barb feel honored to carry Larry's legacy forward, and everyday are touched more and more by the impact he had on the community.
"He had customers for thirty years, and people just loved him," Larry says. "You could tell he really cared about what he did. Since he passed, people have been coming in and telling stories about him. People really appreciate that the business and tradition— something he built and cared for— are still going strong. We're proud and grateful we could keep Larry's legacy alive."
Larry's Auto Clinic
4719 North Gate Blvd.
Myrtle Beach, SC 29577
843-293-2205
Open M-F 8am-5pm
www.larrysautoclinicmb.com
Facebook @ Larry's Auto Clinic Inc