Farmers Markets are great places to get fresh, local vegetables and other produce, but the markets along the Grand Strand offer so much more – Venezuelan food, baked goods, soaps, candles, and jewelry— all made locally by people in our community. 
The Unique Offerings On Tap This Spring
by Melissa LaScaleia
Farmers markets create bonds in the community that are mutually beneficially for everyone— those who frequent the markets have access to produce and goods stamped with a personal touch that they wouldn't otherwise discover; and in turn, the customers support the livelihood of those who have goods to share, boosting the local economy.
In recent years, the markets of our area have expanded along the Grand Strand, and a greater number of vendors have turned out to offer their wares as well. In addition to vegetables, fruits, and baked goods, there are a myriad of specialty food items, crafts, and beauty products.
Below, we snapshot a few of the unique vendors who will be present at the farmers markets of the Grand Strand this season. New vendors continue to join throughout the year, so check the website for the most current offerings. This year, the Coastal Insider will be present at the Valor Park farmers market. 
Be sure and stay current with our social media pages to see what other markets we will be visiting.

by Katie and Wesley Price
Find them at the Surfside Beach and Valor Park Markets; offering home delivery and monthly meat subscriptions.
What do you offer at the markets?
"My husband and I offer pasture-raised, grain-finished beef. We raise our beef without added hormones or antibiotics, and all of our beef is whole-carcass dry-aged for two weeks. You can't find a whole carcass that's dry aged at any grocery store including a Whole Foods— you can only get dry-aged from a small processor. Commodity beef is wet-aged, which is why there's so much shrinkage when you cook it. But after our animals are processed, they are hung in a cooler for two weeks, during which time any blood and water drains from the muscles fibers which naturally tenderizes the meat and enhances the flavor."
Where are you found locally?
"You can find our products at Crooked Oak Tavern, Art Burger Sushi Bar, all three Johnny D's locations, and the MB Culinary Institute. This is our fourth year at the markets."
What inspired you to start?
"We've raised cattle for 20 years, but didn't process any for ourselves. We were disappointed with the quality of grocery store meat, and decided to finish a few of our cattle for ourselves. It just grew and evolved from there."

by Niki Reed
Find her at the Surfside Beach and Valor Park Markets; offering home delivery.
What do you offer at the markets?
"I sell six kinds of microgreens: sweet peas; sunflowers; radish; arugula; basil; and salad mix, which contains arugula, broccoli, kohlrabi, kale, and red acre cabbage."
What inspired you to get started?
"Dec 31, 2019, I flew to Arizona to visit my sister and her family. We declared that 2020 was going to be a fantastic year and determined to support each other to be healthier. I came across microgreens, and began to study everything I could to learn how to grow them. Along the way, I realized this was also something I could do for my community. Now, I try to help others get healthier with microgreens."
What are the benefits of microgreens?
"Since they are babies, they have tons of antioxidants and a higher percentage of nutrients because they haven't yet started to put their energy into becoming a vegetable. All of their antioxidants, dense nutrition, and phytonutrients combat inflammation in your system— that's why they're considered a superfood. They help anyone with gut issues because they're so easily digested, and they're simply packed with flavor and colors."
What's new on the horizon for you?
"My new niche is creating recipes in which they can be incorporated. I want to deliver to yoga studios, businesses, nutritionists, and further develop my home delivery program."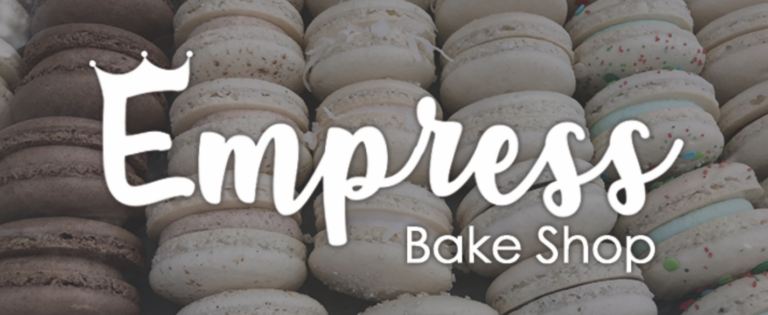 Empress Bakeshop
Find her at the Surfside Beach and Valor Park Markets.
What do you offer at the markets?
"I make macarons. They are French sandwich cookies made with almond flour, meringue and powdered sugar."
What inspired you to start making macarons?
"I love baking and wanted to offer something at the markets. But I knew what the other bakers made and didn't want to offer the same things. I was looking for my niche. Then, in 2017, my daughter was just turning into a teenager and macarons were all the rage. She loved them, so I decided I was going to start making them. I took a month to really get it down before I brought them to market. Today my macrons have a reputation— people come looking for them."
What's your favorite part about what you do?
"I love it when people who say they don't like macrons try mine and love them. Many macarons are made with artificial ingredients and flavors— but I don't. I use a lot of natural ingredients and real fruit. So people who think they don't like them end up loving mine."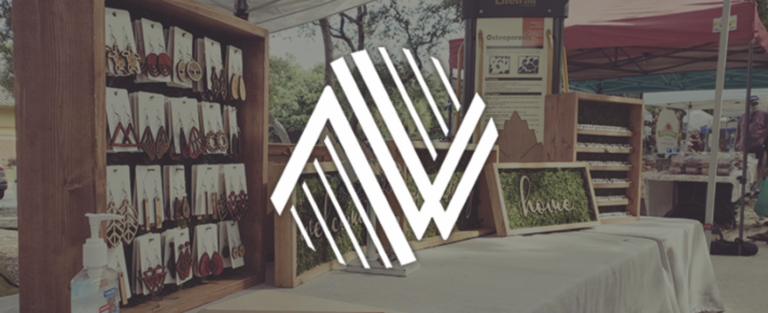 What do you offer at the markets?
"Wooden laser-cut jewelry in the form of dangle earrings, bracelets, necklaces and stud earrings. Everything is made from all natural hardwood. I do all the woodworking, then I create a design on laser software and cut it with a laser. Once it comes off, I jewel it in stainless steel. I do everything myself. "
How long have you been doing this?
"Since June of last year. I started during the pandemic when I didn't have a job. This is my second year at the market."
What inspired you to get started?
"I had never made jewelry before. My boyfriend owns a big laser machine, and he suggested I use it for something creative. So I started using it to make labels for kombucha that I was making for friends. He inspired me to use it for something else too. So I just thought about jewelry and started to do it. I had no prior knowledge— it just unfolded for me, and now it's what I do full time."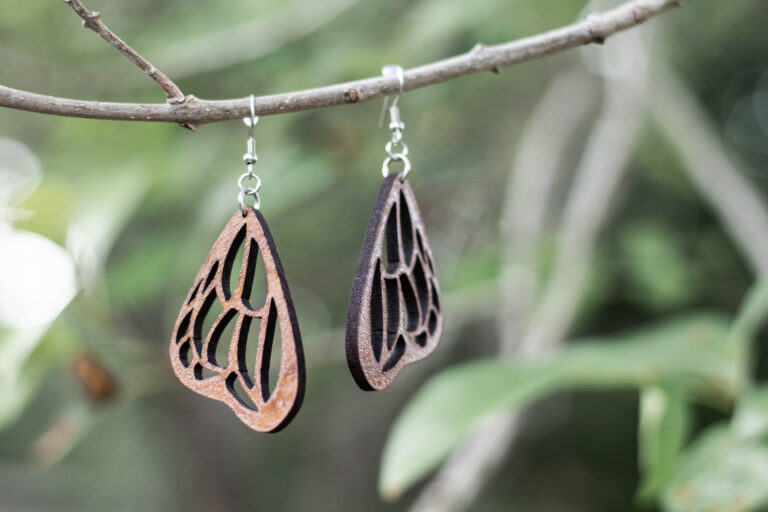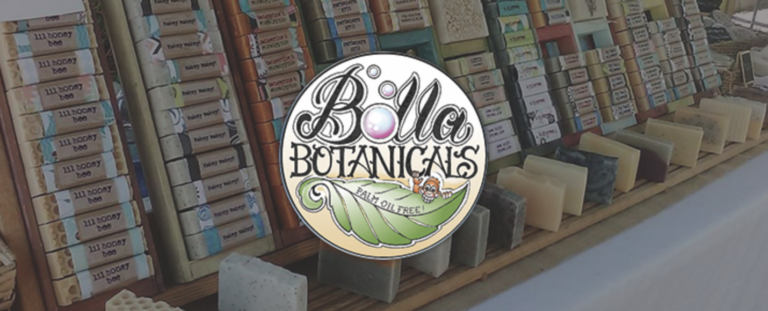 Bolla Botanicals
Find her at the Surfside Beach, Valor Park, and Plaza City Markets. 
What do you offer at the markets?
"I'm an artisan soap maker; I have about twenty different varieties. I also make soy candles, lip balms, and essential oil products like skin and hair oils. I'll be releasing an insect repellent this year. I use shea butter and only essential oils to scent, and like to stress that I'm palm oil free."
What's your favorite product?
"I'm known for my Tree Hugger soap, which is a patchouli blend. I also make soap with New South Brewing Company's beer; they were the first brewery in Myrtle Beach. The beer is really good for the skin and makes a great bubble— and the soap doesn't smell like beer."
How long have you been doing this?
"About 12 or 13 years. It's been a business since 2014, and this is my 7th year with the Waccamaw markets."
What inspired you to get started?
"I developed allergies and everything really bothered me, so I started making my own products. Initially, I began by selling soap at the brewery. I used to be a paralegal, but then the attorney I worked for had to close his office, so I decided to give the farmers market a try. It's all I do now."
What do you enjoy the most about what you do?
"The people you meet and working outside."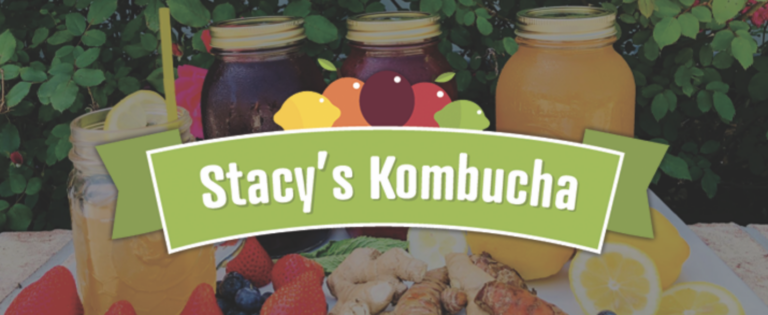 Stacy Boezi
Stacy's Kombucha
Facebook @ Stacy's Kombucha LLC
Find her at the Surfside Beach and Valor Park Markets.
What do you offer at the markets?
"I offer quart-sized jars of kombucha. I make all kinds of flavors— like fruits, herbs and spices. I've done a tomato basil, orange, pineapple, mango, boysenberries, blue huckleberries, and elderberries."
What are your most popular flavors?
"The most popular are strawberry-banana, and mango. Amongst the sour ones, it's lemon-ginger turmeric."
What inspired you to do this?
"Years ago, I heard it was really good for the gut. My husband suffered from acid reflux, so I figured we should give it a try. We bought some at the store, and thought it was disgusting, and decided to make our own. I did, and it healed his gut in three days.
"I began selling it at the farmers market the next year. This is my fifth year at the market. Homemade and store bought kombucha are completely different. Retail kombucha has to be processed in a certain way to control alcohol levels and it takes away a lot of the benefits. It's more efficacious to have it homemade, and it tastes better too."
What's your favorite part of what you do?
"I love to make it, and I love to hear the stories that people tell from their experiences— what they heal in their bodies from drinking it."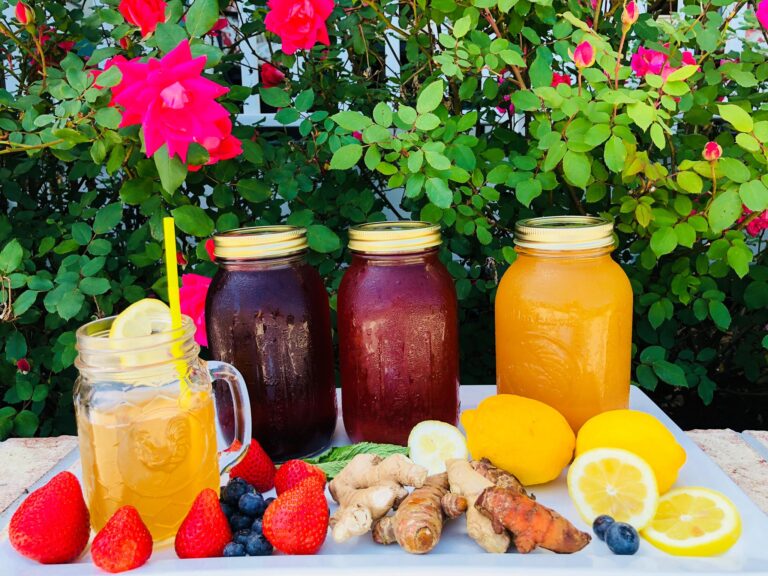 Surfside Beach Farmers Market
May 4 – October 26
Tuesdays
10am – 3pm
Surfside Drive & Willow Drive North
Little River Farmers Market
May 6 – October 28
Thursdays
9am – 2pm
4468 Mineola Ave.
Plaza City Market
May 6 – October 28
Thursdays
5pm – 8pm
819 North Kings Highway
(Nance Plaza)
North Myrtle Beach Farmers Market
May 7 – October 29
Fridays
10am – 3pm
925 1st Ave. S.
Conway Farmers Market
May 1 – October 30
Saturdays
8am – 1pm
Main Street
(Under the bridge)
Valor Park Farmers Market
May 1 – October 30
Saturdays
10am – 3pm
1120 Farrow Parkway
(Market Common )