Elko is Celebrating 17 Wonderful Years on Hwy 17 Bypass
by Melissa LaScaleia
In 2004, Micheal and Kimberly Elko moved from New Jersey to Myrtle Beach. The husband and wife team purchased multiple businesses specializing in pools, Olhausen pool tables, hot tubs and HotSpring Spas and created Elko Spas, Billiards & Pools.
"Our showroom is fully stocked and totally awesome. There are walls of accessories, water care supplies, game room products, and HotSpring Spas on display," says Kimberly.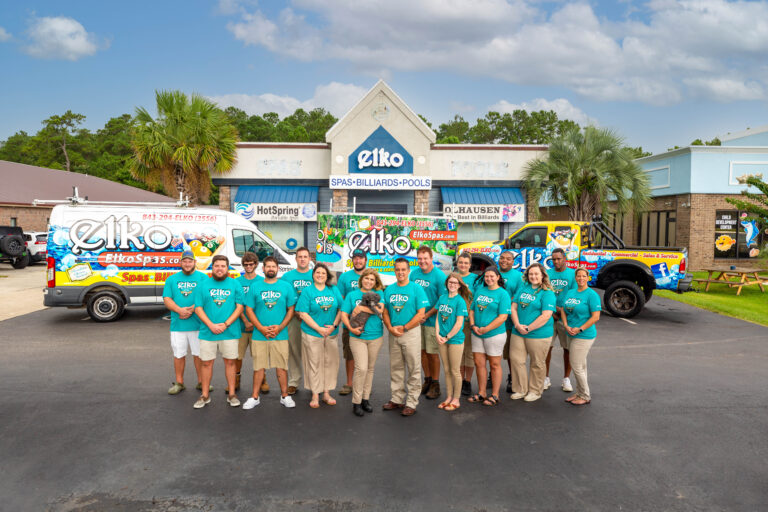 Elko sells and services most major brands of hot tubs, pool tables, saunas, and pools. They are an authorized service and repair as well as a warranty center for most major brands, but are capable of repairing everything. They conduct pool and spa water testing, and provide analysis as well as solutions for optimal water health. 
They build fiberglass in-ground swimming pools offering 3D design. Elko Service also offers swimming pool and hot tub cleaning, maintenance, and repair service for residential and commercial properties. They offer free design work for your spa or game space. With her background in design, Kimberly is able to assist clients with color matching and design layout. They also sell Doughboy above-ground pools.

A HotSpring Spa can address a range of life and health issues, from arthritis and sleep disorders, fibromyalgia, stress, injuries, and calming hyper children. 
Elko is also a part of many groups including: BNI, Horry Georgetown Builders, Coastal Power Women, Myrtle Beach, Conway, North Myrtle Beach, and Georgetown Chambers.
Elko Spas, Billiards & Pools