Eggs Up Grill: Where They Love You, Yes You
 by Melissa LaScaleia
Don Rau, the owner of the Eggs Up Grill on the outskirts of the Market Common, has been working in the restaurant business his entire life. His father and grandfather before him did the same. 
Growing up, Don helped in his family's restaurant in Ohio, and eventually took over the family business as an adult. It was a full service restaurant, banquet, and lounge, with frequent live entertainment. They served breakfast beginning at 6am, and were open late into the night. 
"Eggs Up Grill reminds me of what my parents started when they first began in this business," Don says, "because they served only breakfast and lunch. My dad cooked and my mom was a waitress. And then they grew and expanded. And now here I am with Eggs Up Grill." 
Eggs Up Grill is a franchise that was established out of Pawley's Island in 1986 by Chris Skodras. Don's restaurant now is comprised of more than just he and his wife, but it's the same kind of family-oriented concept his parents started out with. 
Don was enticed by the atmosphere and family-oriented feel of the company which lent him a sense of security and led him to believe that the venture would be successful for him and his family going forward. 
Which it has been.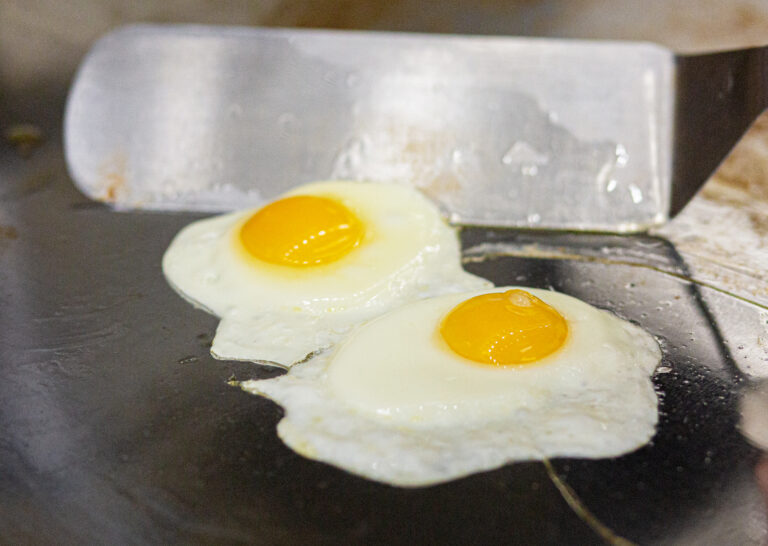 Don is now celebrating the recent opening of his second Eggs Up Grill location in Prince Creek, in Murrells Inlet— an up-and-coming housing and retail area similar to the Market Common. 
Eggs Up Grill serves one menu throughout its hours of operation from 6am-2pm. Both locations have a new and expanded menu and include traditional breakfast favorites like omelets and eggs Benedict, as well as burgers and club sandwiches and homemade soup.  There are vegetarian options, as well as gluten-free batter for pancakes and waffles that are cooked in a gluten environment (the menu calls the items gluten-free friendly).
The updates include more desserts, as well as additional flavors that borrow from Southern cuisine.  One of their highlights is the shrimp and grits omelette, and the Bananas Foster has a bit of a cult following. The expanded lunch menu incorporates more sandwiches, with fan favorites like the pimento cheeseburger. 
"We try to be health conscious and offer options for a lot of different people and for anybody's liking," Don says.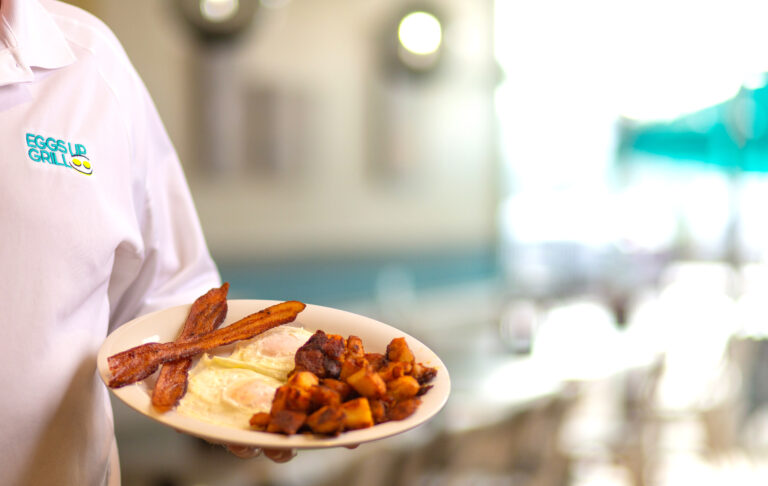 In keeping with that mission, he's transitioning both locations to a 'Make it Your Own Menu.' With this innovation, diners can create their own plates from a la carte selections, so they can taper their meals to their needs and desires— a process that allows the greatest freedom, and that's price efficient too. 
"I'm tickled to death to satisfy people and give the best hospitality because I believe that's the heart and soul of how to sustain a good business— keeping the customer satisfied," Don says. 
The new Murrells Inlet location is the exclusive home to a drink line which may be incorporated at Market Common and other locations in the future. Here, Don is offering specialty coffees, espresso, cold brew, and lattes that he's test marketing for the entire brand. 
The new location will also have outdoor patio dining just like in Market Common, and it's pet friendly too. It sports a soothing, soft atmosphere with its teal-based color palette that works harmoniously with the beach, and has a friendly, cute, and homey feel. 
Don is grateful for his employees who have helped to make his business a success, among them Brooklyn Price, who, as front of the house manager ensures hospitality standards are being met, and that all guests feel at home at Eggs Up Grill.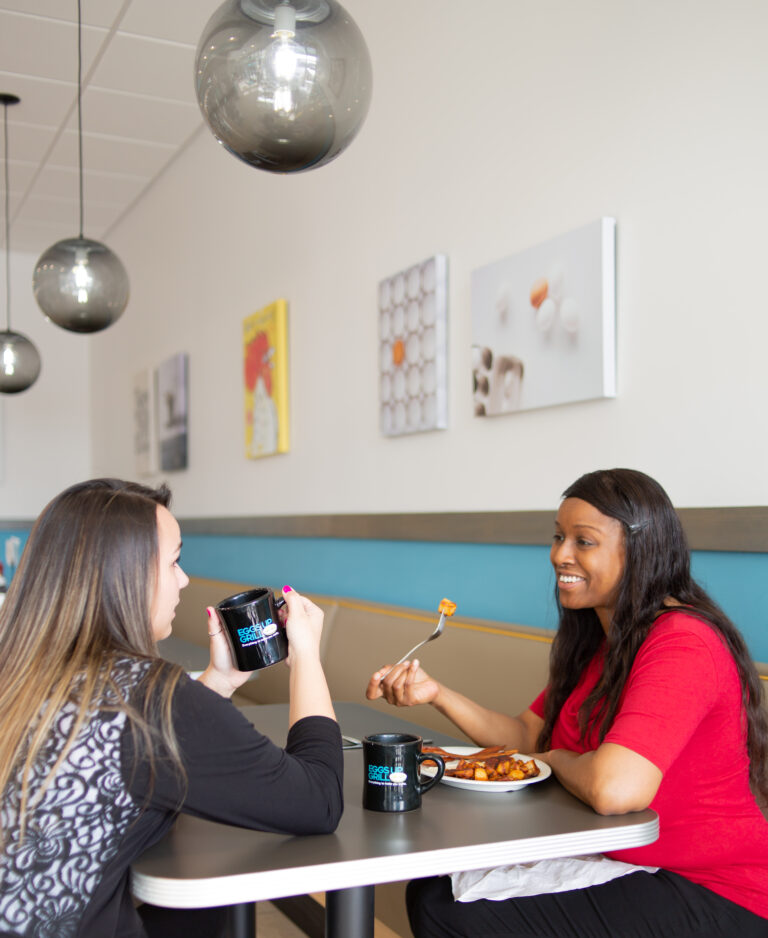 "Over the past two-and-a-half years I've established myself at the Market Common so that I can expand and extend the wonderful lifestyle that I've built for myself and my employees to more people in the community," Don says. 
Eggs Up Grill gives Don an opportunity to focus on what he loves, (which is breakfast), and it gives him the afternoons to be able to spend with his family (which he also loves). The latter is a benefit that all of Don's employees receive, and one that he feels blessed to be able to offer. 
"My general manager at the new location, Tom Lorenzana— his father was in the Air Force," Don says.  "As a child, Tom grew up at the Myrtle Beach Air Force Base. I've known him ever since I've been here, thirteen-and-a-half years. It's a good feeling for me to give him the opportunity to work the hours I have. And he's ecstatic about it." 
In addition to creating employment opportunities with family friendly hours, Don is happy to be able to engage in outreach work in the community. 
He works with the Lion's Club; helps with non-profits like Backpacks for Kids; and sponsors a local hockey team.  Every Veteran's Day, Eggs Up Grill hosts a Veteran's Appreciation day. 
"It's a good feeling," Don says. "And I'm looking forward to creating the same type of involvement in the Prince Creek area."