A Gathering Place at The Market Common to Celebrate Summer
by Melissa LaScaleia
Hot days, long summer nights, lush greenery, endless hours outdoors— as the calendar rolls into July, there's a profusion of growth and natural abundance that surrounds us. Everything is ripe and overflowing. Summer has arrived; and with it, the farmers market. 
On Saturday mornings, artisans and vendors gather on DeVille Street to celebrate this aliveness. Reminiscent of the activity of a bee hive, people come, swarming and humming around the stalls. Some stroll, some shop, some are simply here to gather.
As I meander my way slowly down the street, I'm enjoying a visual feast: handmade candles and soap; greens of many varieties unselfconsciously bursting over the boundaries of their assigned space on the tables; dressed nuts; pirogies; local honey; granola; homemade baked goods; plums so rich they look like velvet; coffee; ice cream; jewelry. It's a bevy of handmade and earth-made beauty all rolled into one. 
I'm nourished from the action of strolling along— imbibing with my senses the multitude of expressions of love that come from the earth as well as those that come from artisans. I'm convinced that it's impossible to shop at the farmers market and not smile. 
There's something about seeing a person put their own unique stamp on something, be it a piece of jewelry or a candle, and then offering it for sale that fills me with joy and reminds me of how vital simple pleasures are to happiness. Being here heightens my consciousness of where my food comes from, and fills me with a childlike wonder over the miracle of its existence as well as a reverence for the balance we maintain on our planet.
I can't help but feel that if I were in charge of growing crops to feed myself, I'd be in a lot of trouble. When I leave the market, my arms full of fresh, fuzzy peaches, delicate blueberries, and sturdy leafy greens, I feel humbled but even more so delighted at my good fortune in knowing at least five who can. I always look at farmers with a kind of awe, wondering how exactly they do it. So I call one of the proprietors of Home Sweet Farm, to ask.
"I've been farming since I was a boy," Jimmy Rabon, a fourth generation farmer, and one of the two responsible for the beautiful displays at Home Sweet Farm, says.
Jimmy and his fiancé, Miracle Lewis, farm and manage the 80-acre property that belongs to Miracle's grandparents. It's hard for me to comprehend that the plenty and variety I see on their table only needs 80 acres to flourish and grow.
"We grow on plastic culture," he explains. "We lay down a black plastic weed cloth, and plant through it. When you plant on dirt, you can get about 250 bushels of crop per acre, but when you plant on plastic, it's really unlimited— it could be 500-600 bushels of climbing vines, like cucumbers and watermelons. It produces a much earlier yield, and it keeps disease down. When you plant on dirt, every time it rains, it splashes up— that causes disease."
"But what about hungry insects?" I ask— always my greatest nemesis when attempting any type of garden.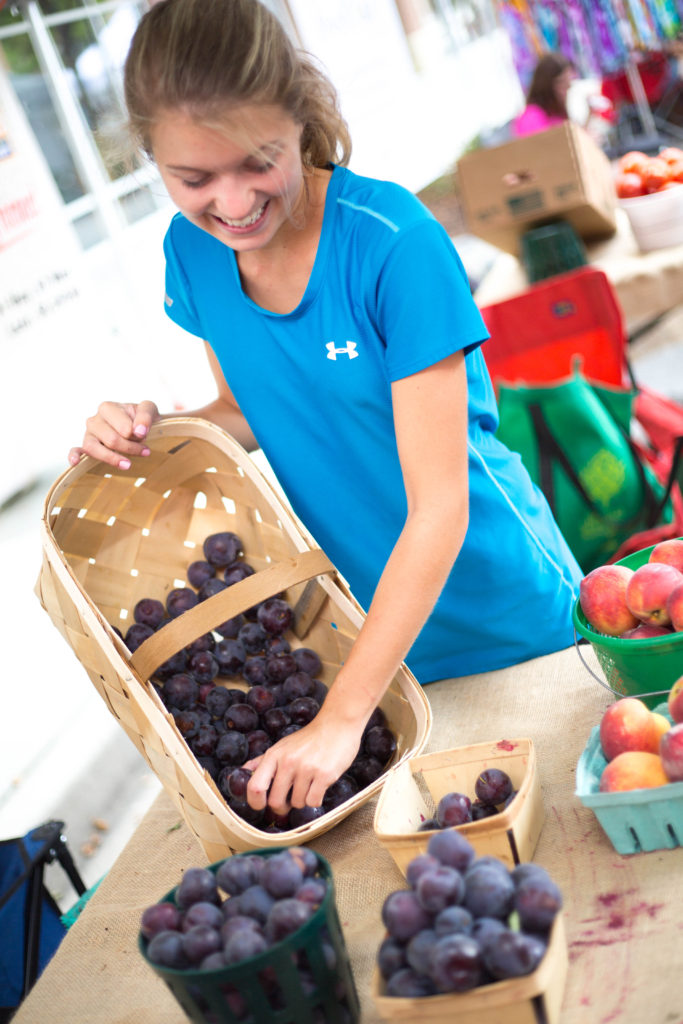 According to Jimmy, there are types of beneficial insects. If there are a lot of them, most of the time, they can keep the bad bugs at bay.
So how do you attract beneficial insects?
"The best way is to not spray with pesticides," he says. "We don't spray more than we have to. But the plants themselves will attract beneficial as well as non-beneficials."
"Just hope," he adds with a chuckle, "you have enough of the benefits to offset the non-benefits."
I appreciate this approach of cultivating crops more in harmony with nature and less with chemicals, and enjoying what blossoms naturally from the land. Joan Smith, a Market Common resident, agrees.
"I'm from NJ," she says. "And there's nothing better than NJ produce. I like to see what people have locally because food from farm-to-table is very important to me. I'm used to organic food."
Joan likes to take her golf cart to the market and catch up with her neighbors there.
"It's a very friendly atmosphere," she says. "I get to see food vendors, but also vendors who have other interesting things they're selling, like soap or jewelry."
One such vendor who fits in that category is Authentic Life Pawleys, where owner Mary Zlotnick makes her own line of body sprays, insect repellent, and body butters, some of which look good enough to eat. Mary has created recipes over the years, often based on her friends' and clients' requests for her to make them something.
"Most of my products are made from certified organic ingredients," she says. "That's important to me. If I'm going to tell you to use something, I want it to be non-toxic— safe for you and your pets."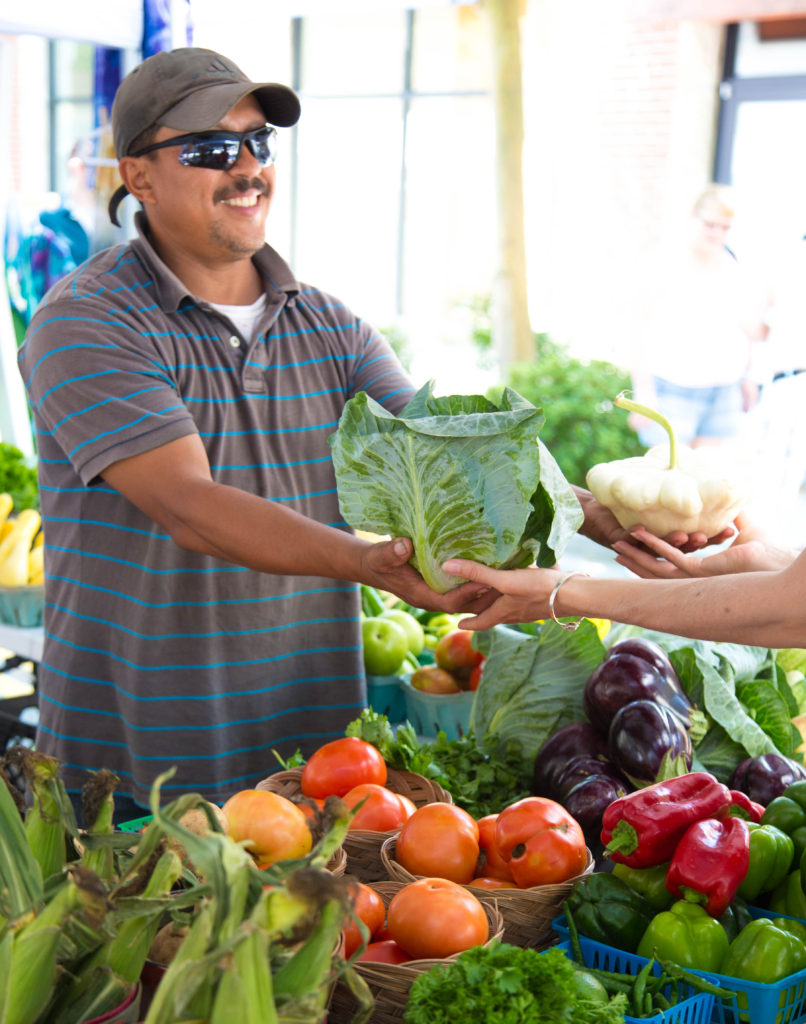 The love and passion she puts into her products is palpable, and what began as a hobby now keeps her busy full time.
"I keep up on the research to get the best combinations and outcomes," she says. "I take my time. I want it to be authentic— good for body and soul." 
When I ask her about her experience at the farmers market, she says: "I like how we've become a family and look out for each other. We're all in it together, to help educate people. People are coming, and we share about where we're getting our products from and why."
Joan sums it up like this: "I like that the market is growing every year. This year, there are more vendors. We are growing in the Market Common, and they are growing with us.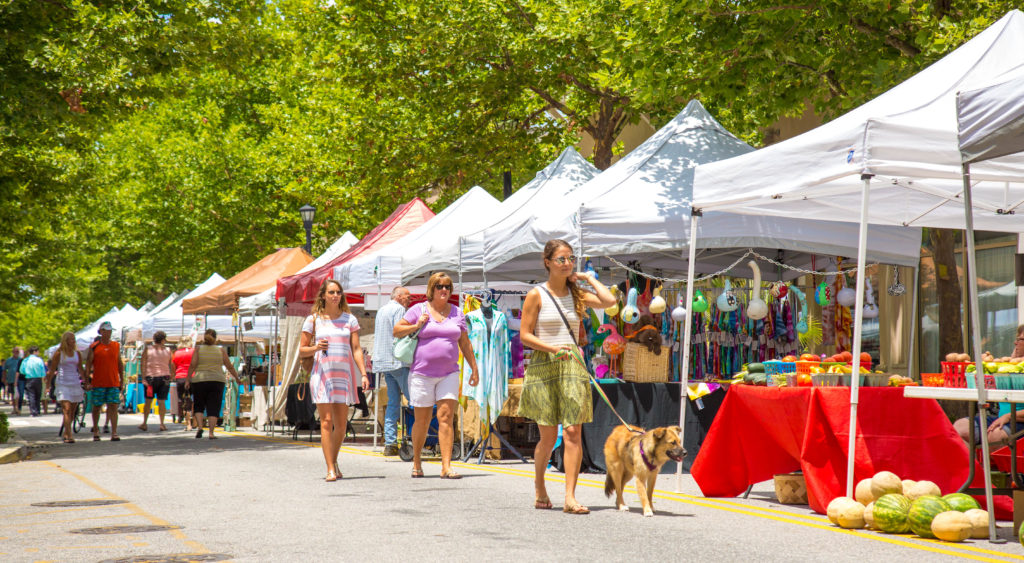 The DeVille Street Farmers Market
Every Saturday on DeVille Street in downtown Market Common from 10am-3pm; June 4 – September 24, rain or shine. 
There is ample free parking in nearby lots and adjacent streets.
Read more about some of the vendors here.