A Biscuit Journey Like No Other
Welcome to 10/Fold Biscuits, where we've rewritten the rules on southern-style dining. In our kitchen, we've unlocked the secret to happiness: it's all about biscuits! We firmly believe that no meal is complete without these golden, flaky delights. At 10/Fold Biscuits, we've taken this belief to heart, and our extensive biscuit-centric menu reflects our commitment to redefining comfort food.
A Biscuit Journey Like No Other
Our mission is simple: exceed your expectations with every bite. We aren't content with merely doing biscuits right; we aim to serve you the best biscuit you've ever tasted. With a passionate commitment to quality, our biscuits are crafted to perfection, ensuring that every customer experiences a mouthwatering journey into southern comfort.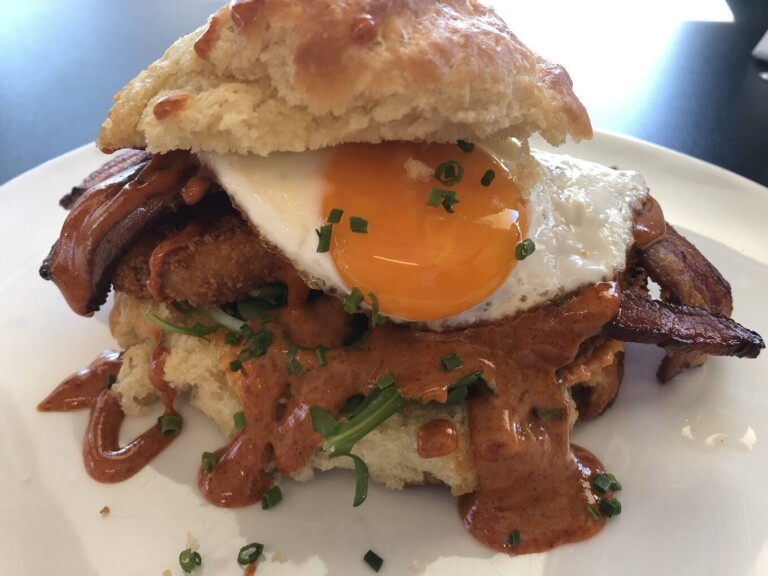 Exceptional Biscuits, Exceptional Mission
At 10/Fold Biscuits, we value your input. We encourage open communication with our patrons and welcome your honest feedback. Whether it's about the texture of a biscuit or the speed of our service, your opinions guide us. Your compliments motivate us to maintain our high standards, and your suggestions propel us toward our goal of creating the ultimate biscuit-based dining experience.
While our diverse biscuit-based menu sets us apart, it's our unwavering dedication to ensuring you relish every bite that truly distinguishes us. Exceptional service is our hallmark, ensuring your time with us is memorable.
Now, let's talk about their star players: the Low Country BLT, Sunday Supper, and Nashville Deluxe biscuits. These house specialties showcase our culinary prowess. The Low Country BLT harmonizes crispy bacon, lettuce, and a fried green tomato with a spicy pimento aioli, all nestled in a warm biscuit embrace. Our Sunday Supper transforms your favorite comfort foods into a biscuit masterpiece, while the Nashville Deluxe brings a spicy, soulful twist to southern classics.
Welcome to Myrtle Beach's premier biscuit-based restaurant, 10/Fold Biscuits. Immerse yourself in our fast-casual atmosphere, modern design, and trendy ambiance, all while savoring warm, soft biscuits. We're not your typical breakfast spot; we're truly one of a kind. Don't just take our word for it—stop by today and embark on a culinary adventure that defies convention.
Hours of Operation:
Monday to Sunday: 8:00 AM – 2:00 PM
Contact Us:
Phone: 843-839-4849