Painting it Pink in Myrtle Beach
by Melissa LaScaleia
CertaPro Painters is a family owned and operated franchise that services the Grand Strand and beyond. Spearheaded by Doug and Robin Bland, their company offers residential and commercial interior and exterior painting.
When painting a home, one of the services CertaPro provides is a thorough preparation of the surface, in which they conduct any non-structural repairs— things like replacing rotting wood, loose pieces, or filling holes.
This can prevent bigger damage from continuing, or often, beginning, and helps to safeguard your home from mold, mildew, insect and pest infestations, and more.
The company also offers kitchen and bathroom cabinetry refinishing— one of their most requested services— as the process typically costs a third of the price of new cabinets, and looks like a new installation.
CertaPro doesn't require a deposit for any of their projects, or payment until a project is finished.
"We heard too many stories about people paying down payments in the thousands of dollars never to hear from the contractor again," Doug says, "or to not hear from them for many weeks, causing a great deal of anxiety. So we wanted to put a different spin on how we see service.
"Until a customer is 100% satisfied, we don't charge them, because we want them to know that we're committed, and will follow through and work hard to satisfy them."
"We're trying to change how the painting industry is done as a whole," he adds. "One of our family members will manage a customer's request from beginning to end, so the customer feels comfortable knowing that if they have any questions or problems, they're working with one person who knows their situation instead of multiple channels and people. It gives them a voice."
"Your home is your biggest personal investment, and we like our customers to feel comfortable having us in it," Robin says. "We make sure our crew has access to all the latest tools and resources, and validate their skill level and assign them a project that is aligned with it."
For Doug and Robin, taking this type of thoughtful, personal approach in the day-to-day administration of their business is what sets them apart and helps them build customers for life.
Before CertaPro, Doug worked in business management for Xerox for 25 years, orchestrating large-scale million-dollar projects.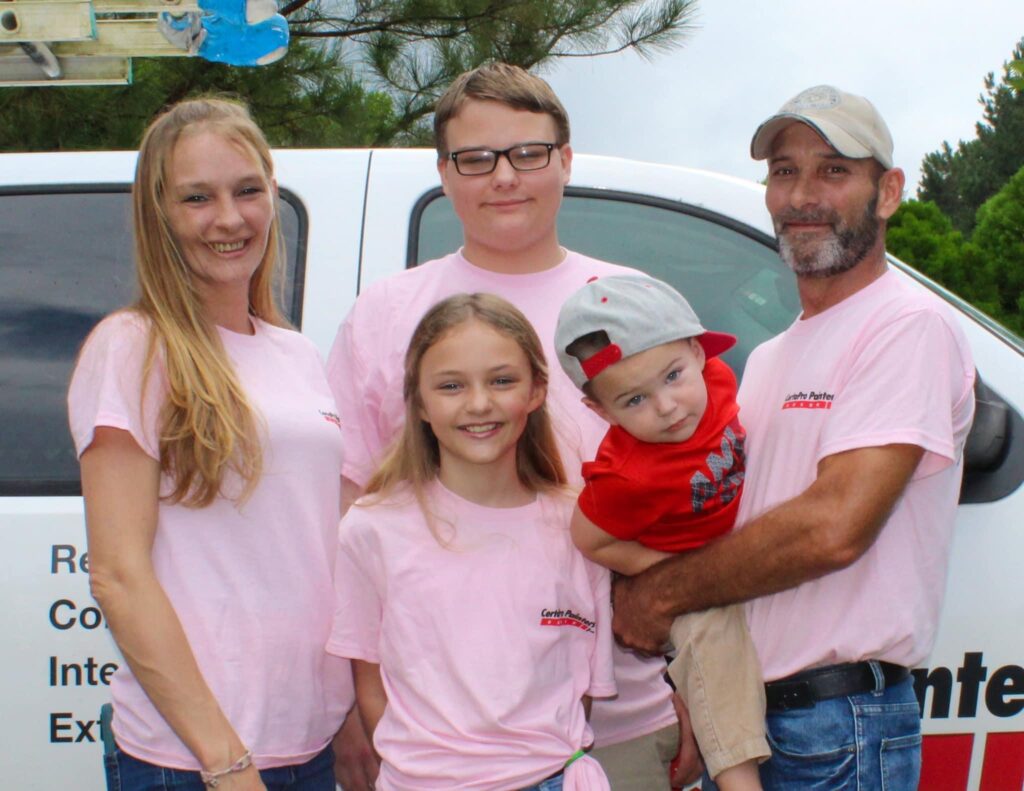 "When I look at what made me a success at project management," he says, "it was because I cultivated qualities like accountability and a disciplined approach; these are all key factors that translate from one industry to the next.
"As I looked to make a career change and be more involved in the local community that I loved, I looked for something that fit those core values. In working with my team and customers every day, those values dictate how I run my business."
One of the community projects that CertaPro has been involved with for the past eight years is a partnership with CertaPro Corporation to benefit the Breast Cancer Research Foundation. During the months of October and November, CertaPro crews wear pink shirts to promote their Paint it Pink Campaign; they donate $40 from every project they complete to the Foundation, which is matched by CertaPro corporate. In 2021, CertaPro raised over $126,000 for breast cancer research.
"It was such a success, we decided to expand it into November, as well, this year," Doug says.
"In some way, we've all been touched by breast cancer," Robin adds. "I think everyone can relate to this campaign."
Each job that CertaPro completes in the months of October and November will fund one hour of research conducted by the Breast Cancer Research Foundation.
The fall season is the ideal time to have your home painted— to protect it through the harsher winter months, as well as to prepare for the holidays. CertaPro hopes that more people will be incentivized to tend to their homes these next couple of months, while also supporting a great cause.
"Each $40 donation goes a long way toward finding a cure," Robin says.
"Our entire family makes an effort to make our company what it is, and we're all proud to be a part of it," Doug adds.