WWII Army Air Corps Veteran and World Traveler
Celebrate Our Veteran gives voice to the stories of the U.S. military veterans living amongst us. The actions of these brave and dedicated people, who have served our country both in active military duty as well as administrative positions, have and continue to contribute to the protection and preservation of us and our country. 
We hope that this section of our paper is an opportunity for our community to hear and see veterans with new eyes, and for veterans to receive recognition and honor for their experiences and life journeys. 
This month's Celebrate Our Veteran recounts the story of John Walker, as told in his own words.
by Melissa LaScaleia
"I was born in Carbondale, Pennsylvania on August 26, 1924. My father's name was Leonard J. Walker, and my mother was named Haran Walker. I grew up during the Great Depression.
I learned early in life that to survive, you must live moderately, never waste, and never ask for anything that you couldn't pay for. I've carried these principles with me all my life; we shared with our neighbors and all pulled together to survive.
When I was eight years old, Franklin D. Roosevelt was elected to be president of the United States. He had a plan to bring the country back from the Depression. One of the other items on his agenda was to bring the military up to a higher standard.
By the time I was ready to graduate from high school, we were coming out of the Great Depression. It was 1942, and World War II was on in Europe. As the military was still not up to par, one of the programs the government implemented was to require bright young high school graduates to train in the military as a way to bolster the military numbers.
There were only male fighters in the military at this time; the ladies were only allowed to be nurses. If you wanted to be an Army Nurse, the government would pay for you to go to school and be an RN.
For the men, at the end of high school, first you took a test and an interview to see what you were interested in doing in life, and if you were interested in any of their programs. After that, they presented you with a plan. I was interviewed by the Army Air Corps, and they offered me the opportunity to be educated in electronics.
In my case, it was to study all the aircraft electronics used by the Army Air Corps including instruments used in the air craft for flight control and armor such as: Identified Friend or Foe, IFFF, armament, etc, and I was trained to install all items to communicate and to maintain them. This included items in the tower, like the landing localizer, glide path, and so on, and in the air. This was quite a task.
I was first trained at Hershey Industrial School, in Hershey, Pennsylvania, then Phlico Electronic School in Philadelphia, and Drexel College in Philadelphia.
A man named Hershey started the initial school I attended— the same one who owned the town and the famous chocolate company. He did great things.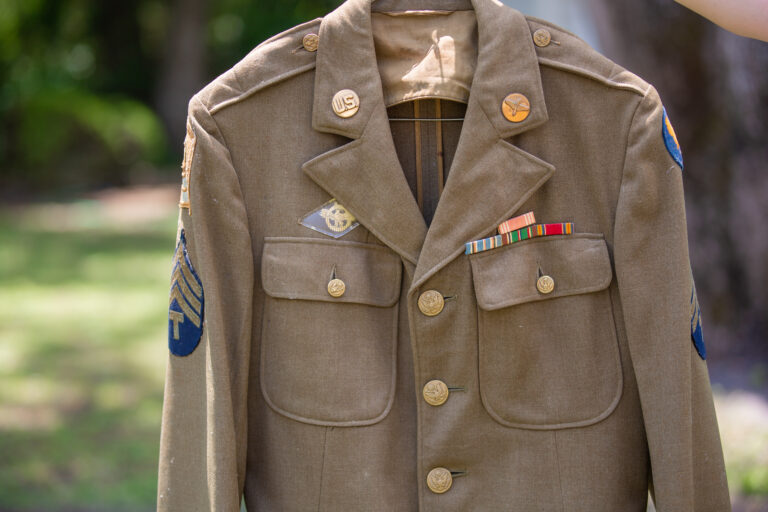 He owned a circle of farms all around Hershey and would take in orphan boys and girls to live on the farms overseen by an orphan mother. They would run the farm and care for the chickens and cows, and the milk from the cows would be used to make the chocolate in his factories. When they were older, he would even pay for them to attend college.    
Some of them went to his Industrial School where he had all kinds of machines, airplanes, mechanics, generators for electricity, and radio electronics. 
After eight months or so of training there, then I understood the electronics being used by the Army. Then they moved us to Phlico Electronic School in Philadelphia for another eight months or so, to delve deeper into electronics and more secret instruments used by the military. 
Then I attended Drexel College. Once we were fully trained, we'd go into the Army Air Corps, which was the precursor to the Army Air Force.   
Upon graduation I was inducted at Indian Tongue Gap. After we were there for a few months, they sent us to Columbia, SC Army Air Base. That's where Doolittle trained with B25s for the raid on Tokyo. 
They would fly out and bomb the swamps all day long— they were training to take off on a short runway. Everything was so secret at that time. I was there, and a friend of mine lived two blocks away, but neither one of us could tell the other what we were doing. At that time, secret was secret. 
After spending some time there, I was sent to a newly formed unit of 2,500 men in Warner Robbins, Georgia. By that time we were skilled; I was a specialist. We were set up into six-man teams with top secret clearance. They could send us anyplace in the world the military needed us to do a job, and we had top priority— we could bump a general off a plane. This was very hazardous because it was war time and we were mostly on our own. 
One of my assignments was to go to North Africa, along the supply route for the war. We went up into Russia, Cairo, and then Turkey, which was neutral, but still used. 
We installed estimate landing equipment. On every cockpit you have needles that help you land the plane, but we could send a signal out for 80 miles on our glide path, and land you on a dime on the runway. The pilots would always ask us to fly with them on their first flight to see if we trusted our own work. 
At that time, Roosevelt had his famous meeting of the Big Three in Cairo, with himself, Stalin, and Churchill. He flew into Cairo where we were. His plane was called the Sacred Cow. There were a bunch of P38s that landed too. They had their meeting for a few days, and then they flew out.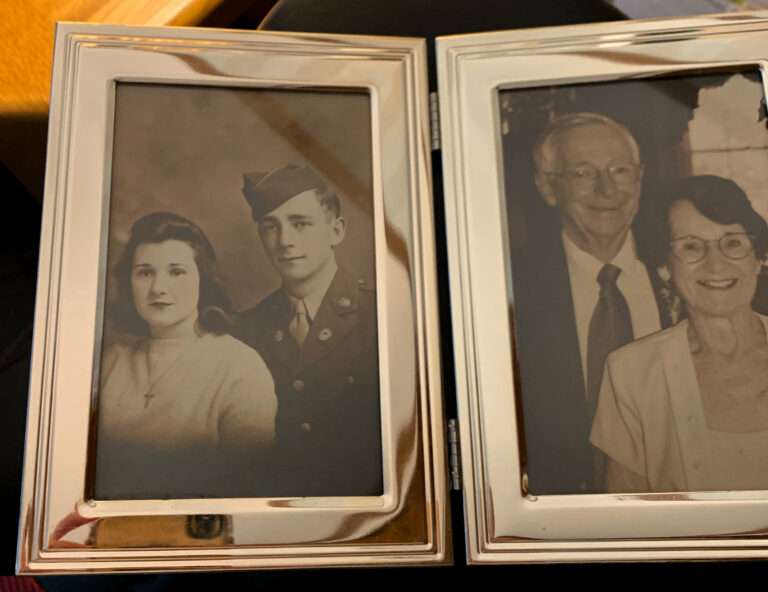 The War was over, and we came home to Warner Robbins. The military had all these men and didn't know what to do with them. So they sent me to Lovit, Texas, where I was a Supply Sergeant. So many planes would fly in, and I would do what was called 'unpickling a plane.'
After I got out, I put in applications for everywhere in the country. A couple of weeks later I got a call, and became a foreman. 
My wife and I came here in 1952 and built our first home on 32nd Avenue. My wife didn't want to be any further north or we'd have been in the woods. It was a two bedroom home. Our son Jack was six years old when we came to Myrtle Beach. Then our daughter Linda came along, so I built an addition on the back of the house. 
I got the lumber for it from the barracks. Then later on our son, Paul came. And he was one of the first babies that was born in the new hospital in Myrtle Beach. Before that, if you were having a baby, you had to drive to Conway and hope the drawbridge wasn't up. 
We raised our children here. Jack went to USC and ran seven textile plants. Linda went to Clemson and graduated as a nurse. Paul went to work at the age of 12 or 14; he was a radio disc jockey and had his own program. After that, he ran Dracula's Castle long before Rippley's Aquarium was started. A Canadian owned it and asked him to go up to Canada and help them run it up there. He later was in real estate. 
I helped open a plant in El Salvador. I would commute there with my wife. In El Salvador you could swim in two different oceans in one day. We also traveled to Mexico and Guatemala.
We became world travelers. We'd travel to London, Spain, Portugal, and the Greek Islands. We traveled overland to Jerusalem before Israel was created— we went from London to Paris, to Milan that way. At that time all the holy sites were shared by all the religions, and they all got along well together. We had our granddaughter Tamara with us on that trip. And the Pope had a meeting for Catholic families all over the world. We went to Bali— it was very interesting. 
We also served on the Chamber of Commerce in Myrtle Beach for a short period of time. We used to belong to the Dunes Club— we were great golfers."