November 26, 2021 thru January 2, 2022
by Melissa LaScaleia
Brookgreen Gardens has long garnered national renown as a destination that delights visitors with nature, art, wildlife, and local history. Nights of a Thousand Candles, their signature holiday event, will be held from Thursdays through Sundays, November 26 through January 2. During the evening hours, the gardens are brilliantly illuminated with millions of lights and light displays that are seamlessly interwoven with the landscape and permanent art installations.
Nights of a Thousand Candles was started in 1999 by an enterprising group of staff and volunteers who wanted to host a holiday celebration. That first year, the event was called the Luminaria Festival. It was held for two nights in Oak Alley and the main sculpture garden, and drew a little over 500 people. The next year it was expanded, and renamed Nights of a Thousand Candles. It has continued to grow since then, and today extends to every part of the sculpture gardens. 
"One of the things that sets us apart from other botanical gardens that have lighting exhibits is that we actually use real candles," says Lauren Joseph, marketing director for Brookgreen. "We light about 2700 every evening; and we use about 35,000 in total during the course of the event." 
"Our operations team has the execution down to a science," she adds. "We have about a hundred staff and volunteers, and everyone lights the candles in their specific area. Once they begin, it takes about twenty minutes for everything to be illuminated. The floating candles in the pools and ponds take a little longer because we have a crew that has to get into hip waders and move from place to place." 
Over the course of twenty nights, 65,000 people are expected to attend. At the beginning of November, the event was already at half capacity, and Lauren highly recommends people purchase tickets as soon as possible. 
Just like the gardens themselves, Nights of a Thousand Candles is always growing and changing. The model train display is going to be the biggest it's ever been this year. There will be live entertainment each night— the complete list of performers is found on their website. There will be a wide variety of food options including pizza, BBQ, fish, and tacos. Outside vendors will be there with food trucks; there's a buffet by Inlet Affairs; and Harvest, Brookgreen's restaurant, will be open for indoor sit-down dining. Reservations for the restaurant are strongly recommended. 
Brookgreen has been intimately tied into the culture and economy of this area since their inception almost a century ago. In 1930, Archer Huntington and Anna Hyatt Huntington purchased 9,000 acres of land in Murrells Inlet, the seat of four former Waccamaw Neck rice plantations. At that time, Anna had been diagnosed with tuberculosis, and her doctors recommended that she winter someplace warmer than where they were living in New York and Connecticut.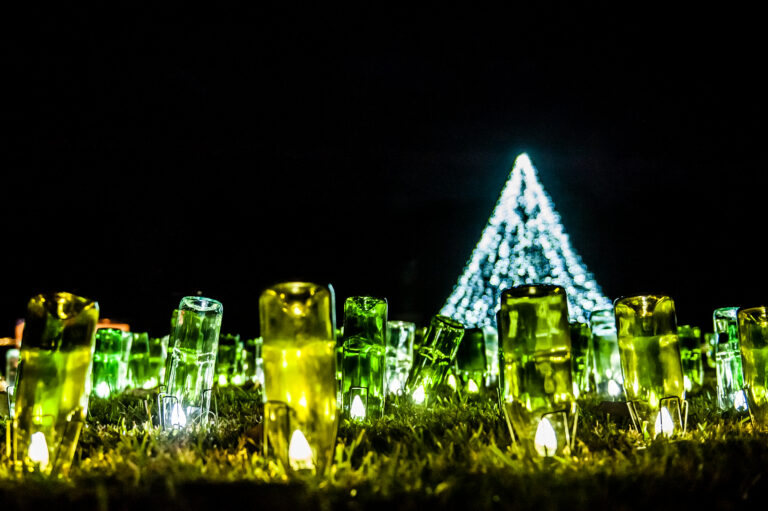 The Huntingtons intended to use the land as a personal retreat so Anna could recover her health, but once they arrived and saw the beauty of the place, they realized the property was something that they needed to share with the world. The following year, they formed Brookgreen Gardens as a non-profit organization. 
To create their vision, the Huntingtons developed the surrounding area. In the Depression Era of the '30s, Murrells Inlet had no electricity and no health care. Highway 17 was a one-lane dirt track, and most people used the river to get from place to place. 
The Huntingtons ushered in vitality, opportunity, and enterprise to an economically and socially impoverished place. They brought electricity; established a free health clinic for the community; opened a school; and employed the local population, many of whom were descendants of enslaved Africans.
"The Huntingtons really wanted to give work to the people who were here and help them live better lives," says Lauren Joseph, marketing director for Brookgreen. "From the very beginning, they wanted to build into the community, something we continue to purport to this day." 
Also important to the Huntingtons was conservation and preservation— of habitats, trees, shrubs, plants, and wildlife— values which have been maintained consistently throughout the years. 
Today, Brookgreen is a member of the American Public Garden Association (APGA), and in the peer group of some of the most impressive gardens in the US. They even have a boxwood collection that dates to the days when the area was a plantation. 
They are one of a few select places in the United States to have earned accreditation from the American Alliance of Museums and the Association of Zoos and Aquariums, as well as being designated a National Historic Landmark and listed on the National Register of Historic Places. 
"Many people don't know we have a zoo, but there has always been one," Lauren says. "Anna loved animals and was an animal sculptor, and the idea of conserving and educating people about the local wildlife has always been important. The zoo has river otters, foxes, species of raptors, ducks, and deer. They are all here to facilitate a better understanding of the animals for those who visit." 
Brookgreen has a domestic animal exhibit that helps to preserve animal breeds that would have been common on farms in the 1800s. They also have a permanent art collection, much of it work by Anna herself, who was an acclaimed and much sought-after artist during her lifetime. The collection includes sculpture as well as paintings and etchings. In American figurative sculpture, Brookgreen's collection is the largest and finest in the world. 
2021 marked Brookgreen's 90th anniversary, but they are continuing celebrations through spring 2022. 
"The Huntingtons established Brookgreen in 1931, but opened to the public in the spring of 1932," Lauren says. "So we're taking that entire anniversary year for additional celebrations.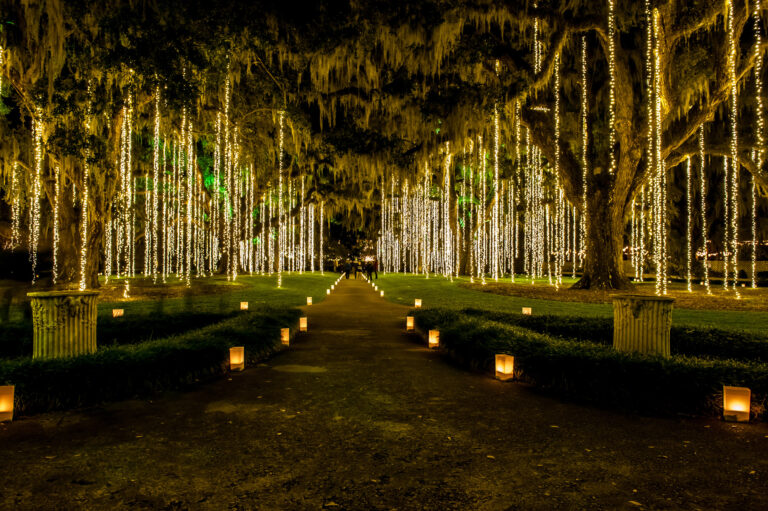 "In addition to being a spectacular event, one of the important things that Nights of a Thousand Candles does is to introduce new people to Brookgreen and everything that it has to offer. Many people do not realize the extensive conservation efforts we entertain both with animals and horticulture, nor the importance of the American sculpture that is housed here." 
The China Fir Tree, the 75-foot tall tree that has been an anchor in the arboretum for the past 70 years, will not be adorned with lights this year. In keeping with Brookgreen's conservation mission, the best way to extend the tree's lifespan, which totals about 75 years, is to avoid the wear and tear that occurs from being adorned in lights. Instead, there is a grouping of evergreen trees near the pavilion that will act as the official tree-lighting ceremony that was Brookgreen's nightly tradition. The large firs will be beautifully uplit from the ground. 
"The team that establishes the design for this event, they spend their lives in the gardens, day in and day out, and know the gardens intimately," Lauren says. "They don't try to impose decorations over or on top of anything. They design everything to work with the art that is already there, and the plants and landscape design that are already there. Each garden has its own theme and its own feel to it. Around every corner you'll see something different. You'll see the amazing garden and the art collection that is so integral to Brookgreen highlighted rather than covered up." 
On Saturday, November 20, Brookgreen hosted their Nights of a Thousand Candles Preview Benefit for those who were eager for a sneak peak of the holiday display before it officially opened to the public, or who preferred to meander through with a smaller crowd. Tickets were $125, and included all wine, beer and food. All proceeds supported Brookgreen Garden's education programs. 
One of the questions that Lauren receives the most frequently about the event is regarding the cranberry display found in the Brown Sculpture Court. People want to know how many are floating in that pond. The answer is 530lb. 
"They are shipped from New England where they grow cranberries," she says. 
"This event has really become a family tradition for people in this area," she adds. "And there are also people, too, who travel just to see it. We love that Brookgreen is part of family holiday traditions." 
Nights of a Thousand Candles
Thursday – Sunday, November 26 – January 2.
Purchase tickets early. Tickets $30; discounts for children and members.