Have Fun and Keep Your Cool
by Melissa LaScaleia
As summer rolls on and the thermostat continues to rise in Myrtle Beach, what was once the locale for fun in the sun can become too much heat to bear. So this month, we've compiled a few ideas, from evening activities to day-long ventures, all designed to entertain while helping you keep your cool at the same time. 
Springmaid Pier and Surrounding Area
Myrtle Beach's Springmaid Pier was built in 1953 as part of the Springmaid Resort. The eponymous beachfront hotel was named for its owner, Colonel Elliott White Springs, president of Springs Industries, a textile manufacturing company. 
Since that time, the pier has met with destruction at the hands of two hurricanes and one airplane crash. The last pier survived the longest— it was built in 1973 and met its fate after Hurricane Matthew struck our shores in 2016. At that time, the 1,068 foot-long pier, one of the longest on the East Coast, was reduced to some 100 feet. It was rebuilt last summer, having been reinforced with steel and raised at the end to protect against future storm damage. 
Today, the area remains popular for fishing, sight-seeing, and beach-goers. The breeze off the pier offers a welcome respite from the sun, and passersby can watch the fish being reeled in, or simply enjoy the views from one of the many benches that dot it. Treat yourself to a shaved ice from the pier's vendor, or enjoy lunch at Southern Tide restaurant, located at the end. 
Afterwards, cool off indoors at the Franklin G. Burroughs-Simeon B. Chapin Art Museum, directly across the street. With eleven ever-changing galleries, the museum showcases collections of paintings, textiles, sculpture, photography, video, ceramics, assemblage, collage and more. It also hosts frequent programming including receptions, tours, lectures, workshops and classes for both adults and children. 
Pier & Art Museum: 3200 South Ocean Blvd, Myrtle Beach, SC 29577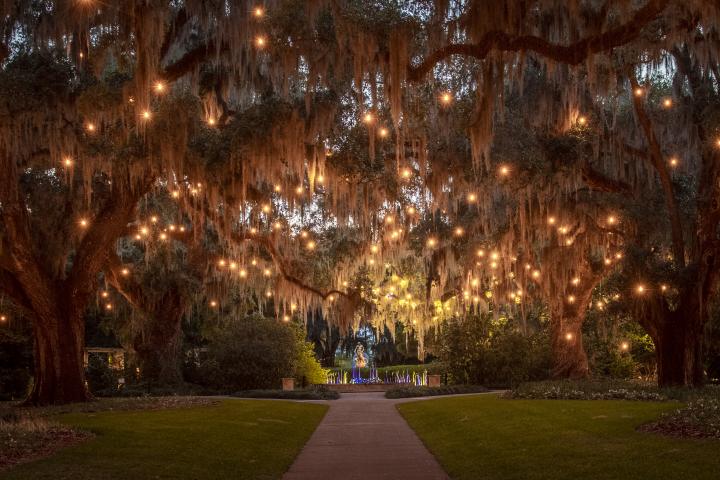 A Cool Evening Art Exhibit at Brookgreen Gardens
Brookgreen Gardens, a 9,100-acre majestic nature and wildlife preserve located in Murrells Inlet, features 200-year-old live oak trees, several themed botanical gardens, and the largest collection of American figurative sculpture in the country set against a stunning garden backdrop. The romance of Brookgreen cannot be overstated, nor the importance of what landmark-strides this nonprofit is making in terms of protecting, preserving and promoting both nature as well as the arts.
This summer, Brookgreen is offering an exhibit, Summer Light Art by Night, a way to explore Brookgreen— the sculpture, the galleries and the whole landscape— during the cooler evening hours after sunset. Light is used as a medium and as art itself in various installations around the garden, facilitating an immersive, experiential art experience. There will be docent tours for the galleries, and live music nightly. The restaurant will offer picnic boxes, and alcoholic as well as non-alcoholic drinks.
You can also stock up on your own picnic supplies for an evening outing in the gardens. Moe's Original BBQ is right in the same neighborhood, and serves tasty Alabama-style BBQ and Southern sides that you can have packed to-go.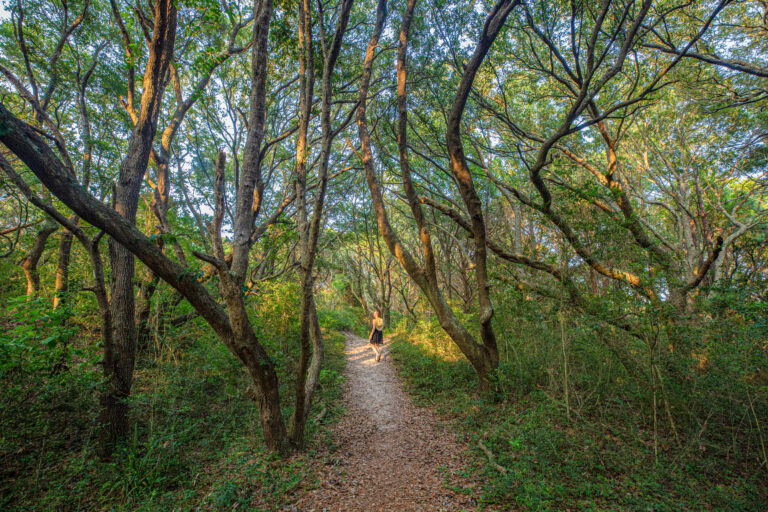 Before the twilight evening hours hit, consider taking a break at Huntington Beach State Park. Located directly across the street from Brookgreen, this lovely state park is a bird-watching haven. The park is also home to historic Atalaya, the summertime castle-residence of the Huntingtons which was built between 1931 and 1933. 
The building was fashioned after Spanish and Moorish architecture mixed with the artistic vision of the Huntingtons. It was constructed purely of local labor, to help support the local economy during the Great Depression. During World War II, the couple loaned the use of Atalaya to the U.S. Army for use as a military barracks. Soak up some history and beach vibes at this tranquil locale. 
Brookgreen Gardens & Huntington Beach State Park: Murrells Inlet, SC 29576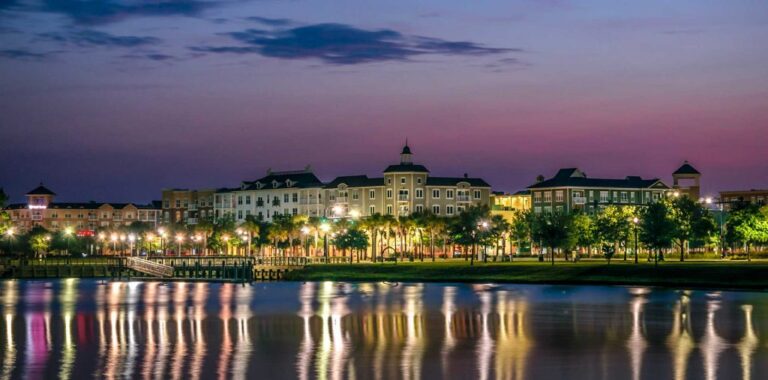 Market Common Area
Head to the Market Common during the afternoon hours for an iced coffee and some tasty treats at Peace, Love and Little Donuts, where they serve up custom-made donuts from a dizzying array of toppings ranging from gummy bears to bacon, to everything in between. Then head down the block to Barnes & Nobles for some good reads in a quiet, air conditioned space. After you've had your literary fix, stop into the Seacoast Artist Gallery— which showcases a wide array of local art from the gallery's 70 member-artists. There is something here for every taste and style, and in mediums that include paintings; photography; bronze castings; ceramics; pottery; glass-blown sculptures; and sculptures made from old instruments. And for some expansive views of the entire Market Common, head to the hill in Grand Park, day or night. You'll be rewarded with a panoramic vista of the entire area. 
In the cooler evening hours, enjoy dinner at any one of the myriad restaurants in the Market Common for some outdoor or indoor dining. Every Sunday night, The Brass Tap hosts free salsa lessons from 8-10pm. 
The Market Common: Nevers St. & Howard Ave., Myrtle Beach, SC 29577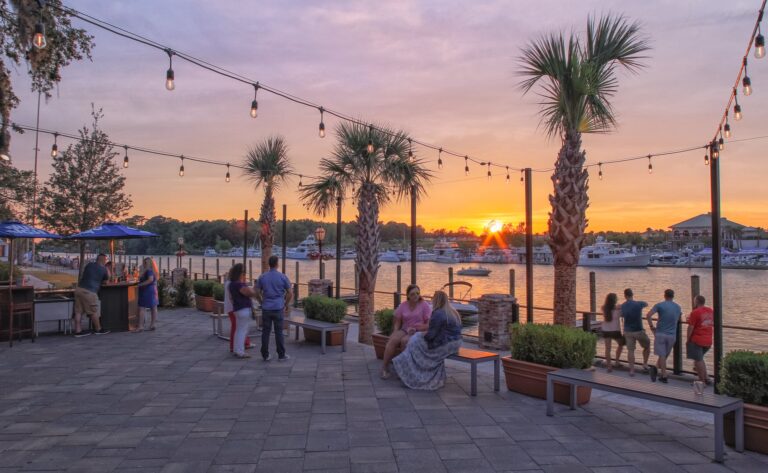 Barefoot Landing And The Intracoastal Waterway
The 80 plus miles of beautiful beaches that stretch along the coast of the Grand Strand are often given precedence for exploration, fun, and relaxation in lieu of the hidden gem that is the Intracoastal Waterway. Stretching 3,000 miles inland along the entire Eastern Seaboard, and consisting of natural inlets, saltwater rivers and bays, the waterway provides a safer and more secluded way of traveling, boating, and enjoying the water, protected as it is from the storms and currents of the ocean. 
There are several outfitters located nearby that will supply you with a variety of options for all your watercraft pursuits. Rent kayaks for a leisurely boating excursion and sightings of wildlife; for adventure seekers, there are a multitude of jet skiing rentals and tours— some that even include dolphin sightings; or take a pontoon or speed boat out for a spin. 
When it's time to put your feet on land once more, dock your boat at Barefoot Landing in North Myrtle Beach, for extensive possibilities in dining, shopping and entertainment. Catch a live show at the Alabama Theatre, live music at the House of Blues, or even fireworks every Monday night throughout the rest of the summer season. 
Check out their calendar of events online to stay abreast of the latest festivals and live music happenings. The area also boasts local as well as national stores and restaurants. It's a lively scene and great way to while away the evening hours. 
During the summer heat, there's plenty of fun still to be had while staying cool. Why not do some exploring and make memories of your own as well? 
Barefoot Landing: 4898 Hwy. 17 S, North Myrtle Beach, SC 29582