Making Both Customers and Their Homes Comfortable
by Melissa LaScaleia
Chris Quade, owner and operator of Beach Air in Myrtle Beach, grew up in Indiana. At nineteen, he joined the Navy and traveled the world, meeting his wife in Philadelphia while he was stationed there. Afterwards, he attended technical college to study heating, air conditioning, and refrigeration. 
"I graduated in 1998, then my wife and I moved to Myrtle Beach," Chris says. "I was from a small town and didn't want to live in a big city, and my wife was from a big city and didn't want to live in a small town. Myrtle Beach felt like a good compromise, and we've been here for twenty-one years now. It's kind of like a big city with a small town feel where everybody knows everybody." 
Chris began his career working for a heating and air conditioning company doing installation and duct work. After eighteen years learning the ins and outs of the business, he was looking for a new challenge and decided to branch out on his own. 
"Myrtle Beach is full of opportunities for entrepreneurs," he says. "Probably if you can think of it and want to do it, you can do it here." 
What Chris thought of was Beach Air— a company which keeps its offerings simple and value high by conducting residential as well as commercial repairs, installation, and servicing for heating and cooling units.
When he first got started, Chris traded in his pickup truck for a van, and began working out of his garage alone. By 2018, he had thirteen employees, and today, he has nineteen vehicles on the road, and twenty-five employees.    
"We've definitely had a huge amount of growth in a short period of time," he says. 
Chris attributes his success to assiduously upholding his company's core values. His methods are unique— an expression of small town humility with big city professionalism— a blending of his roots and loves.    
"We treat customers like employees, employees like customers, and both like family," he says. "That means we're direct and honest in our words and actions, and care about helping. 
"You'd be amazed how many times companies will try to sell stuff to customers, just to sell stuff. Conversely, we spend time getting to know our customers to find out what their needs are. It's that kind of honesty that keeps people with us. When you call Beach Air, you're calling a friend."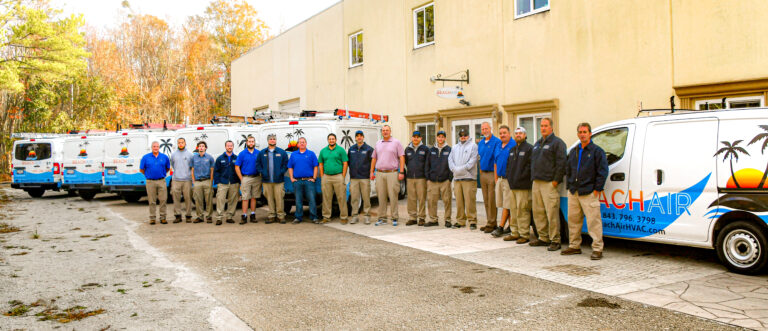 Chris carefully selects his employees, choosing talented technicians who naturally fit with his company culture, and training them further. 
It's essential that they have a positive attitude— which he sees as a combination of having the willingness to try doing new things, having confidence in your abilities, and infusing your mind with high quality thoughts.
"I like to develop the people around me," he says. "I focus on skills as well as those standards of professionalism and customer satisfaction on which I built my company." 
Additionally, there is a straightforward, 'get it done,' mentality that drives a continuous forward motion at his company. The employees are self-directed, self-motivated, and have a penchant for growth— delivering more than is required in their work. 
"We seek to always deliver a wow experience to our customers," Chris says. "We're personable and fun because we're knowledgeable about what we're doing and we enjoy it. And those qualities inspire our clients to trust us; because we put them at ease when they need our help." 
"My greatest satisfaction," he continues, "is being able to help those who really need it. A lot of people are elderly, or have small babies and it's 50 degrees in the house. Being able to help people in those types of situations means a lot to me." 
Another quality that's important to Chris is taking the time to educate his customers. 
"Some customers are more inquisitive," he says. "So when a service technician is at their home, we keep them involved in the process as much as they want to be involved. It's their home, and we don't want to just hand them a line item bill without showing them what's happening. We think that's hugely important for customer relationships." 
Chris likes to educate people on the importance of having their heating/cooling unit serviced twice a year so that it's functioning optimally and will be reliable in extreme temperatures. 
"Heat pumps are not really designed to be in that cold of temperatures," he explains. "They will work when it's 15 degrees outside, but they have to be operating at their peak performance. And similarly, when it's 95 degrees outside, it's pushed to the max and is going to struggle." 

Chris loves reading through the online Google reviews people leave for his company. 
"Seeing all the great things people say about us drives me to do my best," he says. "I want to be looked at as a community-based company. We're a part of the community too, and we want to help the community. I don't want to be seen as a huge company just trying to take the next dollar." 
"I'm always looking to the future and planning for it," he adds. "I certainly want to grow our customer base and we're going to grow our employees, but from a place of where we can still hold our same core values. I want to be known as the preferred heating and air conditioning company on the Grand Strand, not necessarily the biggest. 
"I want people to see our logo or van driving down the beach, and to be recognized as the company that's best in customer service. I don't want a one-time customer, I want lifetime customers. And I work to achieve that by treating each customer as if they're the most important, and ensuring their complete satisfaction before moving on to the next."   
Chris likes to donate his time by attending career day at Forestbrook Middle School, where he speaks to children about what it's like to work in his industry. 
Most of his charitable contributions are to local schools as well, whether it's via a donation or a sponsorship. And company-wide, they all have a lot of fun participating in local festivals. 
"We recently participated in the Dragon Boat Festival which was awesome for us as a team building exercise," he adds. 
Beach Air just opened a satellite sales office and showroom in Pawley's Island this past November, to make their services more accessible to customers in that area. People are always welcome to stop by with inquiries or for a visit.