Enjoy the Benefits of State-Of-The-Art Technology With Family-Like Care
by Melissa LaScaleia
Market Common Dentistry is a small, local, and privately owned dental practice which has existed in Myrtle Beach for 30 years. 
Spearheaded by doctor James E. Mills, DDS, the dental practice specializes in building strong relationships to meet their patients' dental needs effectively and sustainably. 
"As a private practice, we are not subject to quotas required by corporations and there is no pressure to meet financial benchmarks," says Dr. Mills. "Because of this, we can put our patients first, and are able to provide more personalized care." 
Market Common Dentistry offers a variety of cutting-edge dental procedures to best serve their patients. And in the past year, they have added additional techniques and surgical procedures to their repertoire. 
They have several sedation options including oral, intravenous, and intramuscular, which help relax nervous patients. They offer cone beam computerized tomography (CBCT) for guided implant procedures and extractions of complicated wisdom teeth; and Platelet Regenerative Fibrin, a technique which injects platelets into the surgical site to accelerate the healing process. 
Additionally, they employ a new regenerative procedure called Leucocyte Platelet Rich Fibrin (L-PRF), a method of concentrating platelets, growth factors, leukocytes, and proteins into a pliable biological matrix. The therapeutic technique is used to heal both soft and hard tissues. 
L-PRF is especially helpful in socket preservation — reducing bone loss after a tooth is extracted. L-PRF aids in tissue regeneration following bone grafts, sometimes necessary for successful dental implants. It can also be used to revitalize dental pulp, potentially preventing the need for root canal therapy or extraction.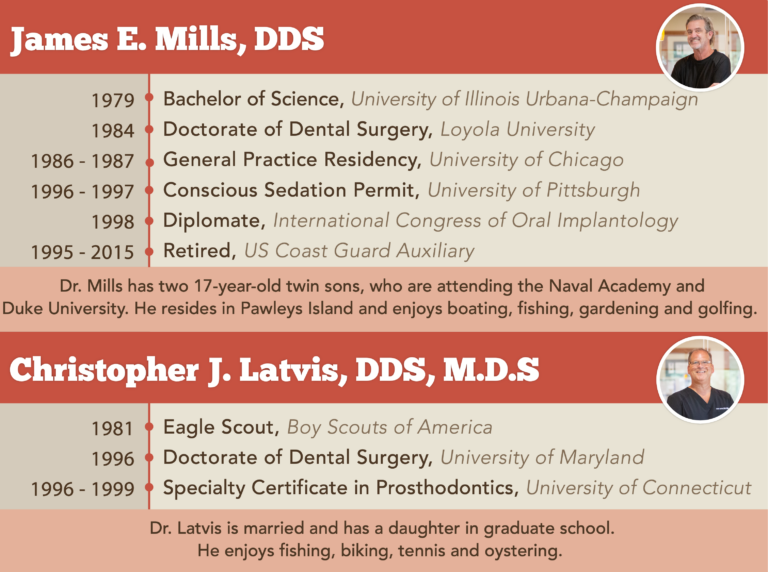 With L-PRF, a small amount of the patient's blood is drawn and then spun in a centrifuge, allowing plasma and platelets to be isolated. These concentrated growth factors and proteins are re-introduced at the treatment site to speed healing and promote natural collagen production.
They also offer an intraoral device for individuals that cannot tolerate a CPAP "Continuous Positive Air Pressure" device for sleep apnea. This device can help those 25% of people who do not wear the CPAP, yet suffer from the condition.
In addition to containing cutting edge, modern dental equipment, the office was designed with amenities like heated vibrating dental chairs, and ceiling-mounted monitors so patients can watch DVDs or television during procedures.  
Dr. Christopher J. Latvis joined Market Common Dentistry last year. With his certification in prosthodontics, he is experienced in full-mouth rehabilitation and reconstruction of worn and missing teeth via conventional crown and bridges as well as implant restoration and removable prosthetics. 
Lisa Yazici, the practice manager, has twenty-four years of dental office experience and has been with Market Common Dentistry for fifteen years. Her job is to run the daily operations of the dental practice and ensure that everything is running smoothly—from patient comfort to treatment planning to office administration. 
"I love providing the utmost care for our patients and knowing that patients with tremendous fears have the ability to get their dental work completed with ease," she says. "It's extremely rewarding. Even though I don't perform dentistry, I feel like I make a difference by being a part of the process.
"And because we function as a stand-alone business, we perform the services that are needed independent of what insurance may dictate, and can assist with financing options to ensure our patients receive the care they need."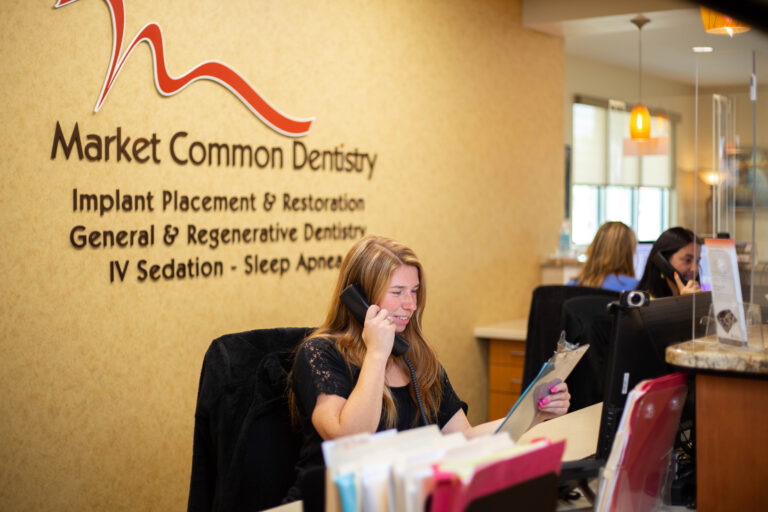 As an added benefit, due to their ability to offer sedation as well as the expertise of both doctors, most dental procedures are able to be conducted in their office, bypassing the need to be referred to specialty practices. 
"We develop a rapport with our patients to help put them at ease," Lisa continues. "We understand that people dislike the dentist, and that's why the entire team at Market Common Dentistry, from the front desk to the dental hygienists and assistants, to the doctors, do everything they can to make patients feel safe, relaxed, and comfortable. 
"We treat all patients regardless of fear levels, but for those who are anxious, we're ready with techniques and a compassionate staff to offer the extra support they need. Our patients are like family to us." 
Dr. Mills shares that his favorite thing about practicing dentistry is helping people achieve a healthier mouth and providing them with the services that they want and need.  
"I really value and strive for the best long-term patient outcomes," he says. "It's gratifying when I can relieve their pain and see them leave with a smile, having helped them make headway with their oral health." 
For the past year, Market Common Dentistry has implemented a myriad of safety precautions due to Covid-19.
"We've always had very high standards for sanitation, but we've taken it up a level to put both our staff and clientele at ease," Dr. Mills says. "You can't social distance with dentistry, so we've taken all precautionary methods." 
Today, the entire team at Market Common Dentistry is thrilled to be open and returning to a greater sense of normalcy after the past pandemic year. 
"How happy we are to get back to normal," Lisa says. "We're thrilled to be open and able to treat our patients where they once more feel comfortable being in the chair. We have seen many new patients, and our ability to provide sedation dentistry helps put people at even greater ease when receiving dental treatment."