A Unique Boutique to Find The Life in Your Home
by Melissa LaScaleia
Manifest Design is a one-of-a-kind boutique retail store in the Market Common owned by Connie and Dusty Lincoln. Connie has been an interior designer for over twenty years, and opened the store— offering furniture and home decor— to compliment her business.
Soon she decided to expand the store's inventory, and recruited Dusty, a retired U.S. Marine Corps pilot, to help her in unearthing quality, one-of-a-kind treasures people could give as gifts.
"I noticed that very unique gifts were just not out there," Connie says. "Especially for men. So I decided to begin carrying gift items to bridge the gap."
The two compiled a selection of aviation-influenced, science, and nautical-themed items: sextants; compasses; model airplanes; wallets; flasks; tools; multi-function pens; barware; games; and hardware-inspired mugs to offer to customers.
For women there are wraps, passport holders, purses and bags— including a line made from recycled military tents. They have items that appeal to everyone: greeting cards; a baby section; a huge array of Bourbon Whiskey, wine, and vodka; and entertaining accessories.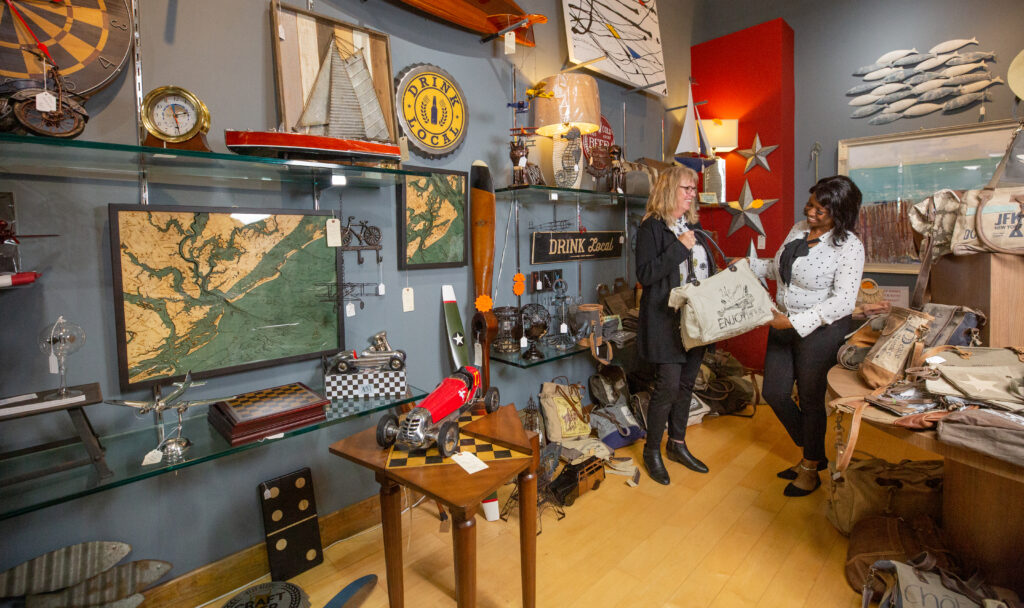 "There's a lot of variety in what we offer," Connie says. "And we have clever things that guys really dig. That's important for us because there aren't a lot of stores that men and women can visit together and both enjoy."
"We receive new shipments multiple times per week," she adds. "And I'm proud that the majority of my inventory is locally sourced. We have a lot of local art and jewelry, and we carry a good number of books by local authors, which people really enjoy."
Currently, they have a hand-carved rocking horse; nautical signal lamps; SOS lamps; gear clocks; Bulova watches; and whimsical things, like glitter dusted dear heads with antlers. But the biggest draw by far is their full-sized 1965 Cobra race car.
"It's a showstopper," Connie says. "And leads to wonderful conversations about cars, racing and automobile engineering. After years of inquiry, we're finally offering it for sale."
In the five years since it's arrived in the Market Common, the store has been a hit— and the two have expanded their floorspace to include a back room. Connie continues to offer residential design services from Manifest Design, including whole-house designs.
"I have a low-key approach to designing," she says. "I create according to my clients' needs— how they want to live in their space. My whole mission is to make interior design accessible. Everybody's situation is unique, so I want to make this an option for all."
Connie and Dusty really enjoy what they do. During the holidays and periodically thoughout the year, they'll serve wine and hot cider to those who are browsing to enhance their customers' shopping experience.
"People love our store," Connie says. "We make for a fun and fascinating retail therapy session. I know we have succeeded in elevating the hum-drum and average shopping experience when the men come in, bringing their wives with them."