Community Art with a Convivial Setting
Bailey Turner was first introduced to the Wine and Design franchise about four years ago when she was a sophomore at Coastal Carolina University. A graphic design major with a minor in studio art, she was looking for a job doing something she loved, and discovered a Wine and Design location to work at around 50th Ave. N, in Myrtle Beach. After graduation, she moved to Chicago, and stayed in the same industry with a similar company.
"I love it so much here, though, it was hard to be in the North," she tells me. "I came back, and Wine and Design had moved up to North Myrtle Beach; that opened a huge market in the heart of Myrtle Beach."
She and her now fiancé, Chris Wilkinson, decided to open their own Wine and Design in the Market Common when they were still dating.
"We got business married before really getting married," she laughs.
Wine and Design teaches step-by-step instructions for painting your own painting. Groups of friends or solos get to leave with a painting that they made that same night. The studio is BYOB, and encourages people to bring what they want to eat or drink.
"People often bring cheese platters or fruit trays, they sometimes even cater," Bailey says. "It's really like a big party, where you happen to learn how to paint. People who come in here expect to have a good time, and we want them to. It's just a fun environment to be in."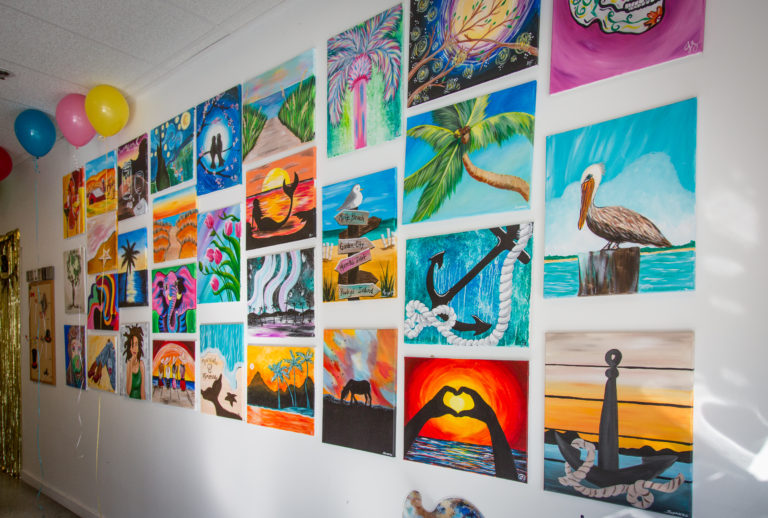 Classes are held daily, and pre-registration is required to give Bailey and her team of artists time to pre-trace the canvases. If somebody wants a totally blank canvas, they'll provide that too.
All of the artwork at Wine and Design is original— either created by an owner of a franchise or an employee of one. It's all copyrighted— therefore, not something you'll find reproduced anywhere outside the venue. There are new paintings to choose from all the time, and the artwork is kept in an online gallery database, which all of the franchises have access to. Selected paintings are rarely offered twice— only brought back by client demand.
The paintings are picked a month in advance based on what Bailey thinks will be popular seasonally. You can see the selections on their website, and pre-register for the painting you want to do. They also have a range of other mediums you can select besides canvas, like wine glasses, wine bottles, and pallet boards; they also offer monthly specialty classes like paint your pet.
Bailey and Chris have what's called a paint it forward division, a charity division of their company, in which they donate a percentage of the class proceeds to a charitable cause. Often customers will approach them with a cause, and the two will host a class to support them.
Wine and Design has two rooms— a larger for public gatherings, and a smaller room in the back for private functions. They also offer a kids camp over the summer as well as mommy and me classes on Saturday mornings.
"We have five artists on staff, including myself," Bailey says. "Everyone who works here either has an art degree or is getting their art degree, so they're well within their realm of being qualified to teach. I try to teach a large number of classes because I enjoy it."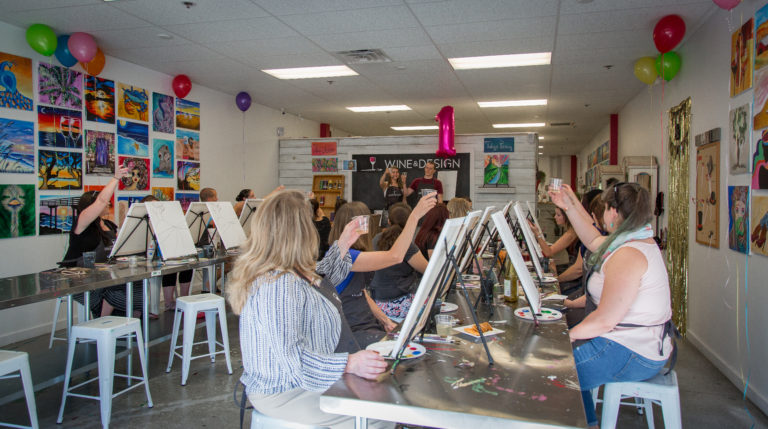 Chris works on the business side. With a degree in business and finance from Coastal Carolina, he handles most of the marketing. Bailey works with the calendar, manages the artists, and handles inventory; they both handle customer interactions.
"There's never a moment we're not working," she says. "A lot of the times, Chris will stay behind when I'm teaching a class, and continue what he's doing. I truly love my job. It's amazing being able to paint everyday. This is probably the dream job for any artist."
Bailey's favorite thing about being co-owner of Wine and Design is seeing customers find and discover their creativity.
"98% of the people who come to us have never painted before, or haven't since elementary school. A lot of times they get discouraged and say, 'I've never learned art,' but they have so much talent. I myself didn't start painting until I got to college. They're usually a little hard on themselves, but at the end, they're so proud of their work."
Chris and Bailey are grateful they receive such incredible support from other franchises as well as guidance with marketing from corporate headquarters to help them be a success.
"We all collectively share information about what we're doing," Bailey says. "You can ask anything at any time and most likely someone will have an answer for you."
"We especially love being in this community of Market Common," she continues. "We couldn't have chosen a better area when we decided where to go. We have a lot of support from people who live nearby. I want to bring them creativity. Art is important, especially for people with a 9-5 job, because creating helps you destress. And where else do you really get to do art in the community? We have a lot of customers who come to us multiple times per week, and per month, and this is their therapy session. I think that's a neat thing."
"Being a Myrtle Beach native, it's really awesome to start something in your community, and I really encourage people to do the same," Bailey says. "It's something you may think you'll never be able to do, but it's doable. Starting a business and receiving community support for it is so important to me, because I was born and raised here."
Classes M-Sa 6-8pm; Sunday 1-3pm; $35 per person. Pre-registration required online or by phone.