Getting Your Home Spruced For Spring
By Melissa LaScaleia
Window Genie of Myrtle Beach specializes in window cleaning, window tinting, pressure washing, roof cleaning, gutter cleaning, and more for their residential and commercial clients as well as condo associations. Their services are especially popular amongst homeowners looking to spruce their home up to get it for-sale ready.
"We're not perfect, but we try to be," says Tom Washer, the owner of the franchise, of his services. "Our first priorities are to have respect for the customers, respect for each other, and to provide a quality service at a premium price."
As a veteran of the United States Air Force, Tom has a robust knowledge of maintenance analysis and functionality of systems— skills and discipline which he put to good use when he brought Window Genie to Myrtle Beach.
Tom and his wife, being tired of the snow and cold weather, relocated from the North almost a decade ago.
"We've lived in the Market Common throughout that time, and have endured Hurricanes Florence, Matthew, and Dorian as well at the Covid-19 pandemic," Tom says. "We have continued to serve our community throughout these difficult times that all of our neighbors have had to experience. Despite these natural drawbacks, we continue to grow along with the support of our strong customer relationships."
Today, instead of shoveling snow off his roof, he is helping his customers in Myrtle Beach to clean algae off theirs, as Window Genie also specializes in roof cleaning.   
"Roof Algae occurs on a ten-year cycle, growing on a roof and eating the limestone," Tom says. "If you don't clean it off, it reduces the life of your roof by 10%. Coastal areas are more susceptible. Nowadays, so many people are selling their home— and having algae on the roof can be a big deterrent because it looks dirty, and also reduces the life expectancy of the roof, and people may think the roof needs to be replaced imminently."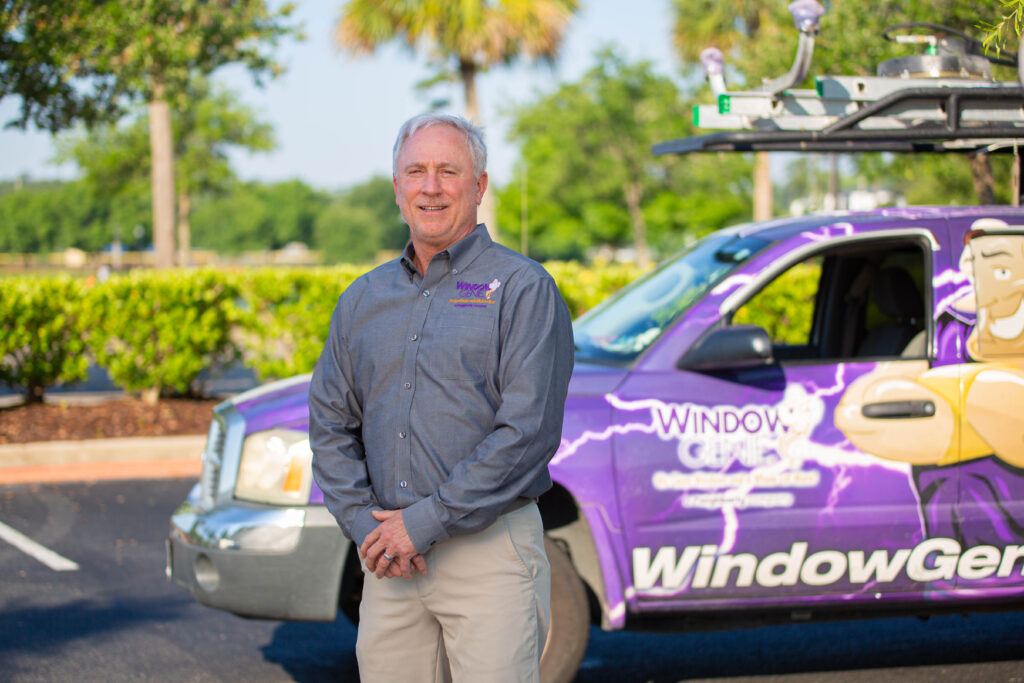 Window Genie also installs window film, which offers greater security as well as heat-regulation for your home or business. It comes in a variety of styles depending on your needs. It is made to reduce the heat gain from the sun; reduce glare; limit visibility for greater privacy; to enhance security, safeguarding windows and doors against a storm or a break in; and for decorative purposes.
"If you have a room in your home that is too hot to sit in during midday, we can correct that," Tom says. "If there is glare on your television or computer screens, film can help with that. If your neighbors can look into your windows or can see into your bathroom, we can correct that. If you look outside your window and see the side of your neighbor's house and would rather not, we can correct that so you're looking at something nicer. If you have windows that may not hold up because of strong winds, then we can correct that too."
Tom uses protective window films by SunTek, a leading brand of window films manufactured by Eastman Chemical, and decorative ones by Solyx.
Window Genie offers a free on-site consultation to assess your home for what it needs before conducting any work.
"I'll survey your home for anything that needs to be repaired or could cause a problem down the road, regardless of whether we offer that service or not," Tom says. "That way, we can best serve the customer. If I don't perform the service, I can refer you to someone who can take care of it. Window Genie is part of the Neighborly family of brands, which represents twenty brands across the country. They have sister companies that offer everything from painting to plumbing, electrical work, appliance repair, and more. There are many franchises in Myrtle Beach that I have connections with which fall under their umbrella."
"The best part of what we do is making a difference," he adds. "We work with a lot of realtors and have helped to sell many homes. It can really make an impact when a home is cleaned properly."
Tom enjoys giving back to the community as well. He has partnered with Creekfront Salkehatchie which is a national summer camp program for children with fifty locations across South Carolina, including Murrells Inlet. The children help in the building and repair of homes for local people in need, helping them to stay safe, warm, and dry.
Window Genie also manufactures its own brand of ammonia-free glass cleaner. Whenever you buy glass cleaner from Tom, he donates 100% of the proceeds to Creekfront's local camp, to support their mission. Now when you keep your windows clean, you can know that you helped contribute to children learning new skills, as well as families in need.