Bringing People and Nature Together
by Melissa LaScaleia
Wild Birds Unlimited, in Surfside Beach, is the premier place to find every product imaginable for outdoor birds, bird-enthusiasts, and nature-lovers in your life, or for those who are budding birders or simply curious to learn more about their natural environment. 
Owned by Diane and Rich Duloft, the store is a franchise with locations around the country. Each location is unique— the offerings based on the natural habitat in which the store is located, as well as the preferences of the owners.
Diane and Rich's store stocks bird baths, binoculars and birding books, outdoor benches and garden and patio accessories, misters and feeders for hummingbirds, squirrel-resistant feeders, and high-quality hardware systems that are customizable so that you can have multiple bird feeders on one piece. 
Their birdseed comes from an Amish farm in Ohio that is 100% edible for birds, and thus attracts more of them. For those who are opposed to sunflowers sprouting on their lawn, there are several blends that do not have any shells, preventing any weeds from appearing underneath the feeder.
"Covid-19 has made people more excited about birds," Diane says. "Because so many people are at home, they became more aware of all the living things in their own space. People started contacting us with their bird-related inquiries. They became interested in feeding the birds, and learning what they could do to help them."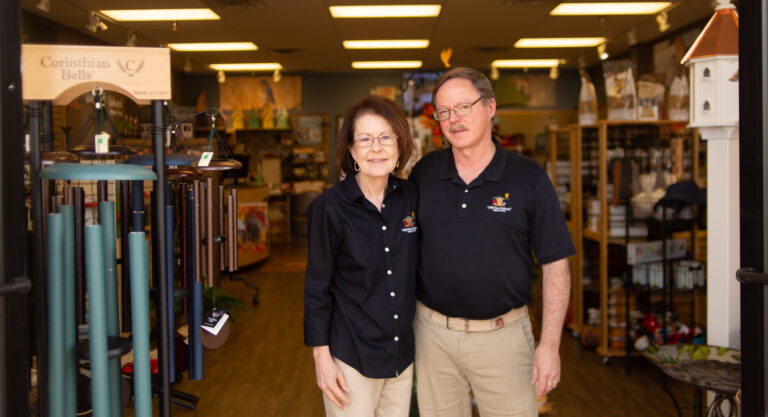 Diane and Rich provide a service unique to their location called Feederscaping. They will conduct an in-person analysis of your yard's ecology, and make recommendations about feeders and seed and sometimes shrubs to attract the kinds of birds you would like. 
"We are huge supporters of native plants because they harbor insects and larvae that the birds eat," she says. "Native plants are going to thrive in their natural habitat and cause everything to thrive around them because they are adapted to our temperatures and landscape and support the overall ecology of the area. 
"We inform people as they begin to landscape their yard, because many don't know. Take for example the Ginkgo tree. It is native to the Far East, and in South Carolina, harbors four types of bugs. Whereas the Live Oak Tree harbors over 500 different kinds of bugs and larvae. And the bugs are vital to supporting birds."
Diane and Rich have been sharing many things that people can do to support the birds via their monthly emails.
"We talk about the native plants that will attract birds and pollinating insects, and support the natural environment and a balanced ecosystem," Diane says. "Rich and I love to educate people. Our mission with this store is to help people better understand the natural world around them— to teach them the importance of birds, and how to support birds, as well as what they can do to help our population of Songbirds."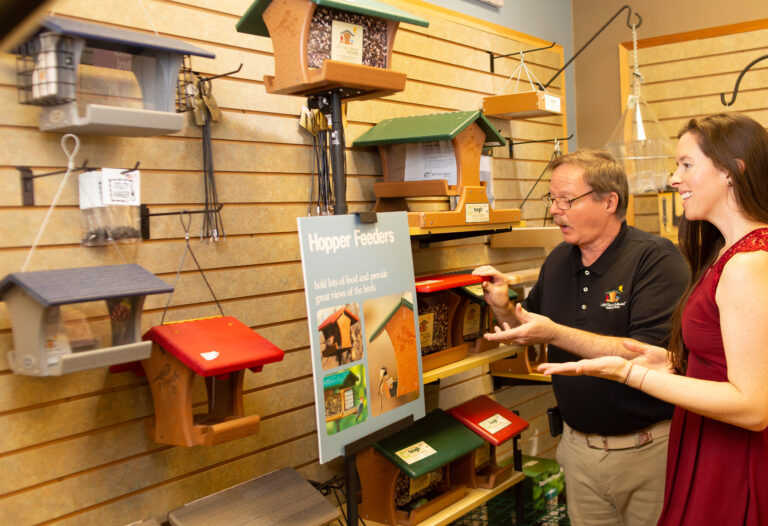 In 2019, a group of scientists from eight ornithological research facilities compiled data from around the country and determined that the Songbird population has decreased by 30% since 1970. 
These are significant numbers. Top reasons for the decline include habitat loss, pesticide usage (if people use pesticides to kill bugs that the birds consume, the birds may also die), window strikes, climate change, and hunting by domestic cats.
A window strike occurs when a bird sees the reflection of trees or a bush in a window and flies directly into it, thinking it's a safe haven. It almost always results in the bird's death instead. Studies revealed that nearly half of window strikes occur in homes. 
Diane carries a tape people can put on their window called Feather Friendly. It is almost invisible to humans but eliminates any reflection for birds. She also recommends that those with outdoor cats monitor their pets to prevent them from acting upon their natural instinct to pounce and attack the birds.
"Songbirds are so important because they help pollinate the plants, including fruit trees," Diane says.  "They help with pest control because they eat a lot of bugs, and with weed control because they eat a lot of weed seeds. They alert us to environmental hazards; they provide human stress relief; and they support our economy because they really do stimulate tourism. 
"These birds migrate here in the spring from South America, and people will plan their vacations around when the birds will be here."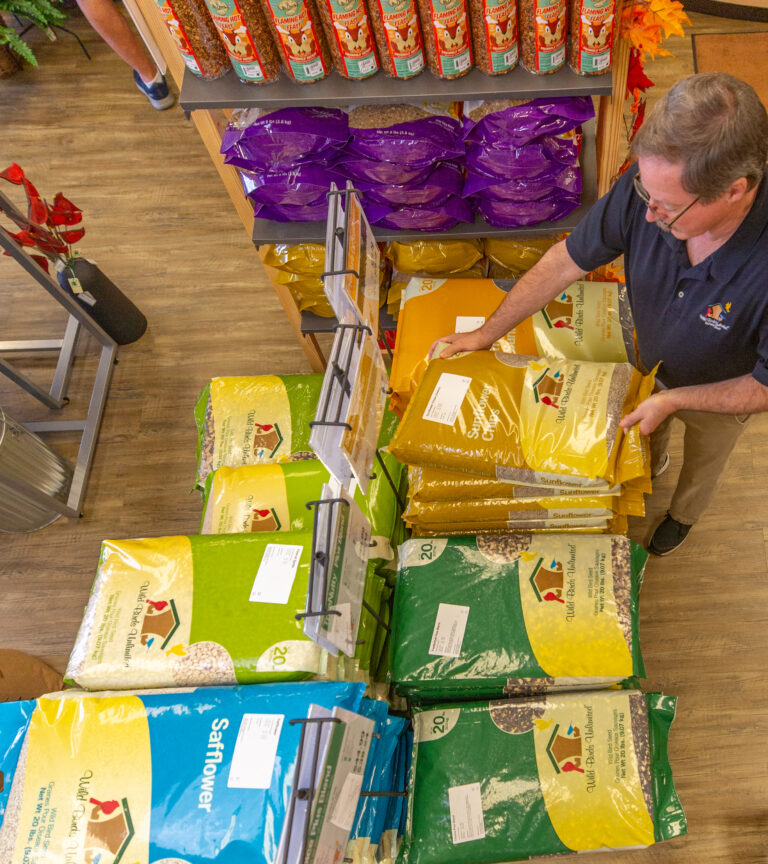 Over the past year, Wild Birds has developed an online ordering system so customers can view the products they'd like and place their order online, then opt to have it delivered, or pick it up in-store or curbside. 
The service, called MyWBU, has proved helpful for customers when stores were closed due to Covid-19. There are some unique additional items that you can find exclusively on their website.
They have a great selection of gifts for the holidays like candles and winter-bird-themed collectible items. Among them, joy boxes—pre-packaged boxes, ready to ship or wrap, which contain items for one particular species of bird. 
A hummingbird joy box, for example, includes a hummingbird feeder, dry nectar, a nectar container, and a cleaning brush, so the recipient has everything they need to start attracting, supporting, and enjoying hummingbirds.
"This is a relationship business," Diane says. "Even now with Covid; we enjoy our customers and hearing how much fun they have watching their backyard visitors. And, we truly are the bird feeding experts in the area."
Two years ago, Diane and Rich established a bluebird trail in partnership with Huntington Beach State Park. Rich installed six bird boxes in the park, and a team monitored the progress of the nests which included Eastern Bluebirds, Carolina Chickadees and Carolina Wrens.
They reported their findings to the South Carolina Bluebird Society, and are excited that the Grand Strand is finally on the organization's map.
"It was challenging to monitor this year with Covid restrictions," Diane says. "But we did it. We had four Eastern Bluebirds, and fourteen Carolina Wrens that fledged at various times throughout the season."