Bringing People and Nature Together
by Melissa LaScaleia
Walking into Wild Birds Unlimited in Surfside Beach, owned by Diane and Rich Duloft, is like stepping into a world of everything outdoor birds. The store is part of a franchise, but each shop is different because it expresses the uniqueness of the owner and reflects the natural environment in which it is located. 
Diane's and Rich's store is what is called a core store— which means they carry food and basic equipment for birds as well as nature-inspired gifts. They conduct monthly seminars where people can learn about birds, including one for beginning birders— helping people to identify the key factors they should be looking at. 
"First, you try to determine the size," Diane explains. "Is it around the size of a sparrow and a robin, or a goose and a hawk? Next, you look for any colors and field markers to try to identify it. Then, where did you see the bird? Is it in the trees, swimming, on the ground? Birds have different habitats that they're comfortable in, and sometimes seeing one in a particular place will help you narrow down your search more quickly." 
www.ebird.com is a website that helps budding birders identify new species quickly. It was developed by Cornell University which has a renowned ornithology department. 
The website is organized according to bird size and color and is linked to your specific area. As you scroll through options, it will pop up a list of potential birds yours could be. When you say, 'yes, that's my bird,' you're directly participating in citizen science, because the information is reported to Cornell, which will use the information to conduct research and analysis of the bird populations in your area. The Audubon Society also has great online resources.    
In addition to in-store seminars and education, Wild Birds Unlimited presents to all types of groups and gatherings: everything from garden clubs, to schools, church groups, and senior homes. 
"Rich and I love to get out and talk to folks about nature and birds, because a lot of people don't know what we're about. We want to help people better understand the world around them— to enjoy nature and improve the world we're in by not littering and leaving some green space."

"We are huge supporters of native plants because they harbor insects and larvae that the birds eat. They are going to thrive in their natural habitat and cause everything to thrive around them because they are adapted to our temperatures and landscape and support the overall ecology of the area. We inform people as they begin to landscape their yard, because many don't know. Take for example the Ginkgo tree. It is native to the Far East, and in South Carolina, harbors four types of bugs. Whereas the Live Oak Tree harbors over 500 different kinds of bugs and larvae." 
Diane and Rich both grew up in the upper Midwest and have lived in Connecticut, New York and Ohio over the course of their careers. 
"My parents and grandparents were bird feeders," Diane says. "My father was a conservationist and a sportsman too. We all enjoyed the outdoors and nature. But in my job, that was totally stripped away. I thought about moving back to Minneapolis to open a store, but my husband suggested we relocate here, where we already owned a condo. With this store, I feel like I'm returning to my roots, doing something I truly love." 
Wild Birds Unlimited offers every product imaginable for birds and bird-lovers. Diane carries bird seed that comes from an Amish farm in Ohio that has no fillers so it's 100% edible for birds, and thus attracts more of them. For those who are opposed to sunflowers sprouting on their lawn, there are several blends that do not have any shells, preventing any weeds from appearing underneath the feeder.
They have a variety of bird feeders– those that are branded with the Wild Birds Unlimited logo carry a lifetime guarantee and will be repaired if they are malfunctioning. Several are made of recycled milk jugs, which will last longer than wood and are good for the environment. 
"We have hardware, like crook arms that are a much stronger quality than anything you could find in most big box stores," Diane says. "All of our staff are avid bird watchers so everybody loves talking to our customers about birds and what's going on in their yard. 
"This is a relationship business. It's not a transactional business where it's hello and good bye. We enjoy our customers and hearing how much fun they have watching their backyard visitors. And, we truly are the bird feeding experts in the area. 
"In addition to that, what we do is plain good old-fashioned customer service. We carry their products to the car for them. If we have a customer with physical challenges, we'll help them with an installation. We find out what's going on in the area, and share that with our customers. We're personal." 
Wild Birds Unlimited is getting ready to start an online order system, where customers can place an order online and opt to have it delivered, or pick it up in the store. "We expect this to take place before Christmas," Diane says. "This will provide an added level of service for customers short on time or who prefer home delivery."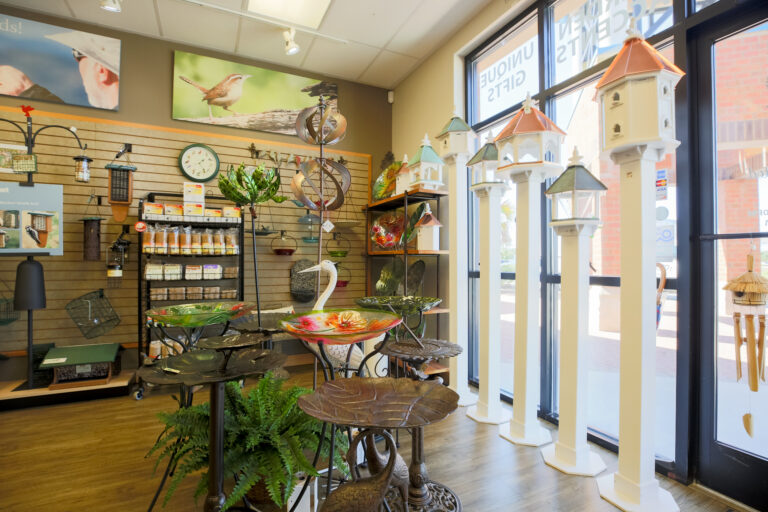 Wild Birds Unlimited also stocks bird baths and bird bath de-icers; binoculars; birding books; outdoor benches; garden and patio accessories; misters and feeders for hummingbirds; squirrel resistant feeders; and high quality hardware systems that are customizable so that you can have multiple bird feeders on one piece. For the holidays, they will stock a lot more gifts, like candle-holders and winter-themed items. 
"We provide a service for our clients called Feederscaping," Diane says. "We will go to your yard and conduct an analysis of it, taking into account your yard's ecology and where structures are located, and make recommendations about feeders and seed and sometimes shrubs to attract the kinds of birds you would like to have."
Diane and Rich have a team of experts at their disposal if they ever get stumped by a question. The franchise has several naturalists on their staff, as well as other avenues of support. 
"Water is something that a lot of people overlook," Diane says. "But just like us, the birds need water. It's not only to drink, but also to clean their feathers. If someone doesn't want to feed birds but wants to see them around, a birdbath is a perfect solution." 
Last year, Diane and Rich established a bluebird trail in partnership with Huntington Beach State Park. Rich installed six bird boxes in the park, and customers monitored the progress of the nests that included Eastern Bluebirds, Carolina Chickadees and Carolina Wrens.
"We followed them all the way through to when they fledged, which means they left the nest," Diane says. 
They reported their findings to the South Carolina Bluebird Society, and are excited that the Grand Strand is finally on the organization's map. 
"My favorite thing about what we do is seeing customers leave the shop happy with the information and products they've received, excited about trying them out," Diane says. "It's giving them peace, calm, and relaxation."