Affordable Interior Design That Makes a House Your Home
by Melissa LaScaleia
ER Home LLC is an innovative interior design company owned and operated by Eric Richards. The Insider caught up with Connie and Jim Allcorn, recent clients of ER Home, to get a firsthand perspective on what it's like to be on the receiving end of his talents and skills.
The couple relocated to Myrtle Beach several years ago, and bought a house in the Market Common where they live with their dog, Maxie.
The brand new home didn't feel personal to Connie, and she felt like she was living in her past with a lot of antique furniture. She decided to enlist the aid of ER Home after seeing the advertisement month-to-month in the Insider and hearing rave reviews from neighbors.
Connie shares her experience:
"One of the things that really struck and impressed me about Eric was the quality and variety of his initial questions.
"He asked me: how much involvement did I want to have in the process? Did I want to go shopping with him? He came over, walked through my house, and asked me what my prized possessions were that I didn't want to part with. He spent time with my husband and I to get an understanding of how we spend time in our space; the colors that I like; and what it is I really wanted. It's only once he gets to know you that he makes recommendations about what he thinks you should get rid of.
"He asked me what my budget was and what I was looking to spend for what I wanted. And he really worked to stay within that budget while giving me what I wanted. He's very good because he has the knowledge to understand how much things cost, and can forecast if there could be a problem ahead of time, so you can reorganize your plans and budget if need be.
"Unlike a lot of other designers who come in and say this is what I can do, trying to get you to tailor your wants to their vision, he really does try to get a feel for his customers, and took a lot of time to understand our needs. To make the design make sense for our lifestyle, he came up with ideas that I never would have imagined and created space where it seemed previously there was none.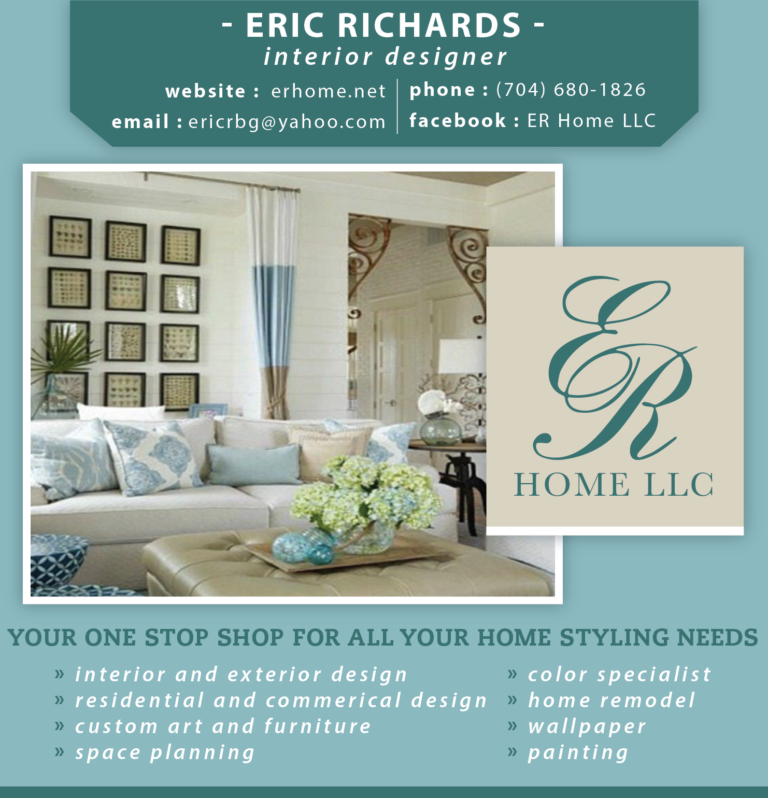 "Initially, I told him to come up with a plan for one room, and determined that if I liked it, I'd move forward with the rest of the house. My husband and I left town while he was working, and when we got back, we were blown away by what he had done to make it more functional. I was amazed that somebody could do what he did. Most people contract out, but he did the majority of the work himself, which really impressed me.
"He told me to take a couple of days and see if there was something I wanted changed. But we were happy as larks, and scheduled him to do the entire house. Once Eric gets started on a job, he takes everything down himself and packs it for you, so that there's very little work on your part as the customer.
"He redid our entire 4 bedroom 3 bath house in two weeks. He put in new flooring in the master bedroom, painted everything, and outfitted all the rooms with new furniture. He turned a bedroom upstairs into the antique room, solving my problem of not wanting to part with my family heirlooms, but not wanting them throughout my entire house. It flows beautifully with the rest of the design.
"I also appreciated that he imparted his experience about the design process in general to help me make more savvy decisions. He shared that most people get tired of their design scheme within 5-7 years and want to change things, so he recommended that we not overspend on particular items. He helped to guide me on things.
"He really does try to work with you in the most thoughtful of ways. When my husband and I both got sick, and then I had to have surgery, Eric moved his schedule around and juggled things to accommodate my new needs.
"He came back in December and decorated for the Christmas holiday. He has so much fun doing what he does and it shows. It was absolutely amazing. I was like a kid in a candy store not knowing what to touch first.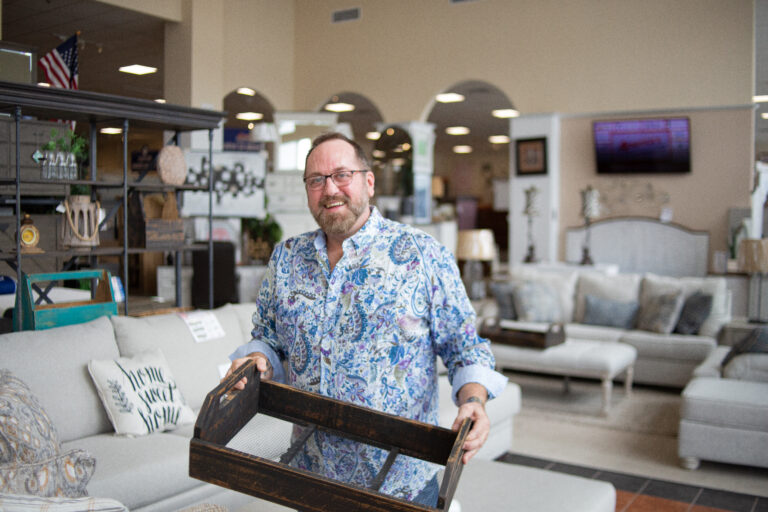 "Right after the holiday, I had him come in and redesign my garage. He took down the shelves that came with the house and rebuilt them, and arranged how things were; we were amazed at how he utilized the space so we knew where everything was. At some point, I'll have him redesign our laundry room.
"When my neighbors came and saw, they were totally blown away and amazed by what he had done.
"I took a liking to Eric because I didn't feel like he was a phoney or outrageously priced. And coming from Atlanta where I lived for forty years, that was my previous experience. At this point in my life, I want comfort— I want when I sit in a room to like it and feel comfortable. And since I'm new here, I don't know where to go to find what I want. Having someone who knows where to go makes a world of difference. He made our house a home. I can't recommend Eric highly enough."
Eric has always been passionate about the creative process. In college he studied furniture design but when he took courses in interior design, he captivated his teachers with the artistry of his visions. He followed his natural talents to pursue a career in interior design, and to round out his skills, obtained full knowledge in construction— a skill he considers essential for his creation process.
With his company, ER Home LLC, Eric has created an affordable approach to interior design— which fuses painting; wallpapering; flooring; tile work; custom furniture design and building; refurbishment; carpentry; kitchen remodeling; electrical; plumbing work; and decorating— to provide clients with a comprehensive experience for their home decorating needs. He also studied with a feng shui master to further refine his skills.
"I was already implementing many of the feng shui practices in my designs for ER Home without being able to define them as such," Eric says.
"We as humans think we see with our direct eye, but we actually see more with our peripheral vision. This same soothing, peripheral flow that exists in nature, I try to replicate in the home. Coming from the outside to inside and seeing a drastic change will confuse the eye. My studies gave me a confident understanding of the choices I was making. They allowed me to elaborate my visions and give my clients things they didn't even know they wanted. It's nothing I question now, it's just second nature in how I design a space.
"The look on my clients' faces when they see and realize that their house is now a home makes my job incredibly fulfilling and fun," he adds. "I am blessed."
ER Home LLC
Offering personal home design, corporate design, refurbishing, and realtor re-staging.