Delivering Visual Communications with Superior Customer Service
by Melissa LaScaleia
FASTSIGNS in Myrtle Beach creates visual communications and graphics for companies— everything from business cards to large illuminated exterior signage. They also offer marketing, project management, consulting, brand integrity, graphic design, installation, exhibits, displays, vehicle wraps, wall murals, and more. 
"We create signage for businesses as well as communities," says Mike Snyder, co-owner of the local Myrtle Beach franchise. "Any type of signage that you can think of, we do." 
Mike entered the FASTSIGNS scene from a commercial printing background. 
"My father owned and operated a commercial print business in northern Indiana where I grew up," he says. "I helped to manage his business early on and gained management, marketing, and operations experience. Eventually, I segued into working at one of the top FASTSIGNS centers in Indianapolis. That experience gave my wife, JJ, and I insight into what it would be like to purchase our own center, and we were excited by the prospect of branching out on our own."
"I'm from St. Simon's Island, Georgia," JJ says, "a beach girl with Southern roots. But I moved to Chicago when I was young. Mike and I met in Indiana. We had a shared dream and goal to move to the coastal South. So when the Myrtle Beach center came up for sale in 2013, with his skills and my background in sales, we felt buying into the franchise was a really good fit for us." 
The two had to revamp the business when they took it over. The previous owner was ill; it didn't have any on-site management; and it was under performing. 
"It needed a lot of love and attention," JJ says. "But Mike and I both are entrepreneurs with very strong customer service backgrounds. We knew we could take on this challenge and be not only profitable, but turn this location into what it could be. 
"We recognize that there are many sign companies in Myrtle Beach, but we feel that what we bring to the market is our passion for customer service. We do what we say we're going to do when we say we're going to do it. And that's how we were able to turn the center around. We dug in our heels and did business the way we felt we should." 
When the two first began, they had taken over a company with customer satisfaction surveys that ranked in the low 60 percentile. In six months, they moved those rankings into the upper 90 percentile range, and they never wavered from there. In the past few years, their satisfaction ratings have been at 98%. 
"We publish all of our reviews," JJ says. "We don't hide any because we think it really speaks volumes in showing who we are. It's impossible to please people all of the time, and we want to keep it real with our customers." 
The uncensored reviews on their website attest to the helpfulness of the staff, their competence in execution of service, and their above and beyond mentality in pleasing their customers— all with that local, home-town feel. Additionally, FASTSIGNS was awarded Best Sign company multiple times by the 2019 Reader's Choice Award. 
The two also attribute their success to the support that they receive from FASTSIGNS corporate.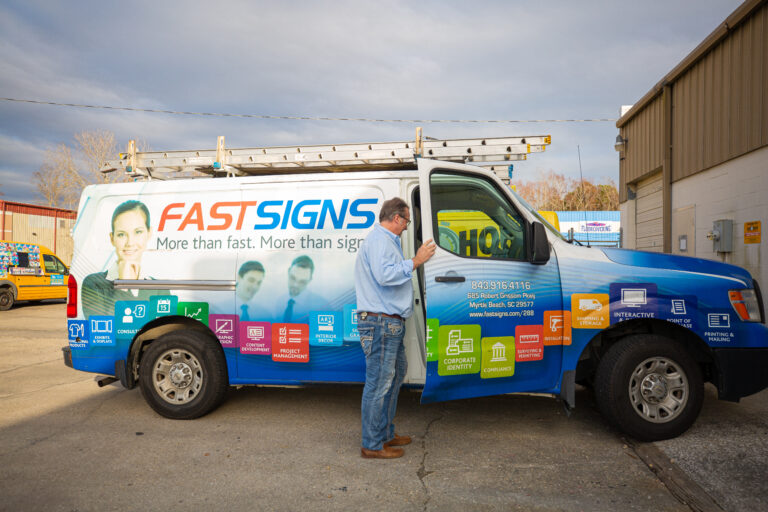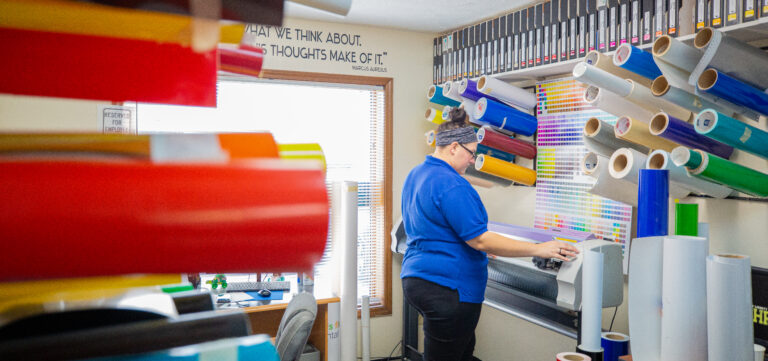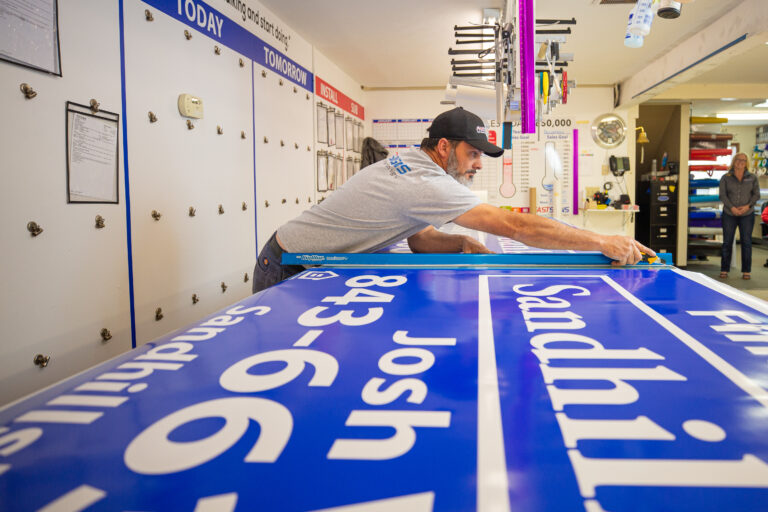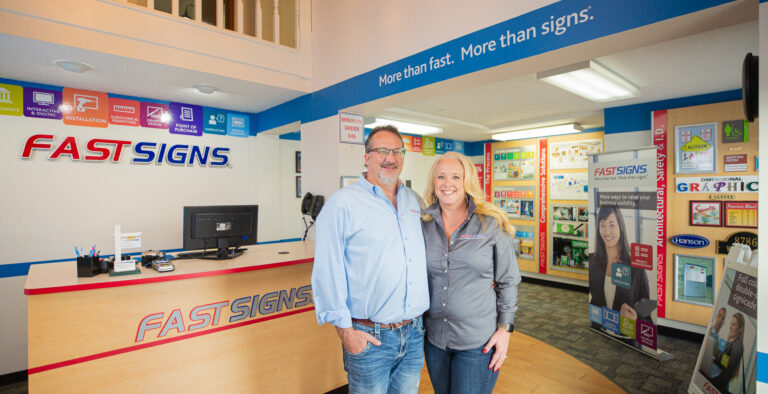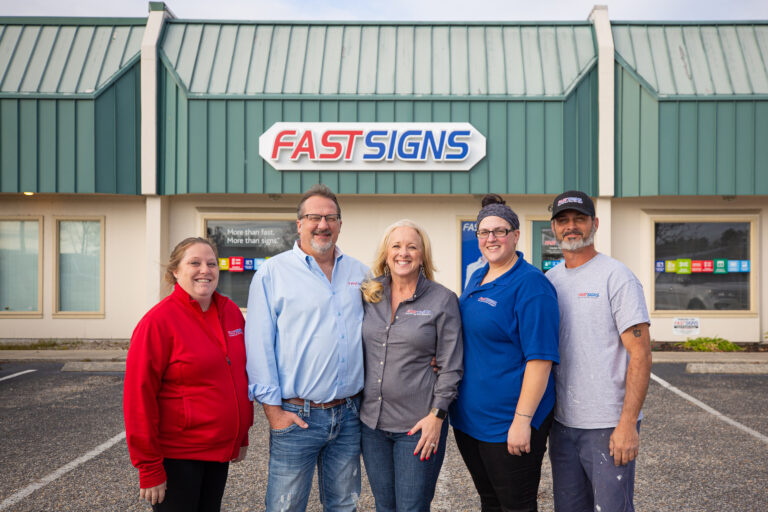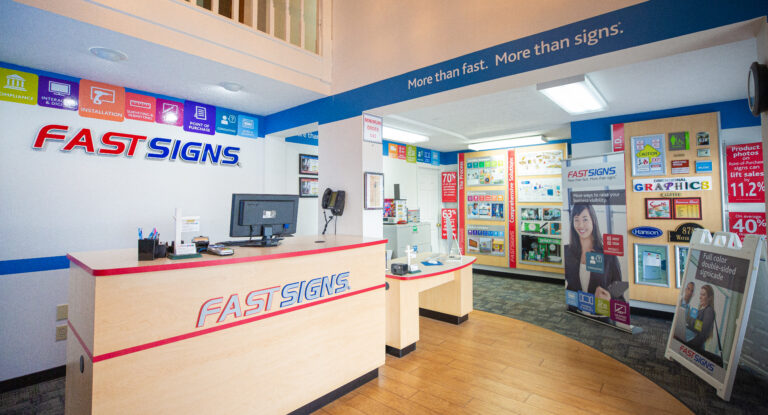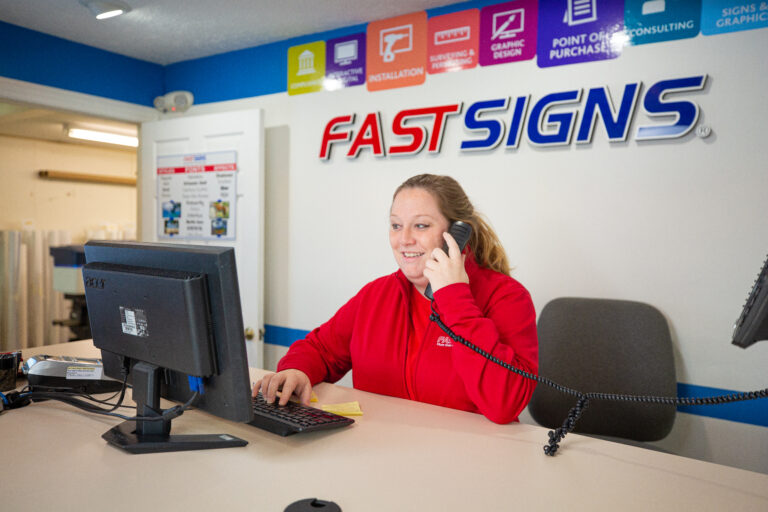 "FASTSIGNS has been winning awards as a nationwide sign company throughout the years," Mike says. "They are ranked #1 in multiple franchise related magazines, and are always at the top in the sign industry. The corporate office staff are constantly testing and reviewing equipment, and they send us the reports on what is top-performing. 
"The specs they provide are invaluable— and save us time and money— giving us information long before a small shop would know. 
"Additionally, they help us troubleshoot with technology. There is so much support on the back side that the average small business doesn't receive. Instead of us having to feel our way through this business, we're going in with guidance, which gives us an edge." 
"Being part of a nationwide franchise gives us an opportunity to keep growing and learning," JJ says. "We attend our national convention annually to stay up-to-date on technology, products, and equipment. We were asked by corporate to be part of a board group. We meet twice a year and set goals and hold each other accountable.
"And because we have the backing of a major corporation, when we purchase equipment and material from suppliers, we receive special pricing and pass that savings onto our customers. 
"We are planners, designers, and innovators, and like to tackle large projects. Our customers have discovered we have a highly skilled team of marketing and graphics experts more than ready to handle your projects. We have the experience, vision and insight needed to create, manage and implement the solutions that are right for you."
Over the past year, JJ has been focused on connecting their company with who she and her husband are to their brand, and becoming more involved in the community. 
"We really want to give back to our community— to make our community better in big and small ways," JJ says. 
JJ reached out to officials of Georgetown County for permission to repaint the Welcome to Pawleys Island sign which was cracked, faded, and peeling. When she discovered that no one was responsible for its upkeep, she brought it to their shop and made it like new again. 
And now, she's made a regular habit of it. About once a month, she and her husband find a sign around the south end of the Grand Strand in need of some TLC, quietly beautify it, and put it back, shiny and restored. 
"People don't even know we're doing it, until now," JJ laughs. "But we feel blessed with this business and opportunity and want to give back to our community as much as possible while growing our business." 
"As husband and wife business owners, we share a common goal and dream— own our own business, grow it, and invest in the community," Mike says. "We value the people who work with us and want to see them grow as well. It's important for us that our team likes to come to work every day." 
In addition to beautifying the signage in the area, Mike and JJ are very active in Pawleys Island where they live. JJ belongs to the Chicora Rotary Club and is the president of WIN, Women In Networking; and Mike is president of the Grand Strand Sertoma Club. 
At their two-story showroom on Robert Grissom Parkway, visitors can see a multitude of examples of their visual marketing ideas.