Wherever You Are on Your Spiritual Path, You Are Welcome Here
by Darlene Gwyn
Turning into the long stately drive at 6173 Salem Rd. in Myrtle Beach, I was filled with an awareness of how sacred this beautiful land is. As I sat surrounded by the majestic pines, it was clear why Unity Myrtle Beach selected this amazing ground as the location for their new church.
Rev. Margaret Hiller is the Spiritual Leader of Unity Church. The congregates will happily tell you that Rev. Margaret is an inspirational speaker bringing messages of hope, kindness and love for the church, the community, nature and the entire world. Unity is honoring the land by creating a church as green as its lush surroundings.
While the congregation of Unity waits for plans, permits and construction, they continue to actively give to the Myrtle Beach Community. This is a tithing church that regularly gives to a variety of local organizations such as Family Justice Center of Georgetown County, Help4Kids, Waccamaw Riverkeepers and Hope House of Myrtle Beach. Going beyond financial support, Unity members also act as volunteers with the Reading Buddies Program at Myrtle Beach Elementary and participate in functions for SC-Cares: SC Coastal Animal Rescue and Educational Sanctuary.
Until the Salem Rd. church is completed, Unity welcomes you to their Sunday Worship Service beginning at 11am at their current location at 1270 Surfside Industrial Park Dr., Surfside Beach, SC, 29575. Unity regularly offers classes, retreats and seminars with a wide and varied range of interests. See the schedule below to find the ones you will not want to miss: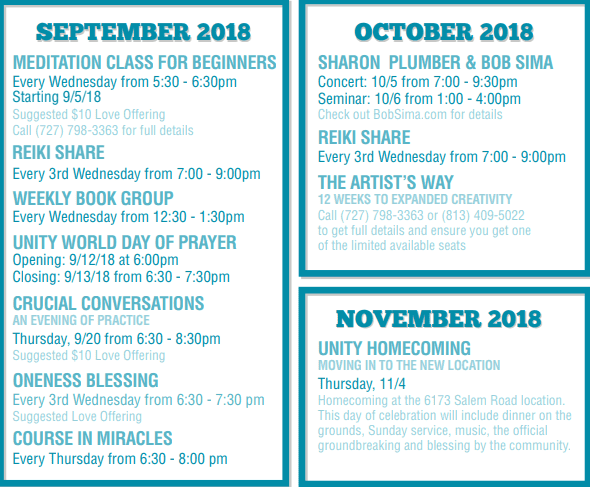 Call 843-238-8516 to get the time and dates for all these wonderful activities.
Or check us out on line at www.unitymyrtlebeach.org