Geoff Koskinen of T-Squad Fitness coaches a client at the X-Gym."I push people, but in the right ways," he says. "We make training approachable, non-intimidating, and highly personal." — Photo Meganpixels Parker
Your Place For Mind, Body, and Soul Rejuvenation
by Melissa LaScaleia
T's Squad Fitness is a one-on-one personal training business and facility located on George Bishop Parkway. Trainer Taqouri Lott is the owner and operator, and Geoff Koskinen is his partner.  
The two met about four years ago at a local fitness club and became instant friends. Taqouri is a former college football player from Wisconsin. Geoff used to live in Saratoga Springs, New York, where he worked in the New York State Senate.  
"After almost ten years, it felt like the right time to move on," he says. "My parents moved to South Carolina in 2007, and I decided I was tired of the long winters and decided to take a new direction with my life. I came down in 2010." 
Geoff switched careers and became involved in personal fitness full-time.
"Here you have the beach and sun— and that equals fitness," he says. "I've always enjoyed working out, and I wanted a career in fitness because I enjoy helping people. It makes me happy and joyful. It's just like playing sports again— being around people who are paying attention to their bodies. It's healthy for my mind, body, and soul; it made life matter again. This is a very rewarding career."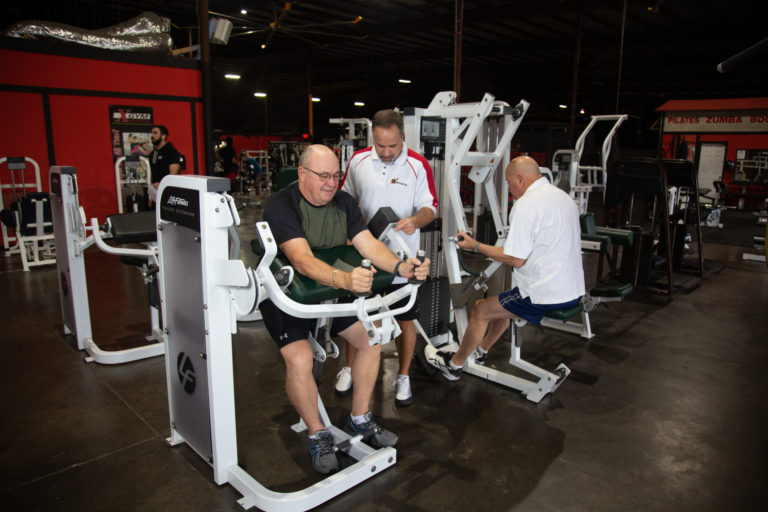 Geoff and Taqouri have almost twenty-five years of collective experience working in the industry. When they met, they discovered that they shared a common vision of personal training that was truly personal and accessible for all ages and levels— with instructions and techniques that inspired their clients to develop greater self-trust and feel at ease throughout the process.  
They decided to branch out on their own to offer personal training that reflected their values of tending to one's body, mind and soul through personalized training instruction. Taqouri opened T's Squad Fitness last year, and Geoff came on board soon thereafter.  
"We get along with anyone," Geoff says, in reflecting on his and Taqouri's strengths as trainers. "We're very down to earth. We're comfortable working with people of all levels and all ages. We're patient. We cater to people who are beginners or haven't worked out in a while, and we make training approachable and non-intimidating. 
"It's one-on-one, it's tailored to the individual and we meet them at their level. Safety is first with us. We see each client as different, so we train each client differently.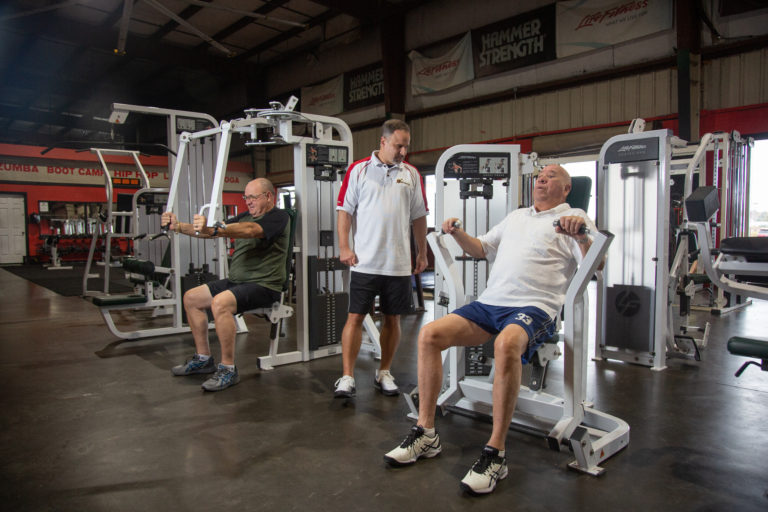 "We offer a more tailored and personalized approach than you can typically find at a gym. We've seen it a lot as trainers, the discomfort people feel with their assigned trainer at a gym, in a new space, learning a new technique. So we look for the specific things that each of our client's needs, and build a rapport with them, taking their training and fitness goals one step at a time."
A lot of their clients are seniors, and Geoff and Taqouri both specialize in the unique fitness needs of this population— especially with regards to safety.
"This is a perfect opportunity for people to get out of their house, to move, to stretch, to get the blood pumping, and it's community— they get to interact with good people," Geoff says.
"The clients I have are progressing. Many of them say to me, 'Oh my gosh, I can't believe I found you! Without your guidance, I never would have gotten to where I am.' Training makes them feel strong— in the gym and in life. To see their confidence level increase is great, to see them reach their goals is the best."
"We're reliable, we offer support, we're going to be there for them in the long run," he adds. "Encouragement builds confidence, perseverance, and a good affinity with yourself. And then it just becomes fun."