Food Artfully Prepared in a Casual Environment
by Melissa LaScaleia
The Water Tree Cafe, run by Pennsylvania native Chef Gabi Mazzochetti, has been open since March 1 of this year in the Market Common.
"I wanted to go to college for art," Gabi says of her background, "and my parents directed me into the land of edible creations so I could make a living.  So I went to culinary school at The Restaurant School at Walnut Hill College, and received a BS in culinary arts, then worked in country clubs and high-end restaurants in the greater Philadelphia area.  I moved to Myrtle Beach last year when my parents offered to help me open a restaurant here."
Gabi describes the cuisine at The Water Tree Cafe as eclectic gourmet.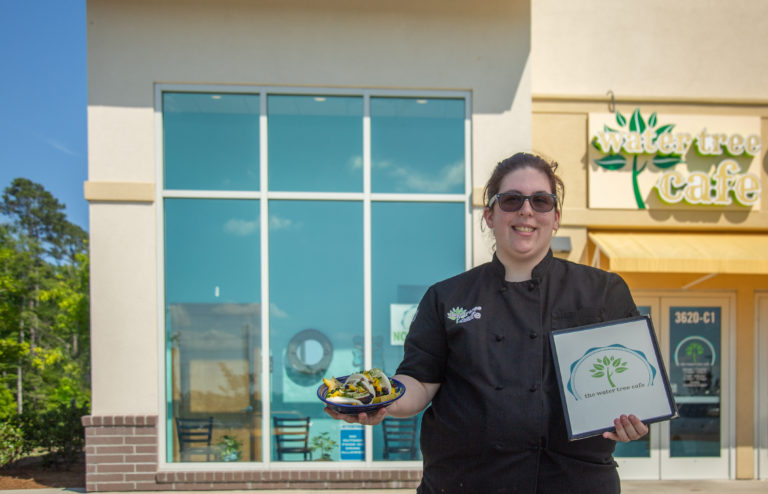 All the dishes are made from scratch, including desserts like ice cream.  There is one menu available all day which hosts an array of salads, entrees, and small bites.  Specials change weekly and are seasonally reliant; new desserts come out every three days.
Like much of Myrtle Beach, the restaurant is laidback— you'd be at home here in a tee shirt and flip flops.  Photographs of restaurants her grandparents owned adorn the walls, as well as a variety of artwork.  "It's a casual environment, but you still get high-end food, artfully presented, at reasonable prices," Gabi says.
Gabi is settling into the rhythm of being her own boss: "Learning about new foods intrigues me," she says.  "I like that I can be creative and offer the ideas that come to me.  My favorite thing about being a chef is being able to create new dishes using food as the medium."
The Water Tree Cafe
Located in the Farrow Commons Shopping Center.
  Open M – Th 11:30am – 9pm; Fr – Sa 11:30am – 10pm; Su brunch 10am-4pm.