Art At Its Best Along the Grand Strand
by Melissa LaScaleia
The Seacoast Artists Gallery is a non-profit 501(c)(3), whose mission is to provide an atmosphere conducive to creativity, sharing, and mentoring for artists in the Grand Strand area. The gallery functions as an artist and art-lovers community spot, where chosen members can showcase their art to the public. 
"We want to make sure we have a place for local artists to congregate, to mingle and mix and support each other, and share their skills with other artists in the area," says Nick Mariano, the gallery's director. 
"Our Art Buddies group meets monthly, and was formed so members can offer constructive critiquing of each other's work in a learning-focused, supportive environment." 
The gallery is associated with the Seacoast Artists Guild, which has over 300 members from a wide geographical area that encompasses the Grand Strand, Calabash, the Charleston area, Columbia, and even other states.  
As director, Nick's priority is to share the gallery's art with the community, which showcases selected works from the gallery's 70 member-artists.  
"The gallery hosts a wide variety of art in many mediums," Nick says. "We have beach and landscape photography and paintings; still life photography; bronze castings; ceramics and pottery; glass-blown sculptures; and sculptures made from old instruments. This is not your typical gallery; it's quite a lot of fun. The selection is ever-changing, with new art displayed every month. There is something here for every taste and every budget." 

Many local businesses struggled during Covid, but Nick is grateful that the gallery has been flourishing.
"People have been buying a lot of art over the past year," he says. "I think because people have been at home more and are interested in revitalizing their space, improving it and looking at something new."
Nevertheless, Nick is always trying to attract more people who are walking by off the street and into the gallery.
"Many people stop and look in the window, but they don't come inside," he says. "I've added members' art along the front window in order to catch people's attention and draw them in. I've also started a monthly Visiting Artist program. For this, I display the works of an artist who is not a member of the gallery, but has a following elsewhere. Many of these artists have won prizes for their art both locally and nationally. Some are instructors and have taught over the years in the Grand Strand area. A few even have their own galleries, but are thrilled to be able to show their work at Seacoast."
As an additional way to reach out to the community, Nick has been putting together promotional videos and expanded the gallery's Facebook page. There is also a scannable QR code at the gallery's front door, so passersby can be immediately connected to the gallery's current artists and activities.
"On our Facebook page, we highlight one member artist each day for a week," he says. "It's a nice way of promoting our artists and sharing with everyone what the artist has been up to, as well as getting people interested in what the gallery has to offer. People locally and from out of state are beginning to notice us and want to join the guild or display in the gallery."
The gallery is currently hosting art classes in a variety of mediums that are open to the public. They also host one-day specialty classes, in which artists explain their craft and methods, and teach people techniques so they can refine their creative process.
Nick is looking forward to the time when the gallery will be restarting their monthly receptions, so members and the public can see what the gallery is doing in a more festive environment.
Their Fall Art Show is scheduled for October, and this year it will be live. Last year's was virtual due to Covid. Members and the public are welcome to attend the awards ceremony and social. It will be advertised in the Insider ahead of time.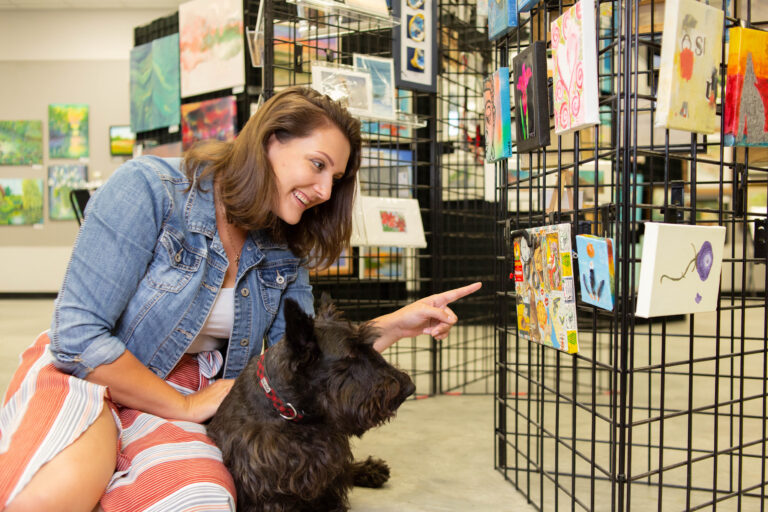 For Nick, the purpose of his work at the gallery isn't just to sell art, but to afford people the chance to see it. 
"It's not about trying to get people to buy things," he says. "We just want people to know that we're here. We're one of the bigger art galleries in the area, and we showcase teaching artists— many of whom have won numerous awards." 
In keeping with their mission of supporting and promoting artists of all ages, the guild offers two annual scholarships of $1,000 to high school seniors who are pursuing the field of art in college to help them further their art education— one to a Horry County student, and one to a Georgetown County student. This year they gave a grant to a local school to purchase art supplies so they could expand their art program. 
The Cushman Fund was started in honor of one of the gallery's deceased members. It funds grants and scholarships that promote art within the community. Gallery members create art and donate it to the gallery; all proceeds from those sales directly support the Cushman Fund. 
"It's our way, as artists, of giving back to the community and helping young people pursue a career in art," Nick says. "We want to be a gallery that serves our community. It is surprising that many people who have lived in the area for years still don't know that there is an art gallery in the Market Common. 
"We hope that after they read this article, they'll stop by and see the various categories of art that we have on display and for sale. We also encourage artists to join our guild and take part in its activities. If you've always wanted to explore art, here is the place to do it. Take some art classes and you may discover a whole new passion and way of life." 
The Seacoast Artists Gallery