A Traditional Scottish Festival Lands in the Heart of the Market Common
by Melissa LaScaleia
When the Scottish people came to America a century or so ago, they brought the tradition of the Highland Games with them. Of the more than one hundred Highland Games that take place annually all over the U.S., eleven are in the Carolinas; they have been held in these mountains and lowlands for 75 years.
Grandfather Mountain ushers some 30,000 people through their gates yearly— a larger number of attendees than those of Dunoon, Scotland, which hosts the largest games in the world.
"There's a lot of Scottish history here," Todd Cartner, founder of the Myrtle Beach Highland Games, says. "And that's why they are so popular in the Carolinas."
Todd, who has Scottish ancestry on his mother's side and has been a resident of Myrtle Beach for the past 28 years, was looking for ways to raise money for the Myrtle Beach Regional Bagpipe Band and support this traditional aspect of Scottish culture. He started the first games as a non-profit in the Market Common last year.
"I wanted to provide scholarships for people to learn how to play the bagpipes," he says. "It's very difficult and takes a long time to learn."
He had the idea to bring the games here as a fundraiser.
"They are so popular in this area already," Todd says, "plus I thought— it's another event we can bring to Myrtle Beach and add to the growing number of festivals."
The Highland Games are a mix of sport, cultural pride and community, and have been in existence since around 2000 BC. The sport part of the games is comprised of a series of individual feats in which competitors measure their skills against one another. The most well-known one, and almost symbolic of the games themselves, is the caber toss, in which a telephone pole is thrown end over end. 
The Southeastern Highland Athletic Group, or SHAG, provides the athletes— and Todd is proud to be one of the only groups in the Carolinas to have a women's group. The participants are competing to earn points. If they accumulate enough, they earn the right to compete in regional, then national, and then the world competitions in Scotland.
The games offer community here in the Market Common, just as they have for centuries. They are an opportunity for those of Scottish descent to celebrate their heritage, and others to experience Scottish culture and traditions.
"Scotland has a colorful and complex history, and central to it is Scotland's clans," Todd says.
A clan is a large family group related by blood and marriage, but members also joined for protection or survival; others because they supported a leader in the clan and wanted to stand behind him. Clans had their own laws and customs, and were tightly bound together by their loyalty and pride.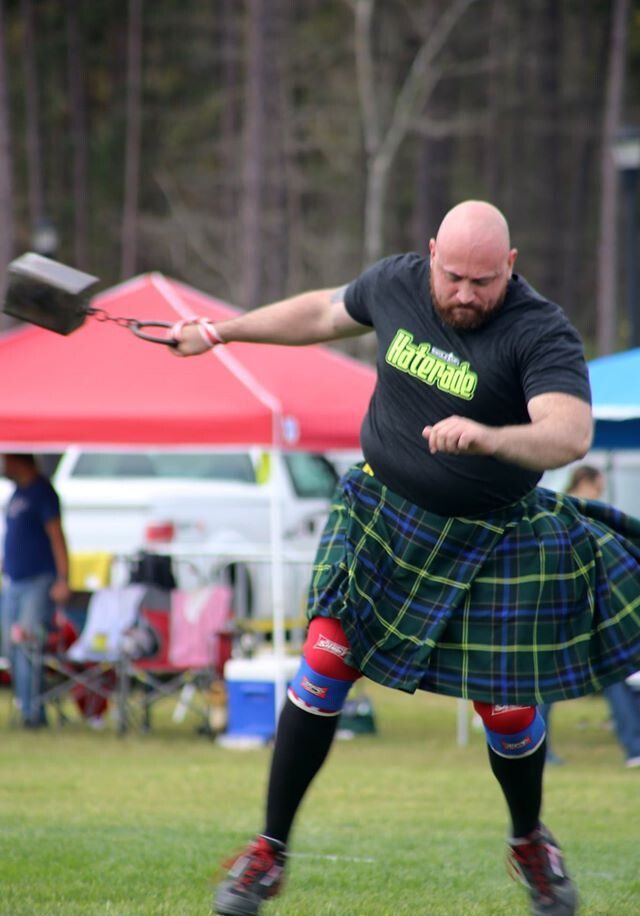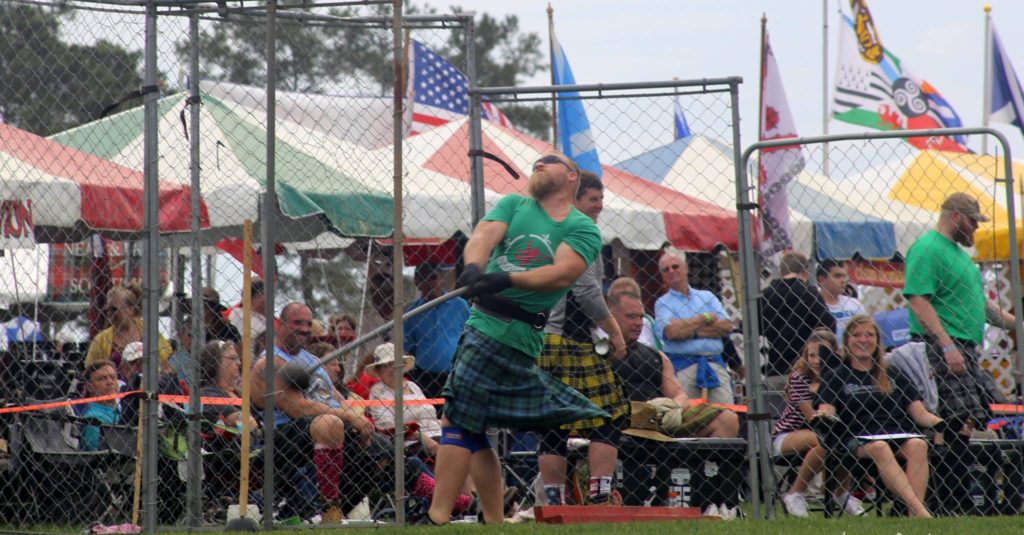 Traditionally, there was one member from each clan competing in the games on a large playing field. The families of each contestant would erect tents around the field, which acted as a gathering spot for the entire clan to mingle and enjoy the entertainment while also watching their hero during the competition.
At the Myrtle Beach games, people of Scottish descent can discover their clan affiliation. The Council of Scottish Clans of America (COSCA), has representatives at the games, and may be able to tell you the heritage of your last name including: the area of Scotland where your clan originated; where they emigrated to first; any other spelling of your clan name; and if anyone in your family history was related to a king of Scotland, dignitary, artist or other notable.
Todd is working on acquiring 501(c)(3) status so he can support other organizations that promote Celtic heritage.
"We are interested in sponsoring foreign exchange students, either bringing one from Scotland to Myrtle Beach, or to send one from here to Scotland," Todd says. "It's another way to perpetuate our mission."
The Myrtle Beach Highland Games will be held on Saturday, March 25, on the Soccer Fields in the Market Common. Plan to stay the entire day as there's something for everyone.
There will be athletic competitors; several live music bands; rivalry; a sheep and geese herding demonstration; a British car display; and food vendors serving tasty Scottish pastries, fish and chips, as well as the renowned and often shunned haggis. The less adventurous can satiate their hunger with American fare like pizza, kettle corn, fried food, and ice cream. There will be around 35-40 retail vendors selling Scottish jewelry, artwork, kilts, even the glengarry— the famous hat of Scotland.
Tuatha Da — a renowned Celtic gypsy-style band— and The Band Syr— a younger band from Columbia, SC that has won several awards performing in Scotland— will treat the audience with Celtic music. And, in keeping with the 400 year-old tradition, there will be bagpipe bands playing as well.
The Kid's Glen, one of the most popular areas, hosts games based on the traditional ones for children ages 6-12, as well as activities for younger children. Bring the whole family and compete in the sheep toss— in which children see how far they can toss a stuffed sheep; the welly boot toss, in which the boot has weights in the bottom; a three-legged race; a 9-hole miniature putt-putt course (golf after all, originated in Scotland); archery; and a 40-foot obstacle course. There's also a Scottish bouncy castle, face painting, a scavenger hunt, coloring pages and word searches— the latter three, all with Scottish themes.
Another favorite part of the games is the Whisky Tasting, held this year at Tupelo Honey Cafe, on Friday, March 24 and Saturday, March 25. This year's whisky and food pairing event— Tour of the Highlands— includes samplings of five excellent and high-price-point whiskies from the mountainous regions of Scotland. Tickets sell out fast, and must be purchased online in advance.
The offerings and activities delighted last year's participants, who numbered 6,800. This year, Todd thinks they will number 10,000.
"We did a lot of research," Todd says. "I personally went to nine other games in the Carolinas, we surveyed people, we talked to the vendors, and we asked everyone what they liked the most, the least, and what they would change if they could change anything. We took all that information and used it to create our games. I think that's why they were so successful." 
"If you've never been to the Highland Games," he adds, "this is something you don't want to miss."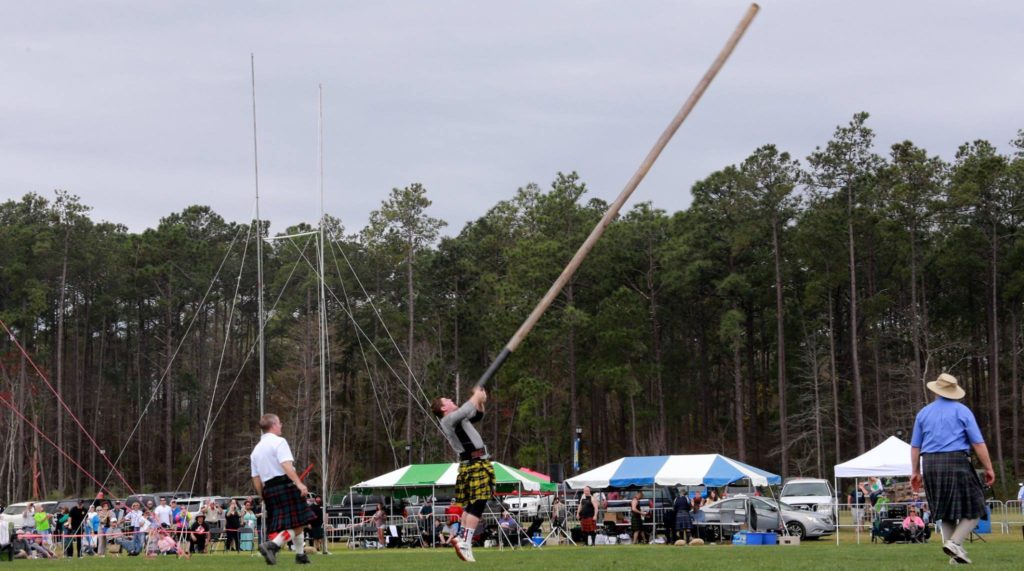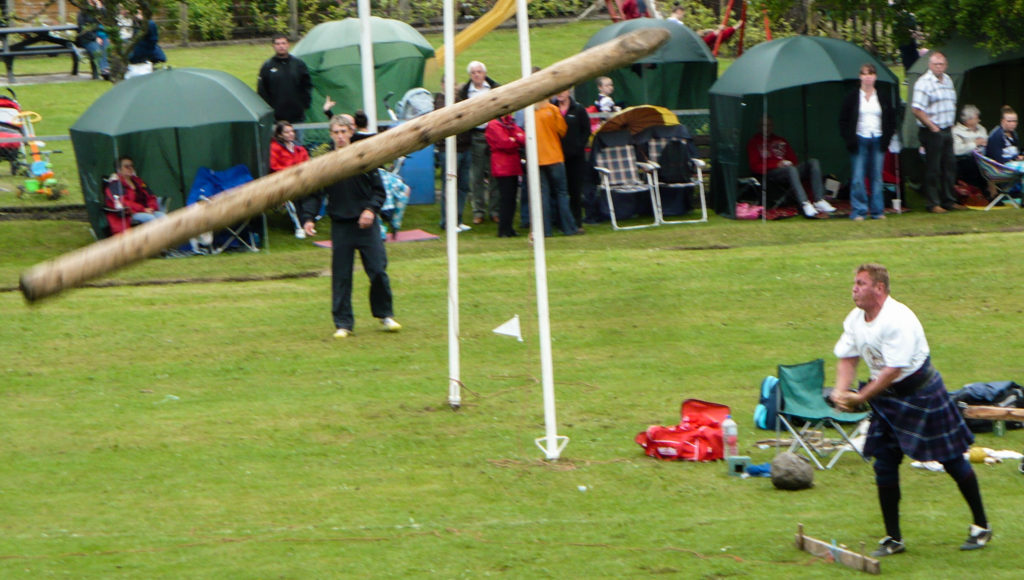 The Highland Games
A rain or shine event held at Grand Park soccer fields in the Market Common, Saturday, March 25 from 9-5pm; tickets $5-$15 www.coastalhighlandgames.com.
Parking is in the ITAP park, follow the signs; free shuttle service all day.
Ceilidh, a Celtic word meaning 1000 welcomes, does just that— kicking-off festivities on Friday, March 24 from 6-9pm. It is an evening of entertainment, food, drink, and merchandise, held as a thank you to volunteers, sponsors, and participants. Free and open to all.
Tour of the Highlands Whisky Tasting, is held at Tupelo Honey Cafe, 3042 Howard Ave., Friday, March 24, 5pm; and Saturday, March 25, at 11am, 1pm, and 3pm. Tickets are $35 and includes entrance to the Highland Games; must be purchased online in advance.