by Melissa LaScaleia
Husband and wife team Scott and Larissa Madill are co-owners of The Countertop Store in Myrtle Beach, which offers custom-designed and constructed countertops and factory cabinetry for your kitchen and bath. 
They handle the design, sale, layout and installation of all cabinets and countertops for residential as well as commercial spaces. They fabricate and install granite, quartz, solid surface, and laminate countertops.
Scott has always been familiar with tools and building projects— both his father and grandfather remodeled and built houses in Canada, where he was raised.
"I was born on the West Coast," Scott says, "and grew up in Ontario. My parents moved down here when I was in high school, and I finished my senior year at Myrtle Beach High School. 
"I got started in the countertop industry when I was in my mid-twenties. I started working for a local company in Myrtle Beach, making countertops and installing kitchens and showers. Eventually, I moved back up to Canada, and met my wife on Vancouver Island. Aside from being a commercial diver in the Gulf for a few years, I've always done this."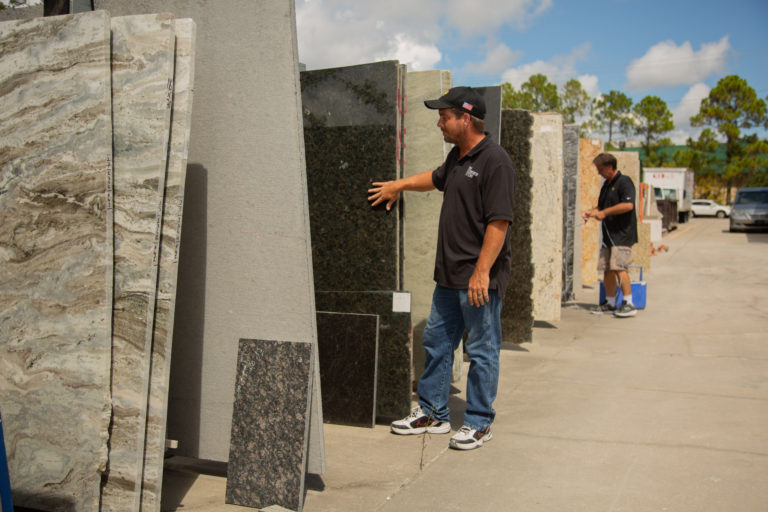 Scott eventually returned to the East Coast, and ran his own business on Cape Cod. He and Larissa relocated to Myrtle Beach eighteen years ago, and they've run The Countertop Store here, since 2000. 
"And we're still here," he says with a laugh, "so we must be doing something right."
Their bright, spacious, and beautiful 1400 square foot showroom hosts a variety of countertops, cabinets, sinks, and samples of countertop materials from all major manufactures of quartz and solid-surface counters. 
"We have everything here that people need to make their choices for a kitchen or bathroom installation or remodel," Scott continues. "Granite is the most popular material for countertops. We have a large granite yard behind the store where we stock full slabs so people can see what the entire stone looks like rather than buying a tiny sample and trying to visualize what it will look like expanded. It looks different in its larger size, so we're happy to be able to offer this to our customers." 
They also have a selection of quartz slabs in their warehouse, with the ability to order hundreds of other colors from a number of manufacturers.
Some people come to The Countertop Store with the measurements for their space. But Scott and his team will also come to you to look at your job, take measurements, and give estimates.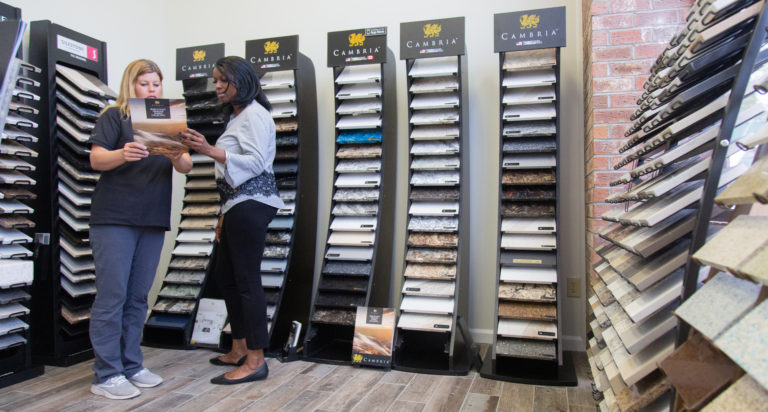 "We'll take out their entire kitchen and bathroom and put it all back together," Scott says. "And they don't have to go anywhere else. We can handle all the plumbing and detail work. If it's just a countertop installation, we can do that in one day."
The Countertop Store also works with general contractors. 
"We are more interested in customer service and interacting with our clients," Scott says, "so we work with many smaller contractors. My most favorite part of what I do is making customers happy. We have thank you cards from our customers all over our office—many from people expressing gratitude that we completed a job that somebody else wouldn't do because they thought it was too difficult.
"Our reputation and word of mouth is 85% of our business. And that's a lot for Myrtle Beach. I love that every job is different. This work isn't monotonous. It's the aspect of carpentry I've done my whole life."
Kevin Hepburn is the operations manager and has been with The Countertop Store for about thirteen years. He oversees the fabrication shop and all of the installations. Additionally, he orders all of the countertop materials, sinks, and tools needed to keep his shop going and the installations on schedule.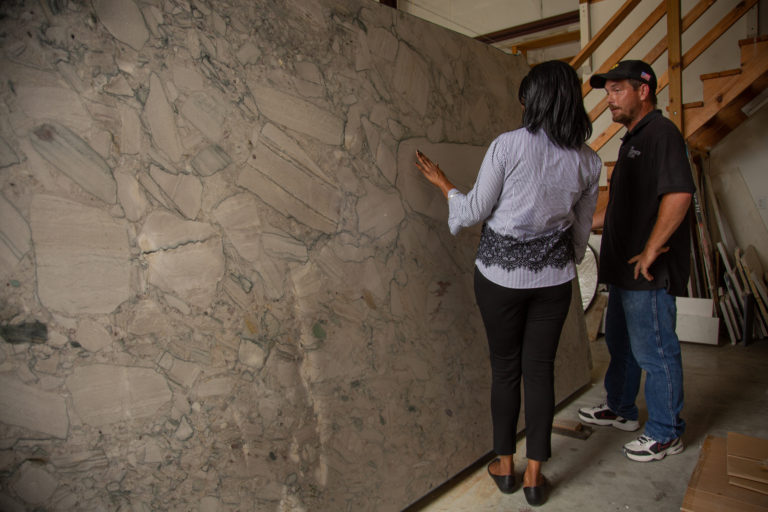 Tanya Hepburn, Kevin's wife, has been the admin assistant for five years and handles most of the day-to-day paperwork, but is also available to assist customers when they come through the door.
Steve Pinnell handles all of the cabinet design layout for customers. His background is in residential construction. He had his own construction company in New Jersey where he worked with kitchen and bath restoration for about twenty years.
"The Countertop Store did my countertops for me through other companies I've worked for," he says. "And three years ago, Scott invited me to join his team. What I like about working here is that I know we do everything the right way. I've dealt with a lot of other countertop fabricators, and The Countertop Store is really the only place I've never had a problem with in terms of installations, how they do things, and keeping customers happy. I like that they do everything the right way."
The Countertop Store
Open M-F 8am-5pm, Sa 10am-2pm.