Celebrating Our Third Year Anniversary This June
by Melissa LaScaleia
This month marks our publication's three year anniversary of bringing our readers lighthearted, uplifting, and relevant information about the businesses, activities, and people in our community; it's also the one year anniversary of our evolution from the Insider at the Market Common to the Coastal Insider. 
We pride ourselves on serving our local community day in and day out," says Jim Parker, Co-owner of the Coastal Insider, and Broker in Charge of Real Living Home Realty Group in The Market Common.  "We've been true to our mission from the start— to inform visitors and locals about what's happening in the area.  Our staff shows that day in and day out.  And our community supports us because they feel like we're supporting them. 
"Our customers have expressed how much they enjoy working with our staff, and notice how much our staff enjoys what they do— bringing their messages forward in the community.  Being able to get the support from local businesses that see the value of what we bring to the table has been instrumental to our success." 
Neither Jim nor his business partner John Jobson have publishing backgrounds, but they've been able to compile a talented team with diverse skill sets to help bring their vision to fruition just by being plugged into the community and sensitive to what the community needs. 
"My living here for the past forty-one years gives me the upper hand in that better than most," Jim says.  "We didn't know what we would need when we started down this path, but every time we've had a need we've been able to secure the right person for the position.  And once they're here, they're usually here to stay.  It's made this project and undertaking a very enjoyable venture." 
"I am always amazed by the stories and the way this publication touches the human spirit of our community," says John.  "The Insider exemplifies our unique culture of beach and Lowcountry, as well as the diversity of new residents from all over the world.  I'm proud of the positive influence it has upon our audience."   
To celebrate our third birthday, I asked questions and captured some musings from our entire Insider team, the people who work at the forefront as well as behind-the-scenes to bring you, our readers, the Coastal Insider every month. 
Megan Parker is our Creative Director and also wears the hats of graphic designer and photographer.  Megan collaborated with her father, Jim, for months preceding the publishing of our very first edition, to help create the design of our publication.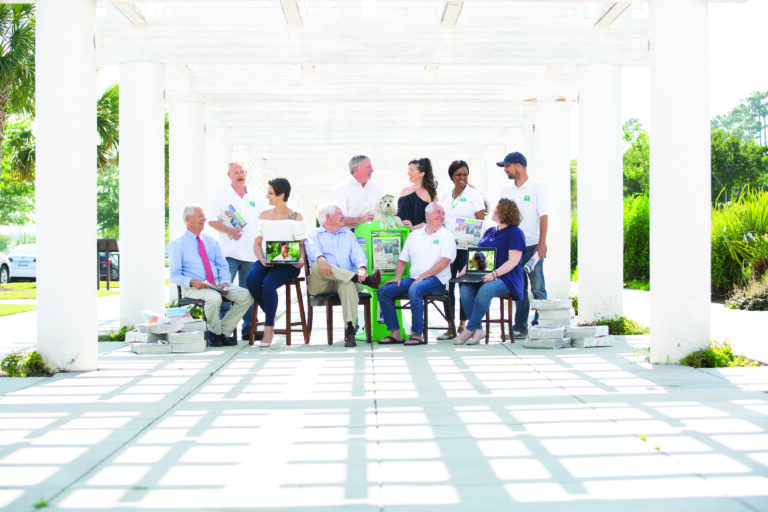 Q: What are a few of the most rewarding aspects of what you do on a day to day basis?
Megan: Connecting with the hearts of the people who make up the Grand Strand area, watching how businesses/causes/organizations benefit from our platform, and inspiring our team to be leaders in our beautiful community.  
Q: What is one of the most important things you've learned in your three years at the Insider? 
Megan: Valuing and nurturing a community like a mother nurtures a child.  The more you build the child (community) up the more they will succeed and gain confidence in themselves.
Melissa LaScaleia has been bringing our publication to life with words since our first edition.  She also acts as editor, and finds it amusing when she writes about herself in the third person. 
Q: What do you like most about your role?
Melissa: I love the variety of topics that I cover and situations I encounter as an interviewer, researcher, and writer— and speaking to such a wide range of people.  I love being creative—  hearing peoples' stories— being able to engage them, and draw them out to share with me.  It's always whimsical, and never dull, not even when I expect it to be. 
Latoya Grayson is our public relations director.  She is the face of our publication, and forges connections in our community on a daily basis. 
Q: What has it been like to be with the Insider over the past two years?
Latoya:  It has been adventurous.  I love seeing people doing what they're passionate about— living their lives, in their element— and I love assisting them to build their business, to help them put their best foot forward in any way I possibly can.  It's not a job for me.  I love what I do. 
Rachel Ogg is one of our graphic designers, celebrating her one year anniversary with us this July.
Q: What do you find most satisfying about what you do? 
Rachel: Whenever I can bring someone's vision to life for their ad, it makes me feel like I'm helping somebody and that feels great.  I enjoy the creative process— I like to create something beautiful. 
Q: What is your environment like in the creative corner? 
Rachel: I appreciate my team because we're always supporting and encouraging each other to be the best we can be, both personally and professionally.  The energy here is dynamic, but my little corner is always very calm. 
Charlie Miller is our director of operations and has been at the Insider for the past two years. 
Q: What do you do as director of operations? 
Charlie: I coordinate the operations for the real estate, property management, and the Coastal Insider divisions of the company— handling security, logistics, and IT. 
Jen O'Leary has been a part of our team for the past year and a half as a receptionist and more recently, assists with distribution. 
Q: What's it like to be an insider at the Insider?
Jen: You get the inside scoop on the entire creation process of the publication from start to finish— the photo shoots, interviews, articles, and advertisements coming up.  The neatest part is seeing it come together at the end, not just on a computer screen, but when it's delivered and printed in hard copy. 
"The biggest thing we can say," says Jim, "is that we truly feel like we've helped companies, small and large, be able to have a brand in this local market.  We have a way and an approach of branding their concept through word and image that works.