A Community Publication That's Here For You
by Melissa LaScaleia
The Coastal Insider is the only true community publication that covers the entire Grand Strand area from Pawleys Island in the South to Little River in the North. Many people think that we're a newspaper, but we aren't. So what are we really? And why?
Simply put, we are a monthly publication that serves this market by bringing our readers engaging content about the people, events, and businesses that are relevant to the Grand Strand. 
"The need for this was apparent after living here for forty-one years," says co-founder of the Coastal Insider, Jim Parker. "I've seen how Myrtle Beach has grown since I was eighteen, and as it has changed, the needs of the community have changed as well. 
"It was clear to me that there was a disconnect between the local residents, the visitors to the area, the local businesses, and the individual communities along the Grand Strand— all the parts of our community that make it what it is. And it seemed they should be better integrated." 
Jim set out with his business partner John Jobson to brainstorm the ways in which they could bridge the gap to connect the pieces and create a stronger sense of unification as well as knowledge about what is where in our area and when. 
They eventually hit upon the idea of a publication that would provide information that was relevant to locals, visitors, and prospective residents— information about the services that local businesses provide; real estate information; restaurant happy hours and live music listings; festivals; and articles that captured the stories and spirit of the people who live, work, and visit here. 
"We never wanted to be a newspaper," Jim says. "To me that's entirely different from what we do. Our intention was never to broadcast local news. It was always to build a stronger sense of community, to highlight the individual voices and unique aspects of all of the communities that make up the Grand Strand, and to be a place where those communities can market themselves and show what they have to offer residents, visitors, and potential residents."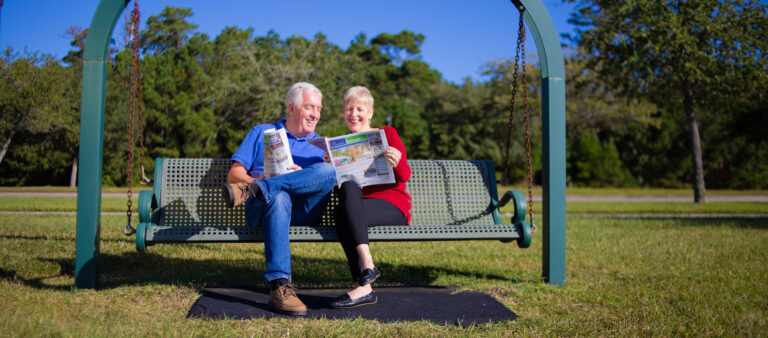 "If you're trying to build a stronger community, then reliability and consistency are key, as well as having a strong, clear message so people know what to expect, and come to trust you to provide the sort of information that they're looking for," he continues. 
"We're consistent with our message so our readers can understand more about the community they live in. And we always sought, by our design and our content, to reflect those values." 
Consequently, the Insider has a lighthearted, informative tone. It introduces people with sections like "Meet Your Neighbor" and "Meet Your Local Veteran;" tells about our roots with the "History" section; and delights with the antics of Charlie the dog from "Charlie's Corner." 
Every section of the publication has been carefully thought out, to make it fun and engaging, to add value and establish continuity. 
We deliver a completely in-color publication printed on 45 lb top-quality paper to residents and businesses along the Grand Strand every month. We also have an online presence. 
"We've aimed to be a feel-good source of information that's reflective of what community is," Jim says. "We wanted to be something families could read together at the dinner table without fear of exposing their children to it. To me that's what community is— it's feel-good, and it's inclusive. And that's why we're full color and why we focus on print: because it's more fun to read, it brings people together, it puts a smile on your face, it engages you." 
Jim and John began by focusing on the Market Common area, the newest subset to the Grand Strand. 
But the intention was always to connect that area to all the rest of the areas along the Grand Strand— a vision which they began to implement with our name change to the Coastal Insider in 2018, and continue to implement by the addition, beginning nine months ago, of our community sections. 
Since that time, we've added additional communities, and this month are welcoming the inception of the Pawleys Island community page. 
The community pages are separated into several components: there's a main article that highlights what that particular community would like to showcase about themselves for the month; a schedule of their events; and a separate real estate summary which lists the total volume of sales for that month; the average sales price for the area that month; and the average number of days on the market. 
"If you own real estate, you want to be able to see how your investment is doing," Jim says. "If you're looking to purchase in the area, you want to know what the market is doing." 
Over $3 billion dollars in residential sales transferred in Horry County last year. One half of those sales was from local residents, and the other half was from out of state buyers. 
A community publication that provides the range and depth of information that we do is important to a geographic area like ours, because it speaks to the interests and needs of both sides of that $3 billion dollar demographic that directly feeds our local economy.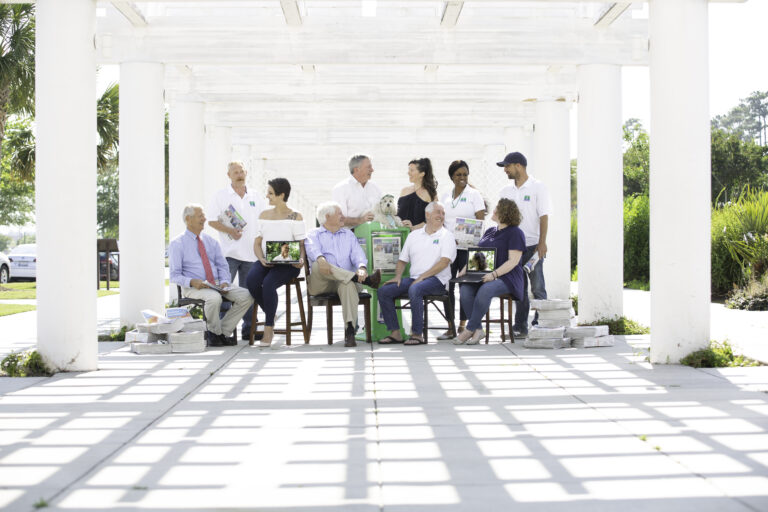 Our publication is readily available at major shopping centers all over the Grand Strand, and our direct home delivery has secured us a readership of over 100,000. Our ease of access to both visitors and locals means that those who list their homes with us gain exposure to the community of people who are moving in as well as already here and transferring property.
"5,000-6,000 words are written about what's going on in this area every month," Jim says. "And people visiting enjoy reading about who's here and what they're doing. This community publication fulfills our community." 
"A lot of thought went into this," he adds. "We didn't pop-up overnight, and this never was a fly-by-night operation— we always had long-term growth in mind. 
"We planned it carefully, and we continue to enhance our resource material. It was a lot of hard work, and took, and continues to take, a very strong, devoted, and talented team to make it happen every month. And we've proved, by our incredible growth, that we're a missing link that this area needed." 
In a world where things are easily replaced, the Insider, perhaps because it feels hefty in your hands, perhaps because of the colors, or the antics of the little white dog within, has a remarkably long shelf-life. We hear how people save it to reference the happy hour later, or a service they intend to try. 
Geri O'Leary, a reader from our community says, "I look forward to the Coastal Insider each month. One of the first things I do is look for the calendar of events. I save it to refer to all month. The "Meet Your Veteran" section is a wonderful addition to the paper. I like to shop local so I also look for local businesses that are interviewed and any discounts they offer to local residents. Reading the Coastal Insider makes me feel more connected to my community. It brings a smile to my face when I see pictures of the local events, and to know that I picked such a great place to call home."
Mickey Davis, another reader shares: "I love that the Coastal Insider keeps me up to date on my neighbors and neighborhood." 
"We take our responsibility to our community seriously," Jim says. "And feel honored to provide the service that we do, and that we've become a trusted name in the community." 
 1232-B Farrow Pkwy, Myrtle Beach, SC 29577
843-232-0000