Bringing a Different Kind of Lounge to the Market Common Area
by Melissa LaScaleia
The Cigar Shop recently opened its doors to serve the cigar aficionados of Myrtle Beach as well as those merely curious about the lifestyle. Large red flags, waving in the breeze, flank the outside of the store and inside, plenty of fun touches like a Harley Davidson motorcycle in the middle of the retail space, unique art, and a self-serve coffee station, keep everyone entertained.
The owner, Mark Boley, and his partners, wanted a store that patrons could utilize for functions, private parties, and seminars as well as personal use. Thus, their 3,000 square foot space has a cigar lounge that is one of the largest in the state of South Carolina.
"We have a lot of people who have been here to visit because they are established smokers," Mark says. "But we love to cater to new smokers who might want to experience the world of cigars and what the lifestyle is like. This is not a private club, nor an old boys club," he says.
And it doesn't have the energy of either.
"Plenty of gals come too," Mark continues. "Cigars are a great equalizer. If you're in a room with people, and you have a couple guys who are multi-millionaires and a couple guys who are plumbers, it doesn't matter, it's all about the cigars."
Mark moved from Charlotte, NC about one-and-a-half years ago with his wife.
"I love the lifestyle here, the pace," he says.
When he moved, Mark had an opportunity with a couple of business partners to open a full service cigar shop with a dedicated smoking lounge.
"Cigars are a lifestyle choice," he says. "It's like fine dining, or fine bourbon, or fine whisky. Guys get into the apparel and trips overseas to the factories. People who work in the industry, who smoke cigars, are great people."
Inside the lounge, there's a strong cigar smell, an array of magazines, multiple televisions, rich brown leather couches, and lots of sunlight. The vibe is spacious, relaxed, and has just the right balance of privacy and openness to satisfy the tastes of a broad range of people seeking a comfortable smoking lounge. The atmosphere lends itself with equal ease to intimate groups, as well as those doing their own thing.
The retail area is smoke-free so non-smokers can visit the shop and feel welcome. The only place smoking is allowed is in the smoke lounge.
During the spring and summer, Mark plans to have plenty of outside patio seating with umbrellas and rocking chairs under the shop's covered portico to enhance the feeling of community and provide people with even more space to be at leisure and enjoy the offerings of his shop. 
The shop, located on the outskirts of the Market Common, has the second largest humidor in South Carolina. A humidor is an enclosed area which keeps the cigars in an optimal temperature- controlled environment at about 70% humidity. Otherwise, the cigars will dry out, and then split and crack. The inside of the humidor is huge, with a cave-like feel, and there are shelves and shelves of cigars.
"Even folks who have cigars at their house keep them in a cigar box, which is a humidor," Mark shares. "Cedar helps age tobacco. So most cigar boxes are made of cedar.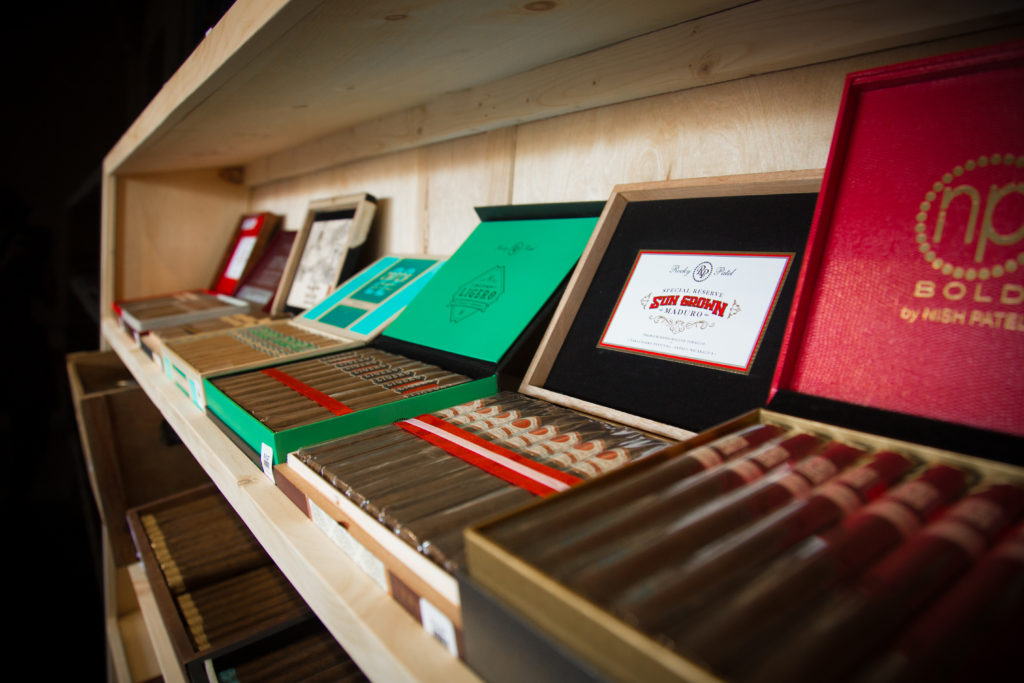 Mark's humidor contains a huge selection of all the major brands of cigars plus some boutique cigar lines from around the world. Cigars are primarily manufactured in the Caribbean and Central America. There are some limited cigars, typically from Miami and South Florida, but the vast majority, some 95%, come from Latin America.
The making of cigars has a long history. Producing them is a talent; they are an artisanal, completely hand-made product.
"They're all rolled by hand," Mark says. "That's something you just don't see nowadays. Some of the shapes and sizes these artisans produce are just incredible."
Mark and his business partners have a combined twenty years experience in the industry.
"For the past 10 years, I've been running a couple of cigar shops in North Carolina," he says. "So I have extensive knowledge in the business and great relationships with the brand owners and the reps. This is an incredibly intimate industry. It's small, it's family centered; the manufacturers, the brands, are all family owned. I'm fluent in Spanish, and can communicate with those guys on a really personal level which makes our relationships even better."
The Cigar Shop is partnering with Harley Davidson on sixteen events throughout the course of this year that are all geared towards supporting 501(c)(3) charities in the local area. Several will be on-site at Harley Davidson; several are rides throughout the Myrtle Beach area.
The Cigar Shop is having a Grand Opening Thursday, March 23 from 5-9pm. Harley Davidson will be in attendance, and Palmetto Distillery will be offering a tasting while the Myrtle Beach Chamber of Commerce will do a ribbon cutting. There will be a cigar brand-owner there to answer questions; promotional items; food; raffle prizes; door prizes; and cocktails and mocktails.
"We wanted a world-class presentation with a tremendous selection coupled with huge square footage," Mark says in speaking of how he designed his store. "Everything we do here we are thinking outside the box. This is a place which is a tribute to the lifestyle of the cigar world; we want it to be a place where anyone can come and have room to spread out. We're filling a need here in the Myrtle Beach area. It's truly a unique, world-class shop."
"We are just down the street from the Market Common," he adds. "So we hope to become the go-to shop for the people who live in that area. We want to support the local community."

The Cigar Shop
Check out our facebook page for upcoming events. 
Lounge rental $50 per hour, $250 for entire day; private functions and corporate meetings; must be 21+ to enter lounge. Short-term locker rentals available; also by month or year.