A Must-Stop For Craft Beer in the Market Common
by Melissa LaScaleia
The Brass Tap opened a location in the Market Common in 2016. The craft beer bar and upscale pub-food-eatery is part of a corporate chain with about fifty franchise locations. 
Last October, the Market Common venue changed ownership and had a grand reopening. The new owners are based out of Mount Pleasant, SC. They purchased three locations under the new company they formed— SBS Brewing Masters Inc.    
"More than a year ago," says Courtney Dumont, general manager, "The Brass Tap was a little bit of a stepchild in the Market Common. The original owners were not available to invest the appropriate amount of time and energy into it to make it be more successful; and all the employees as well as the community felt that lack." 
Courtney has been with The Brass Tap since the day they opened. She was hired in 2015, while they were still building. She went through corporate training and beer school, then was promoted to a shift manager, and eventually general manager. 
"It was a really positive addition," Courtney says, "to have someone who acts as a direct link between the general managers and owners. He brought in backing for the general managers as well as organization.  
"There became greater communication between the three stores— all of us were more in synch; and all of us revamped what we were doing. It brought in a new energy and structure of support. 
"The new owners were more involved, and at the same time, they allowed me a greater freedom in running my establishment than I had previously. They have truly given me the reigns; now I have the opportunity to get things that are new and different to expand The Brass Tap's offerings."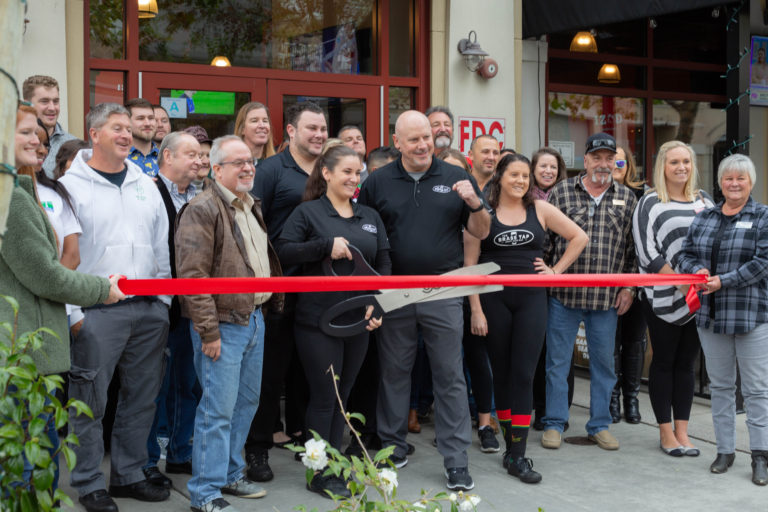 The Brass Tap offers a constantly rotating selection of 120 different craft beers— always 60 on tap, and 60 in bottle or can, as well as beer tastings and flights. They are not a brewery and don't make beer on site; rather Courtney samples brews from all over the world, and selects their best one or two to offer for a limited time. On any given day, the Brass Tap will have between five to ten new beers. 
"I select beers based on more than just what I like," she says. "I meet with representatives, tasting samples; I am very hands-on and always trying new things. There is a trend throughout the seasons as to what styles of beer are more popular. In colder winter months, people prefer darker, sometimes heavier beers—like stout and porter. In the summer, they prefer lighter beers that are crisp and refreshing, or something hoppy like a full-flavored citrus IPA. For craft beer lovers, we can always find something new and exciting every time they come back. They can expand and try new things as we do." 
When original brews hit the market, Courtney grabs them knowing that they will be something innovative that no one in the area has ever tried. And when her distributors have only two kegs of a limited edition, she's the first phone call they make. 
The Brass Tap has a loyalty program called 'The Brew Crew.' With every new draft bottle or can purchased, you receive a point. As you gain points with purchases, you earn money back in rewards to use in-house. 
"I have had people who have had 300 beers just in my location," Courtney says. "I know those people and they know me by name. And if people fall in love with something and request it, we will bring it back if we can, as well as fulfill specific requests." 
Though their concept is craft rotation, there are a handful of well-known domestic beer brands that they keep in-house for those tip-toeing into the world of craft beer. 
"There are some traditional domestic beers that we have a loyal clientele and following for," Courtney says, "and we keep those in stock always." 
In addition to beer, The Brass Tap serves upscale pub food, with menu items like fresh prime rib, buffalo chicken wraps, and street tacos, which won first place in the Taste of Market Common, an annual competition in which the public votes on their favorite dishes from local area restaurants.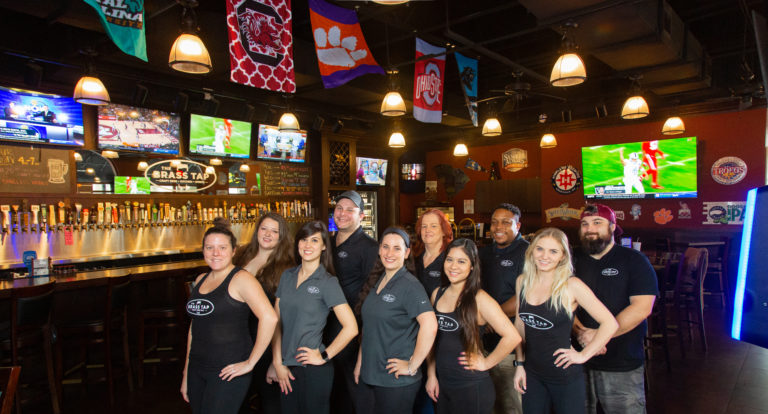 "We like to consider ourselves more of a polished bar," Courtney says. "We have more than just burgers and chicken tenders— even though it's definitely a sports-bar theme." 
The venue has over twenty televisions, and one 82-inch HD TV that they feature all the big games on. 
They also have a full wine and liquor menu, and a newly added bourbon whiskey menu, with bourbon flights and tastings. 
"We are trying new things with the liquor and bourbon specifically," she says. "I have charcoal-lined wooden casks, and I'm infusing them with bourbon, Grand Marnier, and different liquors for twenty-one days. The bourbon soaks up the flavors of the wood and other liquors and develops multiple flavor profiles. Nowhere that I know of has a system like this. People are really excited about it." 
The Brass Tap is the only place in the Market Common besides Gordon Biersch that offers a happy hour that is every day of the week, from 4-7pm. And they are known amongst those in the know, for their 'Bottomless Mimosa Brunch' on Saturday and Sundays from 11am-2pm. 
For $30 per couple, guests receive two entrees and all you can drink mimosas. Brunch items include Southern staples like biscuits and gravy, and sausage-egg burritos. 
"Especially being 10 miles from the University, the brunch attracts a much younger crowd on the weekends," Courtney says. "It's definitely a good time.  We are the best spot for brunch in Market Common." 
They have in-house entertainment Tuesdays through Saturday evenings, with the chance for patrons to win gift certificates to The Brass Tap. And there is live local music every Friday, as well as karaoke on Saturday. 
"There's something for everyone here in terms of craft beer, cocktails, and entertainment," Courtney says.
3090 Deville Street, Myrtle Beach SC 29577
843-945-1747
Facebook @ The Brass Tap Myrtle Beach.
Open Su-Th 11am-11pm; Fr & Sa 11am-midnight (Open as late as you stay out; summer hours open later.) Bottomless Mimosa Brunch, Sa & Su 11am-2pm. Daily happy hour, 4-7pm. Puppy friendly outdoor patio.