South Carolina's Only Casino Boat— In Little River
by Melissa LaScaleia
The Big "M" Casino first arrived in South Carolina in 2008. They have two luxury yachts that sail daily from Little River's harbor. Aboard the boat, patrons enjoy dining, beautiful views, entertainment, camaraderie, and of course, gambling. 
Land-based casinos are illegal in South Carolina. But three miles off shore, in international waters, those rules don't apply. Twice a day, at 11am and 6:30pm, patrons board the The Big "M" Casino boat sail from shore to try their luck at slot machines as well as table games like black jack, craps, roulette, let it ride, and three card poker. 
During the forty-five minute boat ride to and from international waters, The Big "M" entertains with live music, shows, or bingo depending on the day; and there is always the joy of being out on the open water with spectacular views. 
"We are the only casino boat in the Carolinas," says Eda Ekincigil, Marketing Coordinator for The Big "M" Casino. "It's a unique experience in South Carolina. It's fun and different. Some people come just to enjoy a nice sunset cruise or time with their friends. You don't need to play to be onboard."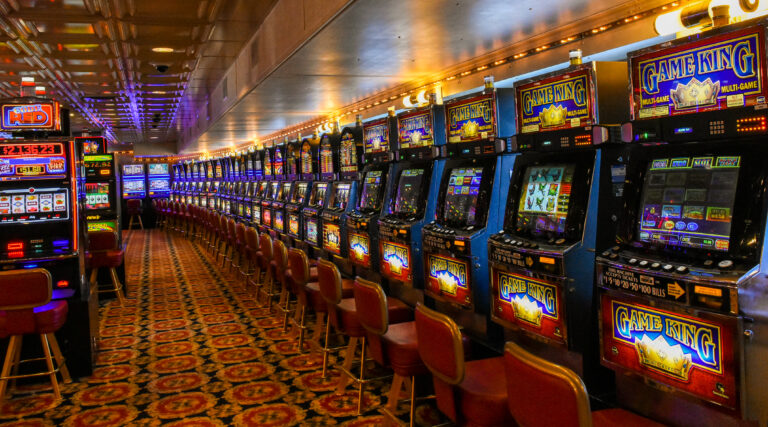 The first floor of the boat allows smoking and houses the main casino; the dining room and slot machines are located on the second, a non-smoking area; and the third level is the deck, which is partially enclosed, and allows smoking.
The Big "M" has capacity for 450 people. Those aboard have three hours of playing time before the casino closes and the boat returns to Little River. 
"We pay out an average of $383,000 in winnings per week," says Eda. 
The Big "M" offers many promotions. Those with a current military id can board for free, and receive a buy one get one free buffet voucher. Every Tuesday is Senior Day, with free boarding for everyone 55 years of age and up. Ladies Night is on Fridays, with free boarding and a buy one get one free buffet for ladies. No matter the promotion, everyone is required to pay the $10 port tax.    
You can also receive a Players Club card for free on your first visit which entitles you to a successive boarding for $10 no matter the time of day. Coupons for The Big "M" can be found amongst area publications, as well as on their website. Also check their website for their most current list of promotions, offerings, and sailing days and times.
4491 Mineola Ave, Little River SC 29566
843-249-9811 or 877-250-LUCK
Boarding twice daily 11am & 6:30pm
Morning cruises $20 per person; Evening cruises $25 per person; Saturday nights $30; Optional brunch buffet $13; Dinner buffet $18.
You must be 21+ to sail.