Helping You Make an Empowered Lifestyle Choice
by Melissa LaScaleia
The thought of insurance and the act of procuring it, whether it's life, health, or home, rarely engenders much enthusiasm. More often, it conjures up a range of emotions that range from befuddlement to abject dread. 
So it's refreshing to learn that local businessman Chuck Fitzpatrick, with his small, independently owned, family run business, the Benefitz Group, offers an empowering and humanistic approach to helping people with their financial and life-planning needs— all the more appealing for being right in our neighborhood, on Farrow Parkway. 
Chuck started working in the business with his father in 1984, and shortly thereafter started his own company. 
"I was good at doing research and navigating the complexities of insurance, so people started asking me for help with their other life planning concerns," Chuck says. 
He began exploring the world of investment and financial planning, including trusts, wills, fixed annuities, and estate planning. As his clients' needs expanded, so did Chuck's knowledge base; when his clients asked if he could offer them auto and home insurance, Chuck began Benefit Insurance Services in response.     
"And last but not least, people asked if I could help them purchase a home with a mortgage," he says. "And since my son was also interested in this field, I worked with him to start a mortgage branch with US Mortgage Corporation." 
"My clients have led me all the way through this journey of life," Chuck says with a laugh. "And today, the Benefitz Group is the name we use as an orientation for all the companies I own and services I provide. It's a lot of work to cover so many fields, and very hard to do. But it's worth it because I know I'm empowering people to do what's best for them and get what they need." 
Chuck employs a technique he calls the temperature gauge to best serve his clients. 
"I tell people their options and ask them to rank each option on a scale of 1-10 indicating their comfort level with that choice— in other words, their ability to sleep well at night if they make that choice," Chuck says.
The temperature gauge is for any service, product, or decision. 
"If they tell me their temperature gauge is 7-10, I remind them of the worst part about the decision," Chuck says, "and ask if they're still a 7-10? We're not going to move forward if they're not, because I don't want to put someone in something they're not confident in. If they're not confident, it may come back to haunt them. 
"With this, you get to someone's heart— you get to what they can deal with and not be upset. My own personal temperature gauge means a lot to me. My life, when I go to bed at night, is not a problem." 
"The last thing you want is your money to control you," he continues. "You're supposed to be controlling it, and what it does and doesn't do; if you step back and say, 'I'll let someone else handle it,' at least some of the time you're not going to have a restful night's sleep.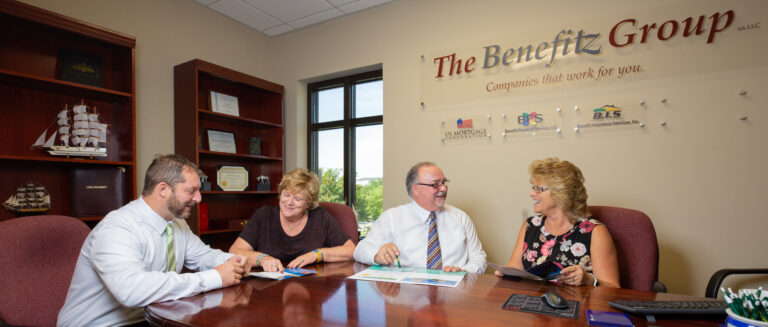 "Who wants to be in a position of going to bed at night wondering, 'am I going to have enough money to pay my bills ten years from now?' That's not where people need to be in their lives. That's not what I do. 
"I like to remind people that I'm not smarter than them, but what I will do is work very hard to get things right for the way they want things done. 
"Investments and insurance are intangibles; people can't put their hands around them. And because it's also a risk intolerant thing, it's important to help people realize if they need this, or that, or none. 
"Without them really getting the right questions—and it takes some years to really get the right questions—they aren't being served as well as they could be. This is where my years of experience pay off." 
Chuck moved to Myrtle Beach in 1999 and started two separate companies in 2000— Benefit Financial Services and Benefit Insurance Services with his wife and son. 
It's remained a small family business ever since, today united under the umbrella of Chuck's parent company— Benefitz Group. 
Several years ago, Chuck moved his offices to Market Common. 
"It's a great community here, with beautiful scenery, and wonderful activities," Chuck says. "I did a meet and greet in one of the neighborhoods; there were about 17 couples, and after the presentation, all of them wanted to do business with us. All I did was show them the software I use, which shows all the companies and more that I represent. 
"When you pick a plan, it's the same with every company. Then I showed them how I shopped for them and showed them the rates, comparing one company to the next. And I do it every year, or every six months when their auto and home policy renews, to look for any adjustment. 
"Not everyone agrees with my commitment to divulge to clients the best rate, but I just try to treat people the way I want to be treated. Plus, it just makes sense. 
"Let's say I get 10% commission on a sale, and I can save you $400 by showing you a cheaper plan. That's a difference of $40. You think I'm going to lose you for 40 bucks? It cost me almost that much money to find you. 
"Tons of people get referred to us because we save them that $400. And that's why people come to us. The way I look at it, it's not the commission that's important, it's you, the person."
"I love working for myself and being independent of a large firm," Chuck concludes. "It allows me to be able to serve my clients better because I have more to offer than one company's approach. Every company out there that I've worked for is a tool I can put in a tool box. 
"When I elected to work for some top financial services, I did it to get knowledge of the best tools. And now, in my company and life, I can use the best tools from my box to serve others instead of only offering what tools someone else gives me. As an independent agent, I can sell anyone's policies, I'm just not captive working for one company." 
"I could have made a lot more money if I had stuck with one place. But I'm not all about the money. And yes," he says with a chuckle, "I like the independence, and being able to control my life." 
1101 Johnson Ave., Suite 301B
Myrtle Beach, SC 29577
843-238-4400
Open M-Th 9am-5pm; Fr 9am-3pm
Appointments preferred; walk-ins welcome with a wait.