Because Everybody Needs a Bagel
by Melissa LaScaleia
I'm speaking with Jason Luster, part owner, full operator of the new Bagel Factory location which recently opened in the Market Common. 
"My dad has a couple of locations," Jason says. "He wanted to open one in the Market Common and asked me to run it."
Jason and his father, Ruben, are originally from New York and New Jersey— the land of bagels.
Ruben owned a courier service in New York, and used to vacation with his family in Myrtle Beach during the summers. He loved Myrtle Beach so much that about ten years ago, he decided to sell his business in New York, and moved his family into their vacation home at the beach to live full time.
In his youth, Ruben had worked at a bagel store. Some time after coming to Myrtle Beach, he heard that there was a store called the Bagel Factory that was for sale; it struck him as fortuitous, and he bought it. The store was on 21st Avenue.
He decided to keep the name and turn the business around. This he did, and some years later, opened a second location in Carolina Forest. Over the next ten years, Ruben continued his track record of success and opened a third location in North Myrtle Beach.
Although the Bagel Factory doesn't have a company motto, Jason tells me that they once had t-shirts for their workers that read, "Everybody Needs a Bagel."
True that.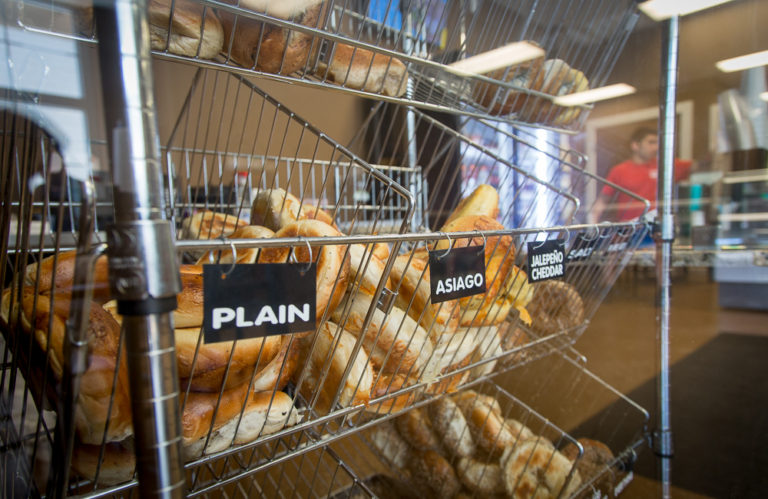 Jason has been eating bagels for the last fifteen years of his life. Even though that repetition has dampened his enthusiasm a bit, he still has one for breakfast on occasion— especially now that he's in charge of their newest location. 
Before managing this store, Jason was working at the other Bagel Factory locations. He is currently working at the Market Common shop every day, ensuring things run smoothly until it becomes more established. 
"I've been working for the Bagel Factory pretty much my entire life," he says. "My dad bought it when I was still a kid."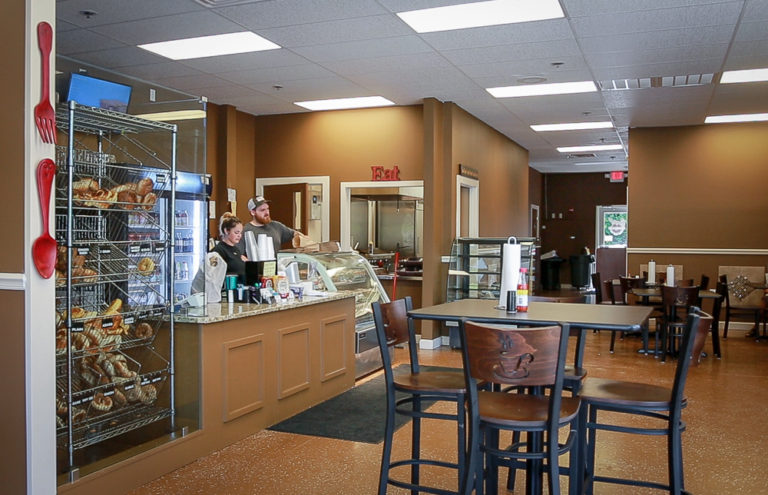 It took Jason and Ruben six months to transform what once was a furniture store into an area that could accommodate a kitchen and a large number of bagel fans. 
The Factory offers bagels and rolls by the dozen and containers of cream cheese to go. 
Jason trips off the names of the bagel flavors they carry as quickly as only someone who has been working with bagels for most of his life can.
They include: plain, everything, sesame, poppy, seven grain, cheddar, asiago, jalapeño cheddar, blueberry, cinnamon raisin, cinnamon sugar, egg everything (an egg bagel with everything seeds on it), onion and garlic, whole wheat, pumpernickel, and salt.
They also sell their own recipe of homemade flavored cream cheese with familiar names like walnut and raisin, strawberry, jalapeño cheddar, garlic and herb, and veggie, as well as some lesser known flavors like green olive and lox.
They have other food options as well. 
"We have offerings that put us in the category of a deli-breakfast spot," Jason says. 
Those include: sandwiches and deli sandwiches, breakfast platters, pancakes, chicken salad, tuna salad, cheesesteaks, and burgers, 
 "Some people want breakfast, some people want lunch, and it's the perfect spot for either or both," he says. "We serve the full menu all day long, and you can dine in or take out."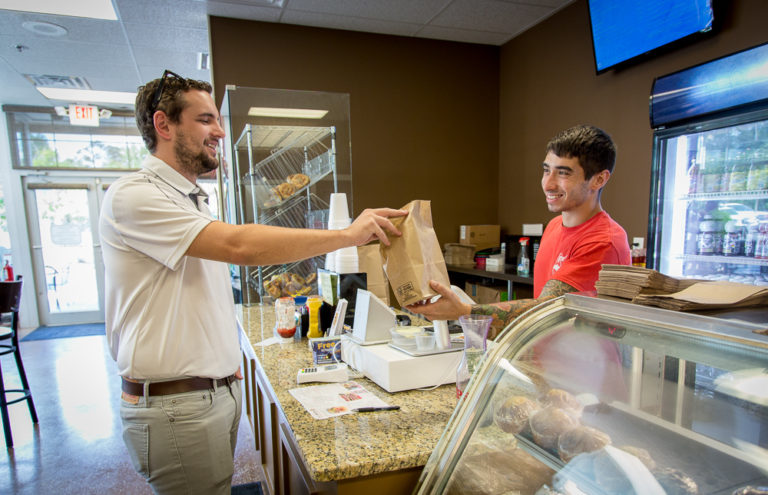 Jason and Ruben are excited about the latest Bagel Factory opening.
"The Market Common is a perfect location for a new breakfast spot," Jason says. "There are a lot of Northerners here and Northerners like bagels. Since we've opened we've been really busy."
The father and son team have future plans of expansion too.
"We want to keep building it," Jason says. "We're planning to expand and open one on Hwy 707. We're going to invest in our Market Common location first, and go from there."
It's an achievement for a man with a dream to turn his vacation destination into his home, and in the span of ten years recoup a failing business and transform it into a success with four locations and another in the works.
Feedback from people thus far?
Everyone likes it. 
"I think the community is definitely excited that we are here," Jason says. "My favorite thing about this new position is giving everybody in the Market Common area a good breakfast."