Saturday, March 14, 2020 in North Myrtle Beach
by Melissa LaScaleia
The Grand Strand's iconic and hugely popular St. Patrick's Day Festival and Parade, put on by the City of North Myrtle Beach, will be held this year on Saturday, March 14 in North Myrtle Beach. The parade is organized by the Grand Strand Optimist Club as a fundraiser for their youth outreach projects. 
Over one hundred floats and businesses participate in the parade, all decorated with a St. Patrick's Day theme. 
"It's a great opportunity for area businesses to advertise," says Tina McCrackin, director of events and programs for the City of North Myrtle Beach Parks and Recreation.
As the director, Tina is instrumental in helping to organize the parade and festival logistics, both prior to and during the event. 
"Additionally, different organizations, like the Chamber of Commerce or city council will have floats," she says. "And there are pageant queens too. It's a fun, lighthearted event, that about 10,000 people turn out to see." 
The parade is covered by WPDE television network, a local subsidiary of ABC, and aired live on their station. Most of the well-known TV personalities from the network will be there that day, acting as hosts for the event.
"There are three announcement stages," says Tina. "As the floats pass by, the television network will read who they are and what they offer. And after the parade, TV personalities will be at the festival for a meet and greet."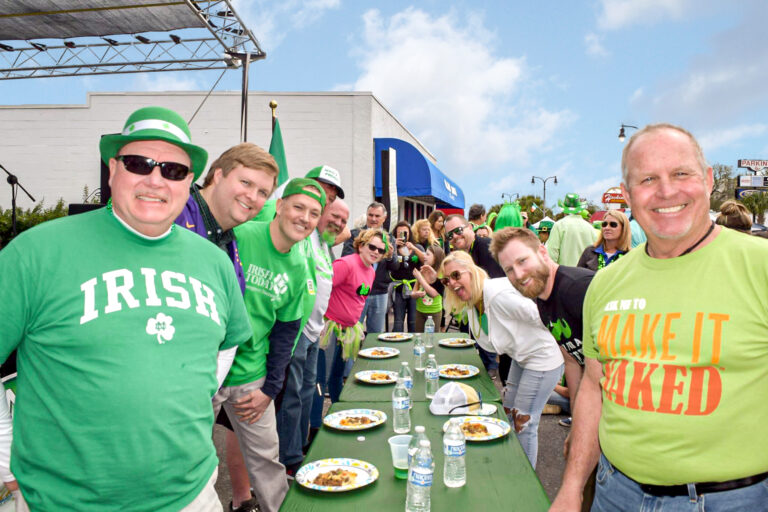 The parade runs from 9am-11am. It starts at the intersection of Ye Olde Kings and Main Street, travels down Main Street, and turns onto Hillside Drive, Second Ave South, and Ocean Blvd respectively. It ends at the intersection of 2nd Avenue North and Ocean Blvd.
After the parade, the festival begins. It is located on Main Street, from Cedar Ave to Ocean Blvd. Approximately 50,000 people from all over the Grand Strand, North Carolina, and inland turn out for it.
"It's like a sea of green, as all the spectators come into the festival area," Tina says.
The festival is free to attend and is held from 11am-4pm. There is offsite parking available with free shuttles that run back and forth all day.
Approximately two hundred vendors participate in the festival; there is representation from a myriad of genres— everything from arts and crafts stalls to professional businesses, and local non-profits. There are a combination of retail and resale establishments, as well as artists and artisans offering their own wooden bowls, wreaths, jewelry, pottery, homemade beef jerky, knits, pet gifts, art work, and clothing. Businesses have booths to promote their services, from which they hand out literature and are available to answer questions.
There are three stages of entertainment featuring bands and local entertainment all day long. Tan and Sober Gentlemen, a very fun and energetic Irish music act from the Charlotte area, are the headline act.
"They have a little following in our area, we've had them play several times," Tina says.
One pipe and drum band will also be performing, and the local elementary school will dance and perform an ensemble act.
And then there's the much anticipated, highly touted leprechaun contest.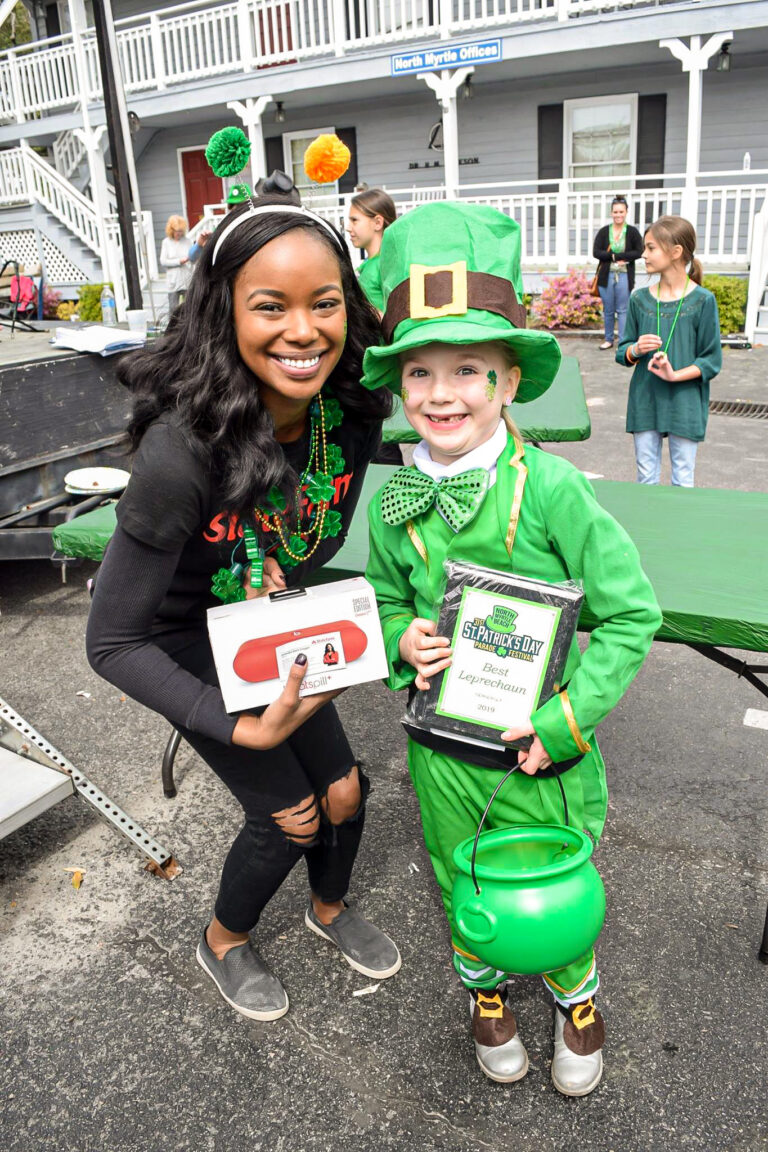 People wait all year to witness and compete in the event that ushers in North Myrtle Beach's most coveted honor— the chance to be designated the official North Myrtle Beach leprechaun for the entire year. WPDE television acts as the judges with input from the audience.   
"We have a little bit of everything with this event," Tina says with a laugh. "All age groups participate in it. From head to toe people dress up like a leprechaun. Some even take on a leprechaun persona." 
The contestants are judged on originality, creativity, enthusiasm, appearance, and energy, and potentially their accent, as they are allowed to introduce themselves. The winner gets an official St. Patricks' Day t-shirt, a $100 gift card to Walmart, and the satisfaction of knowing they are the leprechaun for the year. 
"Usually last year's winner comes back and tries to win it again," Tina says. "The contest has really become exciting in the last few years. The clapping and whistles are what sway WPDE to select the winner." 
Then there is the shepherd's pie-eating contest, which is just as fun and zany as it sounds. 
"The shepherd's pie eating contest is really fun," Tina says. "It's about who can clean their plate without using their hands. We get a large dish from Flynn's Irish Tavern, portion it out, and whoever finishes first, without their hands, wins. It took less than a minute for last year's winner to finish. He had been trying to win for four years. Everyone is screaming and jumping up and down. We have a good time with it." 
In addition to the entertainment, there are many different food vendors: traditional Irish food like bangers and mash, seafood, Italian food, pizza, chicken fingers, and all the fun festival foods like fried banana pudding, cheesecake, pickles, and funnel cakes. All the businesses along main street will be open as well, so you can stop in to dine at any of the establishments.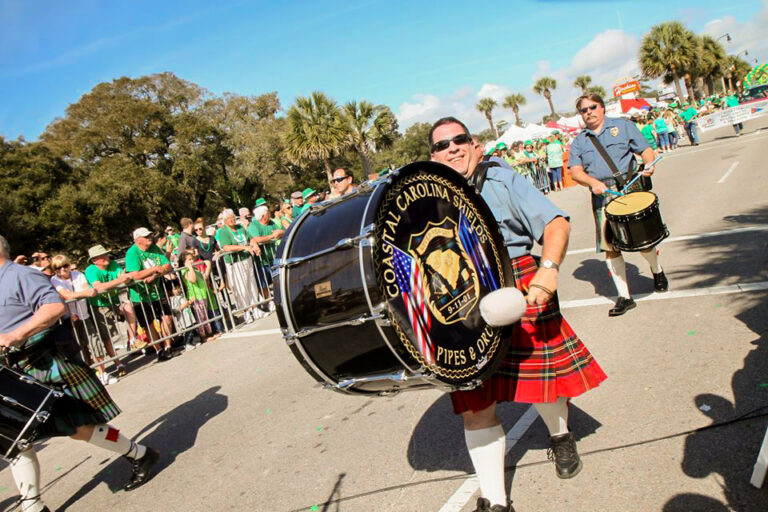 There are plenty of the favorite Irish drinks to go around, but this is also a family friendly event, and a safe environment for everyone.
There's a children's area with activities that include everything from carnival games like balloon darts to inflatables. There's something for children of all ages.
"We've had a lot of success with this festival over the last few years," Tina says. "It was started by a group of volunteers in a parking lot. Now it's North Myrtle Beach's largest festival. This is our 32nd year, and we've been a staple in the community as the St. Patrick's Day celebration to attend. We've been lucky that we keep growing and getting bigger every year. This year we anticipate 60,000 people."
A lot of team work is required to make the festival happen.
"It's a full-on effort from all departments in the city," she says. "We're there from 4:30am to 7pm. We set up and break down the same day. After all that fun, our goal is to make it look like we were never there."
The 32nd Annual St. Patrick's Day Parade and Festival.  www.stpatsnmb.com; Facebook @NMB Parks and Rec; 843-280-5594. 
Free shuttles from 8am-5pm to and from the following parking lots: 
901 11th Avenue North;
8th Avenue North & Ocean Blvd.;
12th Avenue North & Ocean Blvd.;
14th Avenue North & Ocean Blvd.;
17th Avenue North & Ocean Blvd.
Handicapped parking: 200 N. Ocean Blvd.