Customers Return... Because of Our Service
by Melissa LaScaleia
The Talotta family opened the doors of their retail establishment, Talotta Contract Interiors, in Myrtle Beach in May 1981. 
Driven by a sprit of innovation and a heritage of quality services, Talotta is the Grand Strand's leading provider of finished commercial and office interiors.
"We offer the best quality office furnishings and customer service anywhere," says Frank Talotta, the owner. "That's our mission." 
Talotta Contract Interiors is a purveyor of new and used, commercial and home office furniture and ergonomic products. They carry desks, chairs, file cabinets, book cases, storage cabinets, panel systems, cubicles, and much more. 
They specialize in project management; space planning; interior design; local and national installation; relocation services; reconfiguration; moving services; and leasing. In addition, they can custom-craft your home office space, providing all you need to work from home. 
"I got on a truck when I was thirteen years old delivering office furniture," Frank remembers of how he got started in this industry. "I've been doing this now for forty-six years."
Frank is originally from Pittsburg, Pennsylvania. His father died when he was seven years old, and his mother remarried to a man who worked in the furniture business. 
After graduating from Coastal Carolina University, Frank played professional baseball with the Houston Astros. At the end of his contract, he returned to Myrtle Beach to help with the family business, and became the owner soon thereafter, in 1985. 
"I enjoy Myrtle Beach, I went to college here," Frank says. "And I wanted to bring some of my experiences with office furniture I had had as a kid to the area. I hoped that I could make a difference by helping people— in providing a service they needed so they could be a success in their business doing what they do." 
"I've always had a passion for helping people," he adds. "There's no project too small or too large for us. Over the past thirty-eight years, I've seen Myrtle Beach grow by leaps and bounds, and it's been nice to be a part of it." 
Talotta Contract Interiors started out with three employees. As time has passed, they have grown to a staff of twelve who have talents ranging from interior design and architecture, to space planning, installations, and sales.   
"I take pride in the fact that we have great employees," Frank says. "The best things we offer our clients, the reasons why they return to us again and again, are because of the quality of our designs and installations, and our top notch service. Our design and installation specialists are the best in the country; and delivering that with unparalleled service is our number one priority." 
Talotta's professional in-house interior designers utilize computer aided design (CAD) and drafting technology which enables them to work directly on architectural plans to create your furniture layout in 3D so you can see what it will look like.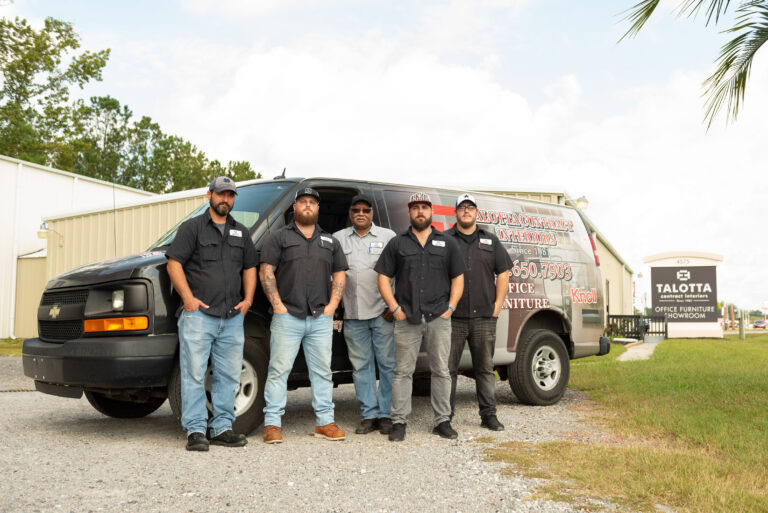 "It helps us take your initial vision from concept to completion," Frank says. "The DWG architectural file enables us to bypass the visit to a building to take measurements— it's already to scale. We have the technology and specialized software and work closely with our customers to give them visuals of all available layouts that cover all the bases of what can be done in that space." 
As professional space planners, they can incorporate your existing furniture into your new design if you choose, and will also include that furniture in the architectural plan. Or they can outfit you in everything you need. 
"Our commitment to offering the best products and services available is backed by our many partnerships with quality furniture manufacturers such as Knoll and Office Source," Frank says. "Together these sources provide furniture solutions to serve clients large and small, and at many price points." 
Whether you are purchasing a small office setup for your home, developing a growing business, or looking to furnish an entire building, those in Myrtle Beach know that they can expect the same skilled and committed installation team, professionalism, level of dedicated service, and support staff from Talotta Contract Interiors.
"This is the kind of total company support that we offer the Myrtle Beach community now and in the future, as your business grows and evolves," says Frank. "And that's important because there isn't a big corporate community here— it's more a conglomeration of small businesses, like car dealerships, banks, law offices, and construction, plumbing, and medical companies. They know that they can rely on us, and that we have a really nice selection to create beautiful and functional office spaces." 
Part of their commitment to functionality is their focus on ergonomic products. Talotta is the area's number one source for ergonomic seating and sit and stand products.
"We have a huge variety of chairs here in our showroom— we carry passive and totally ergonomic seating, those with adjustable side arms, lumbar supports, and front forward pitch selectors," Frank says. "We encourage people to come in and test drive our office chairs. We are referred by chiropractors, and are beloved by customers who have back issues." 
In this day and age, Talotta often suggests sit and stand tables that people can incorporate into their office unobtrusively, which raise and lower electronically or with a lever, so people can take a reprieve from sitting all day. They can explain any of the features of the products they carry, and how they relieve back and neck pain.
Talotta Contract Interiors can customize support for those with more specific needs, and they'll meet anybody's price point.
"Either we visit the customer, or they come to see us so we understand how they're working," Frank says. "It could be a simple fix. They could just need a different height keyboard and mouse, or something that we can remedy with a small adjustment. 
"We are truly the ergonomic seating experts in Myrtle Beach. From watching a person work, looking at their chair, keyboard, and head placement, we can see how their posture is contributing to their pain. We do an in-depth study to try to come up with a solution that's best for each of our customer's needs." 
 4575 Dick Pond Road (Hwy 544), Myrtle Beach, SC 29588
Open M-F 8:30am-4:30pm; Sa 10am-2pm
843-650-5217
 Facebook @ Talotta Contract Interiors
 Designers and contractors welcome to come by the showroom for help with their clients' projects.