Above, a technician checks the voltage on an air handler. Swift Services conducts regular maintenance of your HVAC system to help extend its life, reduce your energy bill, and circumvent problems before they start. (Photo Meganpixels Parker)
Providing White-Gloved Service Without The Overhead
by Melissa LaScaleia
Swift Services Heating, Cooling & Electrical provides installations, maintenance, repairs and replacements on home HVAC systems, and offers comprehensive electrical services as well. They conduct free home energy reports to test the efficiency of your HVAC system— as older units burn more watts, driving up the price of your electric bill. 
"Sometimes, if you have old wiring or old circuit breakers, that can cause your bill to be high," says Scott Stewart, marketing director for the company. "One of the most important reasons to have your electrical circuits checked regularly is safety— especially as people are acquiring and relying more and more on so many electrical items. It's unsafe to plug so many things into a surge strip, especially with older homes. Many people don't know this, or do, but ignore it. But it can overload the circuit causing outage or fires. And wires can fray over time, also causing fires." 
For similar reasons, it's equally important to have your HVAC system regularly tuned and inspected. 
"From living near the ocean, the salt in the air increases rust and decreases the longevity of a system," Scott says. "The older your system gets, the less efficient it becomes which causes higher electric bills. And, with new systems, the focus is on reducing energy output, so the cost of installing a new one could equal what you saved on your bill in a year— yielding incredible savings down the road." 
Just like your car, regular maintenance helps to extend the life of your system. When you have a drastic change in seasonal temperatures, it puts strain on the unit. Maintaining it twice a year helps prevent it from shutting down when the temperatures hit extreme highs in the summer and extreme lows in the winter, both of which we receive in Myrtle Beach. 
Shane Bedgood, the general manager of Swift, has been working in the HVAC and electrical industry since 1995. 
"One of the things that we've noticed in the industry is that people are spending more time in their homes," he says. "Covid has accelerated that. But a lot of people are just spending more time indoors. Indoor air quality becomes more of a concern then."
Swift Services can optimize the air quality in your home with air duct cleaning, repair and replacement; UV light installation; and filter changes.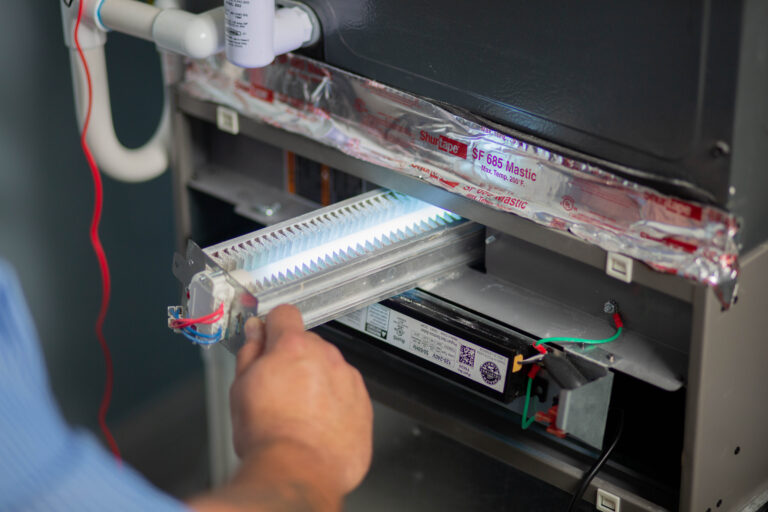 "We can reduce the levels of dust, dirt, allergens, bacteria, and off-gases present in your home," Shane says. "These variables enter our home whenever we enter and exit. We focus on keeping the construction of the home tight to reduce cost, but the problem then becomes that the home isn't breathing well, and it becomes a ripe breeding ground for mold, bacteria, and other allergens." 
From the analysis, Swift can match a home with the appropriate product to mitigate the problem. 
"Any products we use have either been tested in the field or by the manufacturer to ensure for efficacy," Shane says. "Today, the market is full of products that say they will neutralize Coronavirus. But we have been providing and promoting indoor air-quality solutions long before Covid. Indoor air quality has always been important. Covid simply brought this issue to the forefront of the conversation." 
One of the products that improves air quality is UV lights. The lights are installed on the air handler inside your HVAC system, so that anything harmful that passes through will die. Even if you're not experiencing a problem with the air quality in your home, installing a UV light is still recommended for prevention— to protect the occupants of the home with the air they're breathing. 
"It is equally important to have your duct work inspected to make sure the structural integrity is intact, and the ducts are cleaned of any debris and containments regularly," Shane adds. "Much about maintaining good air quality has to do with this regular maintenance as well." 
Today, Swift Services Heating, Cooling & Electrical celebrates their ninth year of business accompanied by numerous accolades. They've won the Best of the Beach Award for the past eight years in a row, and received numerous Reader's Choice Awards for both heating and cooling, and electrical. They were also recognized by the national magazine, ACHR News, as best contractors to work for in the South.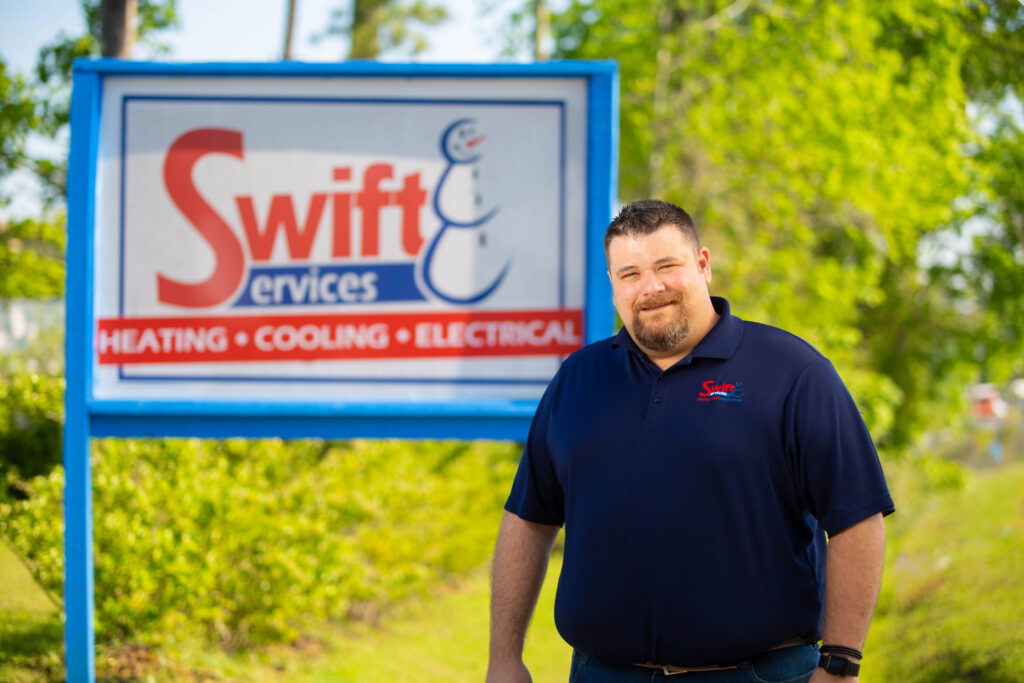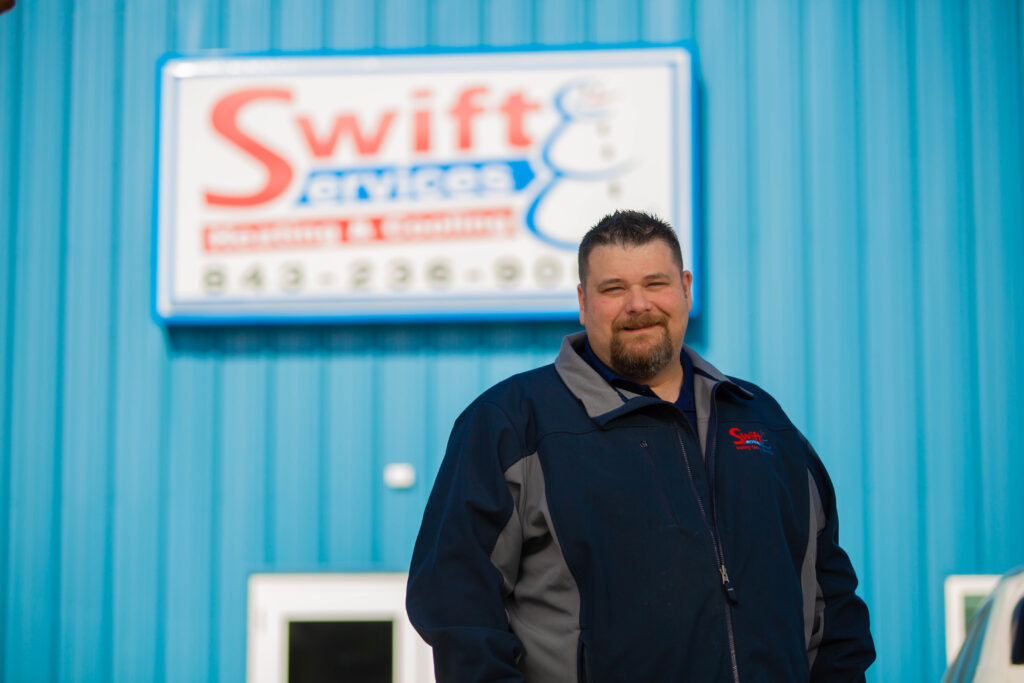 And given the level of detail of service that they provide, it's no wonder why. They offer memberships for both electrical as well as HVAC maintenance, which include free home inspections to optimize the quality, safety, efficiency, and economics of your electrical circuits as well as HVAC system, and includes discounts on services as well as emergency priority service. 
If at any time you call for emergency service, you are guaranteed top of the list even if there are fifty people ahead of you in the queue. For all after-hours service calls, there is a live person who answers the phone so you will be taken care of quickly. And the company never charges an emergency evening, weekend, or holiday fee. If your unit breaks on Christmas Day at 1am it will cost the same to have it fixed as if you were to call on a Tuesday at 2pm. 
For installations, Swift Services will conduct a free home survey to make sure that you receive the appropriate system for your house. The company registers all of their equipment and installations through the county permitting office, which means the county will come out to inspect the installation to verify that everything is done properly. Additionally, every installation comes with a manufacturer's warranty— and Swift Services also offers a labor and service agreement with free maintenance as well as financing options. Swift 's technicians receive constant training and refresher courses to make sure their knowledge is up-to-date. 
"We stand by the work we do giving our customers a 100% guarantee," says Scott. "This is just one more step that shows our accountability. The way we run our business is 100% oriented with our customers in mind. We do a great job emphasizing the importance of our customers in all that we do. We care about getting everyone comfort." 
Swift Services Heating, Cooling & Electrical