Providing White Gloved Customer Service to the Grand Strand— Just Follow the Snowman to Comfort 
by Melissa LaScaleia
Swift Services Heating and Cooling provides installations, maintenance, repairs, and replacements on all heating and cooling systems for everyone from the border of North Carolina to Georgetown in the south, and as far inland as Aynor and parts of Marion County. 
"We also address air quality with Air duct cleaning, repair, replacement, UV lights, and filter changes," says Scott Stewart, the company's marketing director, "and conduct home energy reports to test the efficiency of your system to see if it's burning more watts because it's older— running up your electric bill. The report tells you if there are parts in the system you could switch out to save you money. We offer free energy report consultations and free new installation quotes. The majority of our work is residential, but we do some commercial work as well." 
Swift Services Heating and Cooling just celebrated their seven year anniversary. Every year since they've opened, they have been a winner or finalist for both the Chronicle and Herald's Reader's Choice Award; and they've won the Best of the Beach Award every year for the past six years.   
The company is owned by Joseph Mascetti, who has lived in Myrtle Beach for the past twenty-four years. He's been working in the heating and cooling industry for thirty-five years— beginning as a technician and installer and working his way up in the industry before deciding to branch out on his own. 
"We stand by the work we do giving our customers a 100% money back guarantee," says Scott. "The way we run our business is 100% oriented with our customers in mind— to offer the best customer service and quality of service."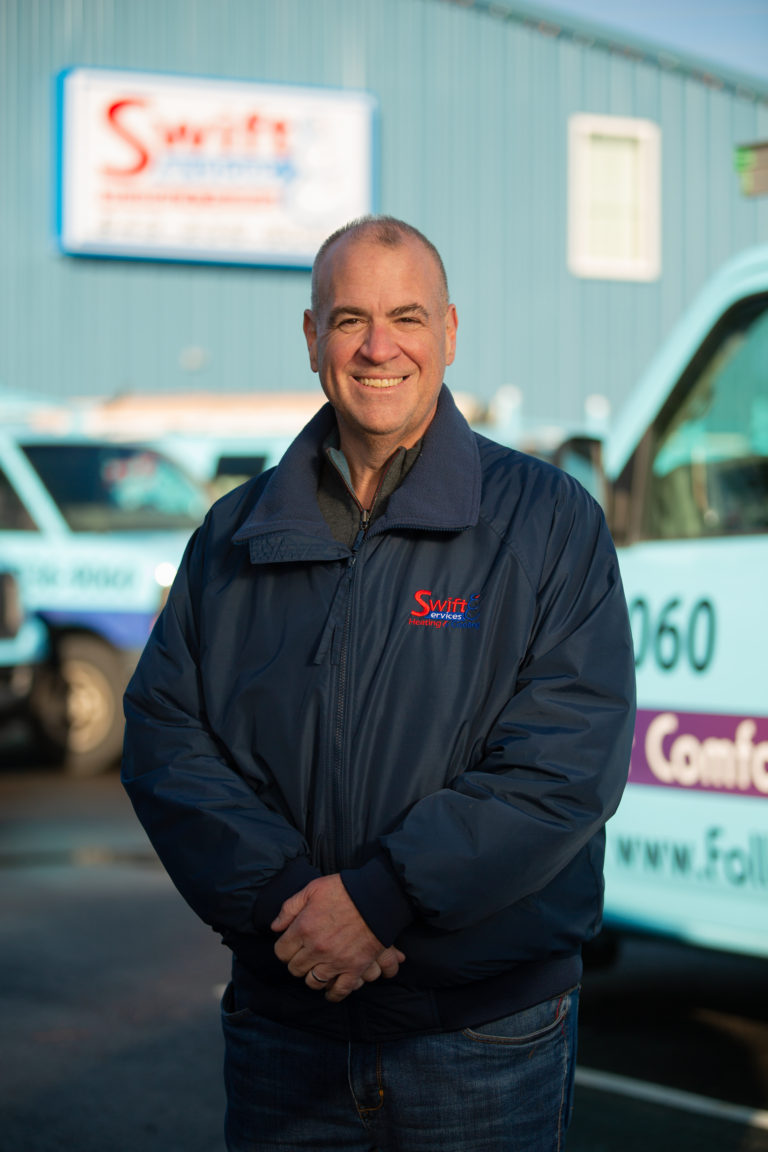 In keeping with that, Swift Services offers two annual service agreements for their customers. The bronze membership includes one free tune-up on your heating/cooling system a year; the silver membership includes two. 
"It's best to have your unit cleaned and checked to prepare your unit for the switch-over twice a year, in the spring and fall," Scott says, "because it will help to extend the life of your system. When you have a drastic change in temperature, as we do here, it puts strain on the unit. Maintaining it twice a year helps prevent it from shutting down when the temperatures hit extreme highs in the summer and extreme lows in the winter. 
"Having an annual or bi-annual agreement takes the guesswork and inconvenience out of remembering to schedule that service when people's lives are already so busy." 
Members receive 20% off any service; silver memberships gives you a discounted diagnostic fee in the event that something breaks. Perhaps the most appealing aspect of the program is that all members receive Emergency Priority Service. If at any time you call for emergency service, you are guaranteed top of the list if there are fifty people ahead of you in the queue. And they offer monthly as well as annual payment plans for both memberships. 
For all after-hours service calls, there is a live person who answers the phone so you will be taken care of quickly. You never have to leave a message and wonder if they received it or not. 
"We don't charge an emergency evening, weekend, holiday fee," Scott says. "If your unit breaks on Christmas Day at 1am it will cost the same to have it fixed as if you were to call on a Tuesday at 2pm." 
For installations, Swift Services will conduct a free home survey to make sure that you receive the appropriate system for your house. 
"They are not a one size fits all," Scott says. "There are a lot of factors that determine which system is appropriate— such as how many vents are in a house, or the size and shape of the house." 
Swift Services registers all of their equipment and installations through the county permitting office, which means the county will come out to inspect the installation to verify that everything is done properly. 
"It's just one more step to show that we stand behind the quality of our work for our customers; the verification holds us accountable," Scott says. 
Additionally, every installation comes with a manufacturers warranty— and Swift Services also offers a labor and service agreement with free maintenance for a year.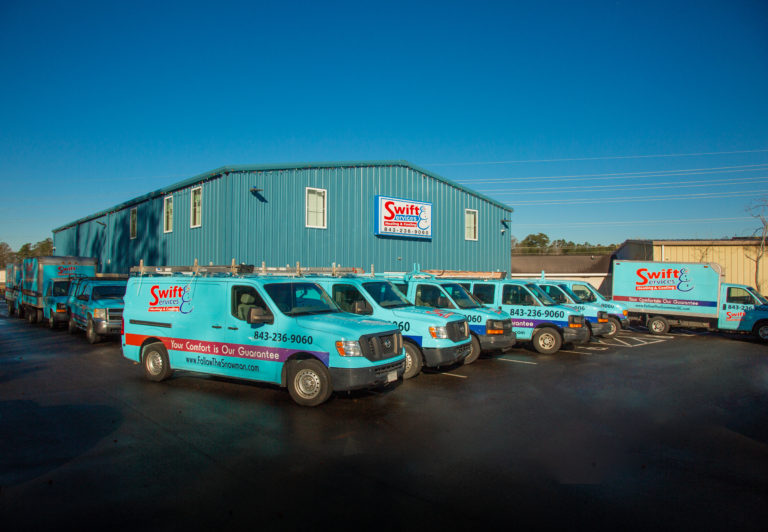 "We understand and respect all budgets and have financing options available to work with our customers," Scott says. "We don't charge an hourly rate for labor, we charge by the service. And keep our technicians only as technicians— they are not salesmen." 
This past January, Swift Services opened their new location at Fred Nash Boulevard. They built the new office from the ground up— and customized it to fit their company's needs and to be a reflection of their brand. The outside of their building is painted in their company color—baby blue— and they set aside a training facility to conduct continuing education trainings and seminars for their technicians. 
"Every morning the operations manager has a meeting with our technicians and teaches them a new topic about changes, new products, or technological advances," Scott says. "And twice a week, Joseph comes and teaches a seminar. We also have access to additional training resources based on the partnerships that we have. Every month, our technicians are required to log hours in these additional training skills. Things are constantly changing. It's important that our technicians stay current with their knowledge and move with the trends in the industry as systems become more technologically advanced; it's equally important that they receive refresher courses for situations that they don't experience a lot." 
Swift Service's new building houses an onsite warehouse which acts as a storage facility for some of their most commonly needed parts. That can save many customers from undergoing a week or more of no heat or air, since they no longer have to wait for parts to arrive. 
"We have an exceptional grasp on customer service," Scott says. "It's something that people need but sometimes it's overlooked by companies. We do a great job emphasizing the importance of our customers. We care about getting everyone comfort." 
 3204 Fred Nash Blvd.
Myrtle Beach, SC 29577
  Office open M-F 8am-4:30pm; 24-7 emergency services
  843-279-2267
 Facebook @ Swift Servives (not a typo).